AcousticMaddie has been plotting some haunting new storylines and soundscapes in recent months – the result of which is the upcoming album Headless Soldier Bay. Prior to the project's release, we caught an interview with Maddie to find out more about the songwriting, the ideas that led to it, and her creative journey so far. Here's the conversation in full. 
* * *
Hi Maddie – so great to be able to chat with you, thanks for the interview! You've got a brand new album coming out soon – what's the underlying premise for Headless Solider Bay, and what inspired you to write with this conceptual thread?
Thank you Rebecca for having me here, it's always nice talking to you.
In the beginning I was very careful with the music and tried to write "right", but over time I have understood that this is not what I want to do: I love to tell stories with my guitar and I had a period when I usually did the night routine with my kids using the guitars, telling sea shantys – which they loved.
So the inspiration for this album… oh, well, one day the captain (in the already released single Oh Captain) woke up in my head and said he had a story to tell. I know it sounds crazy but that is usually how my stories come up. Somebody from the "dark side" introduces him or herself, haha.
Also sailors and pirates are a big part of my childhood in that my dad always told pirate stories and tales of wrecked ships. Fairy tales he only had in his head and unfortunately never wrote down. So the Album is a combination of my childhood fascination with sailors in combination with my fav genre of music – which is the Norse ballad genre (Where the story is the most important part).
Where do you think your creativity comes from – are you inspired by literature or other art forms as much as music, or more so?
Again much thanks to my dad and of course literature. I started to read when I was four years old and quickly began to devour books at a furious pace. I didn't borrow a book at a time at a library – rather a bag with books every week. Early on, I read books like For Adam (Jack London) and 1984 (George Orwell) and was fascinated by dark stories that made me know the characters.
Oh Captain is one of your most melodically entrancing songs yet – where did your love for music begin, and how do you generally get started with a new song; the words, the chords, the vocal tune?
I started to listen tp Norse medieval ballads early. My dad introduced me to Swedish and Danish poets, the music was simple with instrumentation as a lute in combination with, for instance, a jaw harp – but the fairy tales were seductive, dark, and there were tales of love, hatred, and evil sudden death.
My favorites were knightly songs and sea shantys such as the fairy tales about and around Ebbe Skammelsson (Denmark), a noble youngster who meets and becomes engaged to virgin Lucie. Before he can get married, however, he must come into service at the king's farm and is therefore gone for several years. Meanwhile, his brother Pedher wins Lucie's heart and after a strange dream, Ebbe hates him and drives home to his farm. There, just weddings have been held between Pedher and Lucie.
Those stories lived on in my head all the time and I when I myself write songs I usually get to know the characters and the story along the way. In other words, I do not know how it will end until the last song appears in my head.
What made you choose Oh Captain as the official single release for the project?
I guess he would be pissed if Amelia was the main character since he was the one that introduced himself in my head, haha. And I guess I live by the rule "never piss off a possibly undead Sailor."
Who or what would you say has influenced your approach to music the most?
With no doubt my dad.
The Church Has Fallen is equally melodic and builds up brilliantly – do you think your writing and composition style has changed over time, and if so, what would you say has helped with this the most? Do you have any tips for new songwriters just starting out?
Yes, my song writing has changed. Much thanks to the fact that I participated in a larger context for song writing as for example the yearly challenges, like where you will write 14 songs in 28 days. Many there have supported me and dared me to develop myself both in writing and composing but mainly to be me and not to write for others. I especially lift Bill White, Pete Murphy and Marcus Mittilä who, perhaps without knowing it, have given me incredible strength and courage and I have also worked with them outside FAWM – although I love everyone there.
For new songwriters, my only advice is be yourself and write and compose what you feel good about. Do not strive for the likes, it is enough that you reach one listener, the one who needs your song most right there and everything will turn out fine.
What does The Church Has Fallen tell the story of?
The church has fallen tells the story of the sight that meets the captain (Or, well, everyone who gets into the harbor on the forsaken Headless Soldier Bay island) when he first steps on the ground and hears the dead priest praying from the rising ash cloud.
Do you ever put yourself in the songs and stories – does personal experience or emotion play a part in the process?
Oh, I think it is impossible not to share a part of oneself in art, no matter what art. It would be very impersonal if you did not. There is a piece of me in every song of course, but perhaps most clearly in songs like RIP Brother, which is a song on the charity's EP Out of this hell – together with two text writers (Cindy Prince and Elisabeth Petty) we did an EP to raise awareness on suicide. And the Swedish song Inte så jävla soft (eng: Not so fucking soft anymore), which is a showdown with myself, and the song about my absent mother Frusna tårar (eng: Frozen tears) – which I sang with my then 10 year old daughter – these are probably the most obvious songs about me. Amelia (in the upcoming album) features from me as well but you only notice it at the end of the last song, if you know me).
Will you be performing the new project live, and if so – will this be a full band set up, something more visually theatrical, or just a solo endeavor?
Yes, I have an acoustic booking for a cultural festival the 8th of June, but it will be only me and my guitar – and, well, some sound effects.
What do you hope people take away from the new album?
A shudder along the spine and at the end some love for Amelia.
Which song from the new project comes to mind if you're asked to name a personal favourite?
The last song, which is not official yet, is my favourite. Amelia's true self come forward and connects to the present.
You genuinely have one of the most unique and recognisable styles right now – is this something that always came naturally, or a sound that you have worked on and developed?
Thank you. I guess in the beginning I didn't dare to really embrace it. I tried to be like one should and tried many different styles and genres. Something that has also been useful of course, but it is only after I have worked with musicians such as Pete and Bill, who encouraged my storytelling with the guitar, which I really dared to believe in my own things.
Last year I made an EP (BC only) during FAWM, with people's nightmares in Lo-fi where it really felt like I was having fun and found myself. I think most of us go through phases where we are insecure and want to adapt, some stay there to become mainstream, but then there are those who go their own way and who are completely magical in performance and storytelling.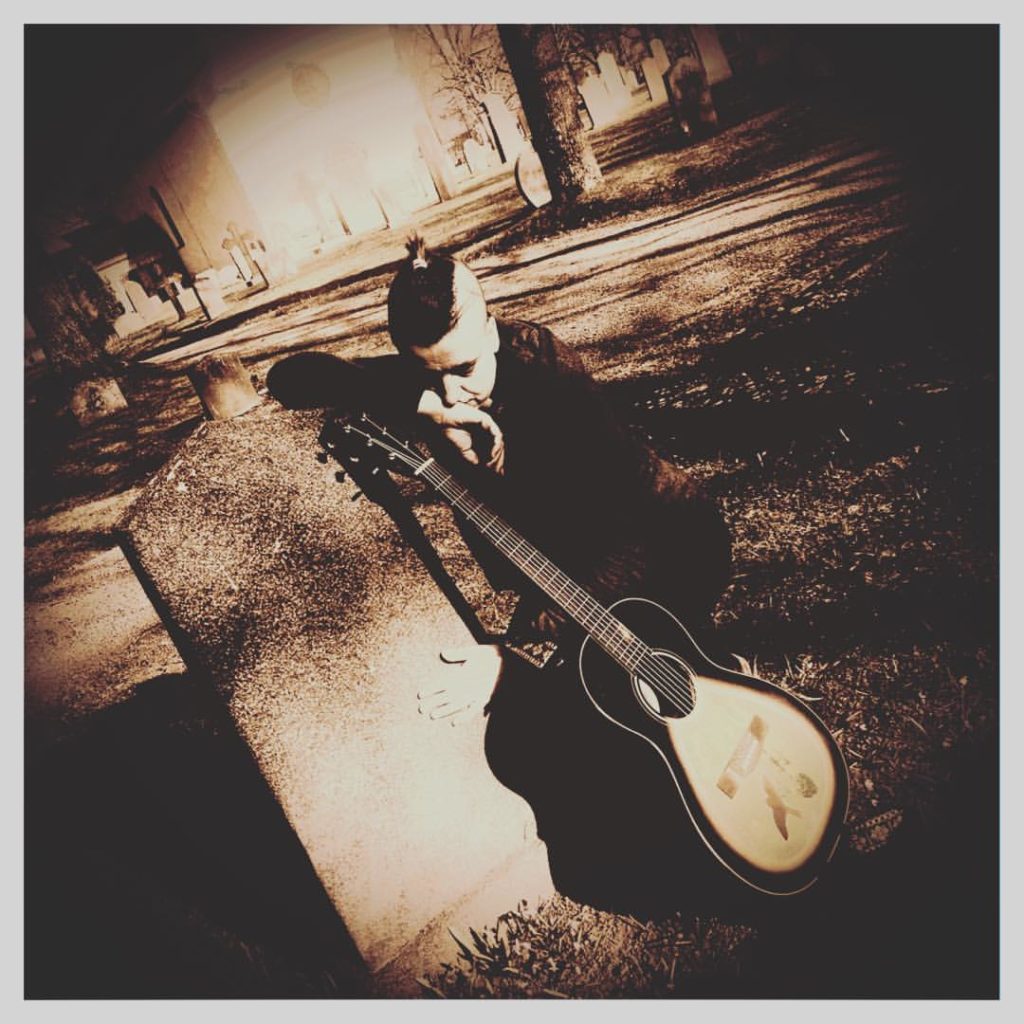 Who do you currently admire in the music and art worlds?
My personal favourites are Leonard Cohen and Tom Waits, and I always love Pete Murphy's work. I discovered Pete 3 years ago and it has been an incredible honor to first be allowed to do a cover of his song Go Dark, and to be asked to do an Album (Kissing Spiders) with him. For me those three are brave musicians and I also always want to be brave and do my own thing.
Do you already have some artwork sorted for the new project?
Only the cover for the official released single Oh Captain. I have just finished writing the story but not all songs are yet fully recorded and usually I feel the art work then.
If you could sit down to lunch with anyone at all, past or present – who would you choose, and what would you ask them about?
Without a doubt Tom Waits and I would hope to write a song with him.
What's the bigger picture for you as an artist – what are your hopes over the coming years?
As the creational phase is the most important for me, I hope to be able to work more with different artists and learn more.
What's the best thing people can do to support you?
Give the songs a spin on Spotify or perhaps share a nightmare with me that I will be allowed to make a song of.
Is there anything else we should know?
I really want to stress, for anyone out there struggling, that the most important thing is, no matter what art form you express yourself in, is that you have fun and do what you want to do and never let anyone tell you you can't. That's the only thing that matters.
* * *
A big thank you to Maddie for her time & insight. Listen to Oh Captain on Spotify. Find & follow Acousticmaddie on Facebook & Twitter. Visit her Website for more information.