Following the release of his brand new album MR NICE GUY, the UK's own 17dreams took the time to chat about the project, his approach to music, being unique, confident, aiming high, and plenty more. Here's the conversation in full.
* * *
Hey, thanks for the interview! For those who don't know, who is 17dreams and how would you describe the music?
17dreams is a rising musician on a quest to change the world. The music I make is relatable for most people who struggle with things like depression, anxiety and heartbreak. I wanna make people feel like they are not alone, I do this by showing how I deal with these problems in my music.
What does the album Mr Nice Guy represent for you?
Mr Nice Guy represents a story of how I've seen many failed relationships turn a Nice Guy to a 'bad guy'. This album tells that story, hence why we start off the project with 'Nice Guy' and finish with 'Bad Guy'. By the end of the project the constant friend-zones and toxic relationship turn me into the bad guy.
This happens to a lot of people in real life. That's just how love is, the girls are always being messed around by the boys who are damaged. The boys are being messaged around by the girls who are damaged.
Which track on the album would you recommend to new listeners, and why?
I would recommend Crashed. This is probably my favourite record on the project it really gets you lit, the hook is really catchy, the lyrics are relatable and I have a banging feature from my good friend Jay, go check it you won't regret it!
Given the vocal versatility of the project, how do you decide whether to use melody or rap within a new track?
When I hear a beat I just know what sort of style to go for, I can feel the whole emotion and vibe to go for just after hearing the first melody and it all just comes out naturally with me. I don't really think about that kind of thing.
What's the best lyric on the album, in your opinion?
The best lyric is "been round the whole circle girl you did a home-run".
Tell us a little more about the track Music Saved Me – what does it mean for you, and what do you hope listeners take away from it?
Music Saved Me was a freestyle I made in a recording studio in Norwich, this song means a lot to me because it really comes from the heart, it's about music really coming and giving me a sole purpose in life. In that record I also speak on not needing anybody, because if I'm being honest not many people from where I'm from really support me. Not many of my old school friends really care or make an effort to really blow me up or anything but I don't care, I don't need em.
I hope when people listen to this song they are inspired and start chasing their dreams too because you can really do anything you want in this world, the only thing stopping you from doing that is you.
In what way did school negatively impact your confidence, and how did you find the strength to forget about it all and move forwards after leaving?
I wasn't ever really too unconfident, I was always that guy to speak out and help people when it was needed. I never really cared about popularity and all that ego type stuff. I didn't actually have the confidence to start making music though until I'd left school, I wasn't ready for it until then, I know a lot of people were gonna view me very differently, especially making the alternative stuff I make.
What was it about Juice WRLD and Trippie Redd that separated them from other rappers and inspired you?
Juice WRLD and Trippie Redd… damn I love them both man. They just hit different, I discovered Juice in 2018, Trip in 2017. Ever since they've inspired me in so many different ways, the way they can just make music in any genre, the way they sing, the topics they speak on in their music, their aesthetic, their melodies. In my opinion everything they do is leagues above everyone else in the game.
RIP Juice WRLD, arguably the most talented artist of all time. I was lucky to see him perform twice before the tragedy happened late 2019. I cried for a week when that happened.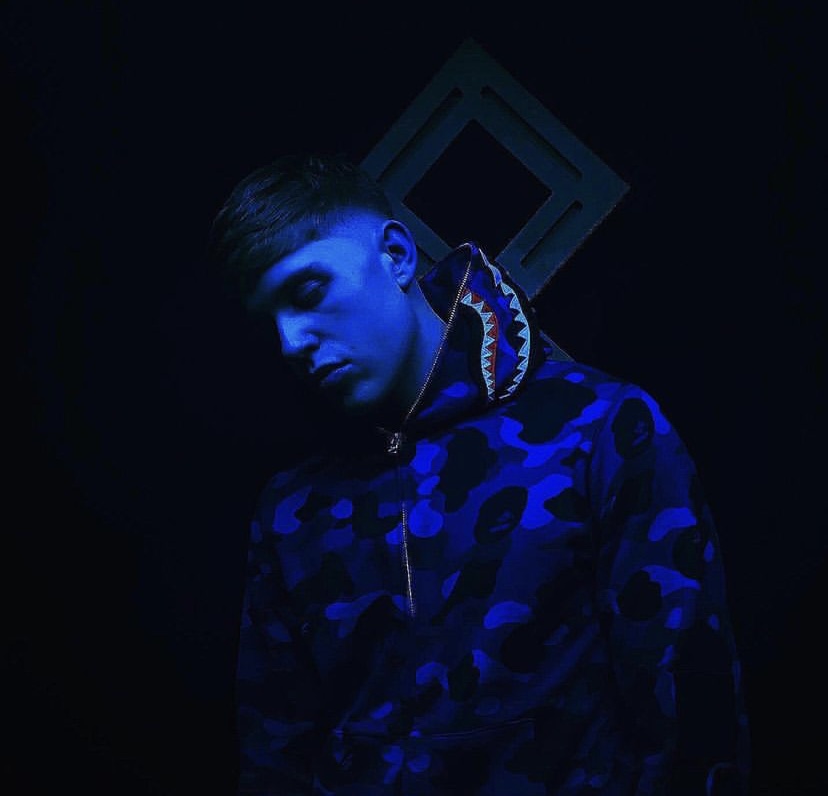 Do you produce your own music?
No I don't make the beats, I have really talented producers I am friends with send me beats and I also get a lot from YouTube, there are so many talented producers out there so I'm gonna name a few for you guys: TTB, BeatsByRhydon, ProdTheSwitch, AdamK. Those are my favourites.
What's it like being a rapper in the UK right now, have you found a local scene or shows you can get involved with?
To be honest, from what I've seen I'm one of the only artists making the music I am making right now in the U.K. Me and Jay Rhydon are really trying to change the game in the U.K. and bring genres like Emo rap and hyper-pop to the U.K. top 40.
I wanna start doing shows as soon as the pandemic is dealt with, right now in the U.K. we are still in a massive lockdown and there is still no sign of live shows anytime soon. Just gotta happen they come back soon because I wanna rage.
What advice could you give to other aspiring artists who are struggling to find acceptance or confidence?
It's funny you say this, I have actually written a whole blog on this on my friends website. My advice to anyone would be to just be yourself, even if you lose friends at first, in the long run you are gonna be so much happier inside knowing you are chasing your goals and making progress with what you actually wanna do in life.
Those people who don't accept you for you were just fake anyway and are dead weight. If you don't even want people knowing you could even start a new page with a new name and just build from there making all new connections, therefore no jealous haters who knew the old you can find it and try bringing you down. But trust me, as long as you work hard and be yourself, people will like you. Even hit me up, I'll speak to anyone and offer advice to anyone who needs it, because that's what I wish I had when I first started.
Where would be your dream venue or event to perform at?
My dream venue to perform at would definitely be Leeds Festival, on the main stage. Just because I've been there so many times myself it would be so cool to be on the stage, knowing only a few years ago I was there in the crowd. I love that festival so much, nothing but good music and good vibes. Shoutout Leeds and Reading, if you are reading this, I'd love for you to book me.
If you could change one thing about the music industry, what would it be?
I would change how money orientated it is, I get it people need to put food on the table, but people don't understand how hard it is for a young artist to really get started without having a bag. I'm okay because I don't just rely on music for money I do other stuff that funds my music. But if I didn't have money I wouldn't even be able to put my music on Spotify. To start up you need money for a distributor, money for beats, marketing, videos. And that's not even half the list. I wish there were more big artists with all the money and the fame helping the little guys out. That's what I'm gonna do.
Tell us something most people don't know about you?
My rap name was inspired by the album 17 by the late xxxtentacion. This is my favourite album of all time and definitely inspired me, I have the logo of the album tattooed on my left shoulder. It means a lot to me so I thought I'd carry on the legacy by bringing it with me through my music.
Is there anything else you'd like to say?
I would just like to say, thank you to anybody who has taken time to read this interview and get to know me a lot more. If you like what you see be sure to check out my album 'Mr Nice Guy'. It's out everywhere. You can also follow my Instagram @official17dreams and my Twitter 17dreams_ . You'll be seeing a lot from me soon, I can promise that.
* * *