Following the release of their brand new album Unfinished Business (The Toilet Tapes), we caught an interview with 1313 Mockingbird Lane's Marty, to find out more about the project, how the band got started, and their plans for the future. Here's how it went.
* * *
Hi Marty! For those who don't know – what kind of music does the band make ?
We've been categorized as a Garage Rock band. Our influences include elements of Psychedelia, Surf, Rockabilly, Blues, Punk and of course Horror Rock..
How long has music been your way of life?
Everyone in this band has been a fan of music since the 60's but the original core members (Haunted Hausmann, Kim13 and Robin Graves) started to get serious about playing music in the 80's. By some stroke of miracle, I was blessed to have grown up with some talented musicians (now well-known) in my grade school/high school years, which gave me the bug at an early stage in my life.
What was it about The Munsters that first drew your interest?
Well-crafted camp humor, which sadly seems to have gone out of style these days.
The band got its name after watching an episode titled : Far Out Munsters that featured the band The Standells. Horror influenced camp also plays a big part in our song lyrics and titles.
What can you tell us about Unfinished Business (The Toilet Tapes) ?
After our last project, our record label Cacophone inquired if there was any left over material for another record and so the hunt was on to dig up whatever we could. Unfortunately, in many cases, we could not locate the master tapes and had to use what we had. Thus The Toilet Tapes. This is sort of an official bootleg of sorts comprised of studio outtakes, rehearsal and live tracks. None of these versions have ever been released on vinyl.
How did you come to choose and arrange the tracks for this record, and how does it differ from your last project?
Our last project was a re-release/remaster of our 1990 LP: Have Hearse Will Travel. This LP contains previously unreleased material that represents many different eras of the band.
The recording style and sound of these tracks is authentically vintage in every way. How do you create that nostalgic, raw aura and crackle of yesteryear?
We generally use vintage equipment that we like and grew up seeing and hearing. We've steered clear of over-producing and generally strive for a trashy Lo Fi sound with a preference for Raw Power over perfection.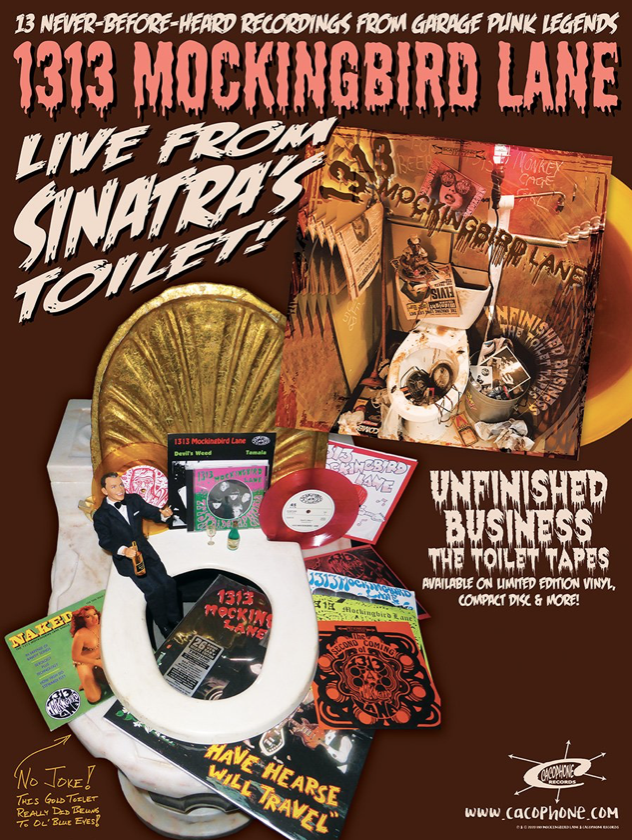 Are live performances an important part of your plans?
Not right now, especially with Covid 19. The band enjoyed performing live in the past (as you can hear on this LP) so who knows what the future will bring ?
What about the creative process – how do you get started, and how do you overcome disagreements within the band?
Surprisingly, not too many disagreements within the creative process. Once a song was brought in to rehearsal, the band usually gave it all they had as a unit and as you can hear on this LP, the rehearsals were lots of laughs !
Given the nostalgic aspect of your music, what are your thoughts on contemporary rock and roll, modern music in general, and your hopes for the future?
There is so much music out there these days, you often have to search through the masses to narrow it down to what types of music that you are interested in.
Hopefully online magazines like Stereo Stickman will make this easier! Rock and Roll is far from dead and young people need to continue to carry the torch.
Do you explore the indie scene much as music fans?
A little bit. Indie music these days really has to be presented in the right way to grab somebody's attention, especially with so many acts out there. The key is organizing the different genres so it is easier to find and explore.
In what ways have the events of 2020 impacted your perspective or plans as a band?
Obviously no live shows but recorded releases are good now because folks are at home and inside more where they can listen and enjoy music more completely at their leisure.
What do you hope listeners take away from this new album?
When making music, don't take life too seriously and have fun !
If you could sit down for a chat with anyone at all, past or present, who would you choose, and what would you ask them about?
Rod Serling (Host and Creator Of The Twilight Zone). I would ask him:
"You thought you were living in the Twilight Zone back in the 60's, what do you think of 2020 ???"
What would be your dream venue or event to perform at?
Old Drive in Movie theater that also features Vintage Teenage Delinquent/Horror/Psychedelic Movies.
What's something about the band that nobody else knows yet?
That really is Frank Sinatra's toilet on our album promo poster.
Is there anything else you'd like to say?
Haunted Hausmann isn't dead !
* * *
Find & follow 1313 Mockingbird Lane on Facebook or visit their Website.