What is Fret Zealot?
Fret Zealot is a device that uses advanced technology to create a simplified learning tool for anyone who wishes to teach themselves how to play guitar. You attach the Fret Zealot to any guitar fret board, clip the battery pack to the head-stock of the guitar, download the app, sync the two wirelessly – via Bluetooth – and away you go.
Multi-coloured LED lights indicate exactly where you need to put the fingers of your chord playing hand, and this appears in the form of all the scales, all the chords, and over 35,000 song choices to date. I'll be coming at this review from the perspective of a guitar teacher, having used the Fret Zealot for a while now and tested it out on a number of different students of varying ages and abilities.
Fret Zealot lets you learn quickly & intuitively without the constant distraction of looking at books, videos, or sheet music to find out where to put your fingers. You can concentrate on technique & finding your style right from the start.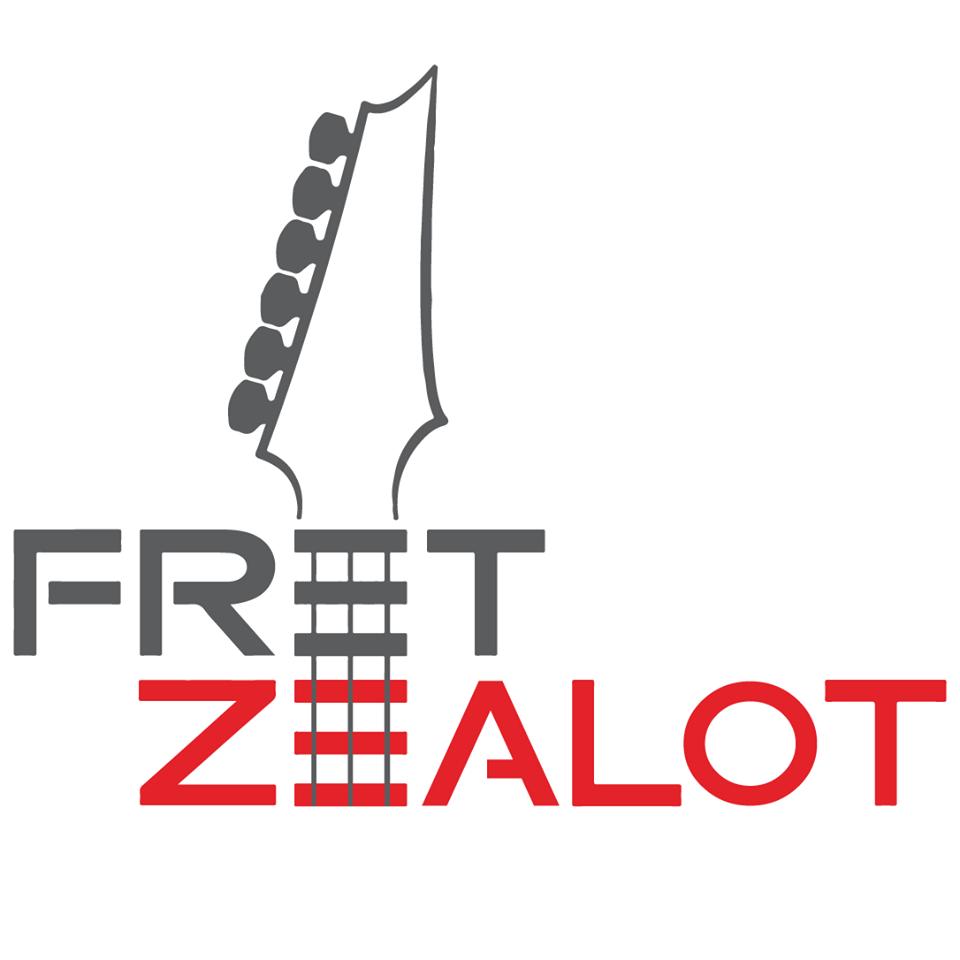 What are the Functions?
The first function to explore is that which shows you how to position your fingers to play chords. For absolute beginners, this has proven to be invaluable – particularly in the absence of a teacher. The internet can offer guides but it would take a lot longer to make your way through a basic set of new positions. For the more intermediate player, Fret Zealot will show you how to play chords in various other positions along the fret board. The colours light up to indicate the fingering and to clearly show you which strings to play or not play as you strum the chord.
The second function is notes & scales, one that I personally have seen to be an incredible tool when teaching new musicians how to effectively navigate their way around the fret board. If you set the device to a particular scale, you can't go wrong when jamming to any new key or learning the various shapes – simply stick to the notes that are illuminated. Root notes are coloured differently to help guide you but the entire LED board can be customized for ease of use.
4.6 Million Color Combinations: Full color spectrum LEDs, each of which can be controlled independently. Change the colors, intensity, effects, anything.. You can tune your Fret Zealot exactly how you like it conveniently via the app.
The third function is songs – search for the song you want to learn (or the artist or band name), select it, and the tab will pour through. You then simply set it going and the lights on your Fret Zealot will show you how to play the song. You can have it play in real time, slow it down significantly, or set it to AI / listening mode so that it waits for you to hit the correct note or chord. NB: Occasionally the app picks up a wrong note and moves on before you're ready – this is when using it on an electric guitar (you can apply Fret Zealot to electric or acoustic ). It's a minor issue and further updates will most likely see it overcome.
The fourth function is lessons, an option containing video sessions that guide you through your learning in a step-by-step manner.
The app also comes with a tuner, an essential tool when learning or playing guitar – it's a simple touch but it saves you having to install additional apps on your phone for this.
Fun – fun mode allows you to choose a light show for your entertainment. Play guitar to your heart's content and have the lights draw an audience's focus to your awesomeness.
Song Choices.
The Fret Zealot app comes with over 35,000 songs that you can choose from and get to learning straight away. There are multiple genres available and the choices span from age-old classics to today's biggest hits. You can slow down the speed of any tab playback as you familiarise yourself with it, but also, you can set the app to AI / listening mode, which waits to hear you play the notes or chords before moving on to the next LED display, so even the absolute beginner can get stuck in to Stairway to Heaven.
If you're struggling to find a song you like, Fret Zealot are pretty responsive to queries and communication across social and via email, so they'd be happy to listen to any suggestions if it would make the experience better for you as a user.
Ease of Use – does Fret Zealot affect access to the frets: does it negatively affect your playing?
For something that combines LEDs and sophisticated technology, Fret Zealot is about as thin as it could be right now. It's a little fiddly to apply, you remove the strings of your guitar and peel the back of the board off revealing the sticker side, then apply the frets one-by-one. Once it's on there, you quickly get used to the slight change in feel on your fret board. It does subtly take away the flat, smooth feel of the fret board, but not intensely. The more advanced player who wants to slide around a lot more would not necessarily be seeking out a device that aims to teach you guitar in the first place. For beginners, it's something you simply adjust to in the way that you do when you first pick up the guitar – attempting to play in general is something you have to acclimatize to. Everything's new and unusual to us the first time around.
I haven't noticed any negative aspects when playing a Fret Zealot-clad guitar and then turning back to a non-modified guitar. The only slight problem I noticed was that some students who were a little further along in their learning had difficulty knowing which fret was which – Fret Zealot covers up the markings and replaces them with its own, which is something you again have to adjust to slightly. Having said that, this is only when you attempt to pay a guitar with a Fret Zealot in place without activating the unit – when it's in use, the LEDs tell you exactly where to go.
One Size Fits All
The LED board that is the Fret Zealot is made of a fairly maneuverable material that allows you to arrange the frets accordingly on just about any guitar. Of course, there are a fair few size differences between guitars in today's world – there are so many different brands and styles. A lot of newer players will generally be opting for a cheaper instrument before committing to the bigger, more expensive names, which means Fret Zealot won't necessarily have been tested on every single model. Having said that, there is a fairly standard build for guitars that has been designed for human hands to be able to navigate effectively and play naturally, so in almost all cases – you should be fine. In my experience, as the device extends along the neck of the guitar, the LED strips start to be a little further way from the fret bars, but never so much so that they no longer correspond with the relevant notes.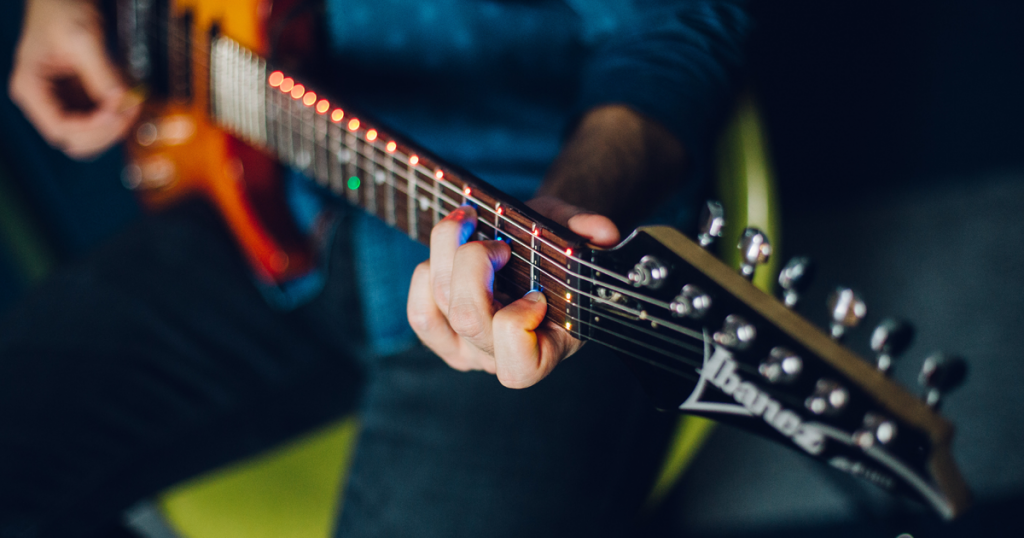 How does it compare to using tabs and / or having a teacher?
A lot of my students at the moment have commented on the fact that when using tabs or sheet music, they tend to look over at the sheet or screen, then look back to the guitar, then lose their place on the tab and find themselves lost – making things take a lot longer than you'd hope. It's always better to teach directly and dictate how and where to play a new song or a scale. The Fret Zealot attempts to bring together both of these methods so that students can be constantly looking down at the fret board as they work out their positioning. A potentially negative aspect of this is that over time I wonder would the methods learned still work once the unit had been removed and the guitar was simply there for the taking – would the songs stay in memory, would the left hand know where to go?
To test this out personally I've taken on some songs I'm unfamiliar with and have found that I have been able to recall them afterwards, although, as a long time player, the use of chords and melodies and scales in general make a lot more sense anyway; they're easier to find than when you're first starting out. For a beginner, you would hope the same would begin to be true over time, and I'll update you on this as soon as possible.
Fret Zealot doesn't take away the need to practice. If you want to be able to play the guitar fluidly, to play a number of different songs on it, master it even – you need to spend a little time learning every single day, whether with the Fret Zealot or otherwise. In today's world, Fret Zealot makes for a great learning tool and adds a lot of fun to the process of progression and understanding music.
What's Missing?
There are a few things the Fret Zealot can't offer, but this is generally the case with any new tech device. For something that attempts to fill the gap of a teacher – or, in my experience, potentially enhance the teaching session – it gets you focusing on your playing in an exciting new way. It opens the door to more difficult songs and to developing seemingly out of reach skills, and it puts a new slant on the necessary repetition of learning something from scratch. As stated, it doesn't take away the need to practice, but in some respects it acts as a sort of sheet music that you simply follow along – in a kind of whack-a-mole fashion.
Fret Zealot doesn't currently help with the right (strumming) hand aspect of guitar playing, but the videos within the app offer everything from absolute beginner sessions to the slightly more advanced, so again, the company do their best to make sure everything is covered.
Fret Zealot as a Company – Updates, Communication, Intentions
As a start up, Fret Zealot seem to be totally on top of things with their communication, their intentions, and their work ethic. Users are constantly informed of updates and if you follow Fret Zealot on social you'll be regularly informed of any changes. They also respond open-mindedly to pretty much all comments or suggestions I've seen online, so you know from the start that you're joining something of a community. If you feel there's something missing from your experience, certain elements that would help a little more, songs you wish were in the app – just let them know.
Durability / Life Span.
Perhaps there's work that could be done in the future regarding the app, the design, the material, as with anything new, but the company are, by all accounts, doing as much of it as possible, and pretty consistently. As it stands, once Fret Zealot is in place on your guitar, you're unlikely to damage it if you take care when playing and when putting it to one side and storing. I've had no issues with the app, if the device you download it to is up to date and fast then everything should be fine.
Battery Life.
No problems in this area whatsoever. The Fret Zealot battery pack connects to the mains via USB – you disconnect it from the main LED board to do this. It's small, easy to leave plugged in on your desk, and takes an hour or so to charge. Use Fret Zealot for half an hour to an hour a day and it will last for weeks.
Price.
For the technology and the ongoing process of improvement and support, too low of a price would be an insult to what Fret Zealot really is and what it offers the user. The physical product itself feels perhaps a little less sturdy than you might hope for, and as for later removing it and switching it over to a different guitar – this isn't the easiest thing to do. However, the aim was to create something that is incredibly thin and is hardly detectable across the neck of the guitar. If it were heavier, thicker, denser – this would counteract the intention. The technology is what you pay for, the use of the app and its communication with the unit is constantly being updated and there's so much you can do with it at this point.
What else does it come with?
Plectrums, stickers, capo, phone stand, endless hours of joy.
Final Thoughts.
Things are moving faster than ever right now, in the tech world and in every day life itself. We all want to improve our skills and develop new ones, be the best we can be, and most of us want to see results as quickly as possible. Fret Zealot is a product that has been thoughtfully designed, in part by people who have been trying to improve their guitar skills themselves, so the understanding runs deep. It's an impressive bit of gear that welcomes a centuries old tool for escapism and entertainment into the age of technology.
Music is an amazing part of life and to be able to play a musical instrument is consistently rewarding and enhances our everyday existence incomparably. In my opinion, the more people we can encourage to learn to play guitar, the brighter the world will be. Right now, tech is the way to do that – to draw a modern audience in and get them developing their skills quicker than ever.
Fret Zealot have done an amazing job in catering to a contemporary society. The potential for progression is exciting. There's likely to be a lot more to look forward to as Fret Zealot continue to grow their brand and build further upon an already enjoyable and incredibly useful concept.
We'll get back to you with a video demonstration and review in the very near future.
* * *
Fret Zealot are about to surpass their target on Kickstarter with their Fret Zealot for Bass Guitar – get involved – be a part of the launch, and check out their Webinar today for a live demonstration. Visit the Fret Zealot Website for more information. Find & follow them on Facebook, Twitter & Instagram.