Rising Christian Hip Hop and R&B artist CRYY hits the stage next Saturday, as part of Tsotsi Entertainment's Underground Sessions.
Corey McNamara, the rapper and performer known to the scene as C.R.YY, has built up a unique following in recent years – culminating in what will be an unforgettably passionate and compelling live show at Brisbane's Gold Bar.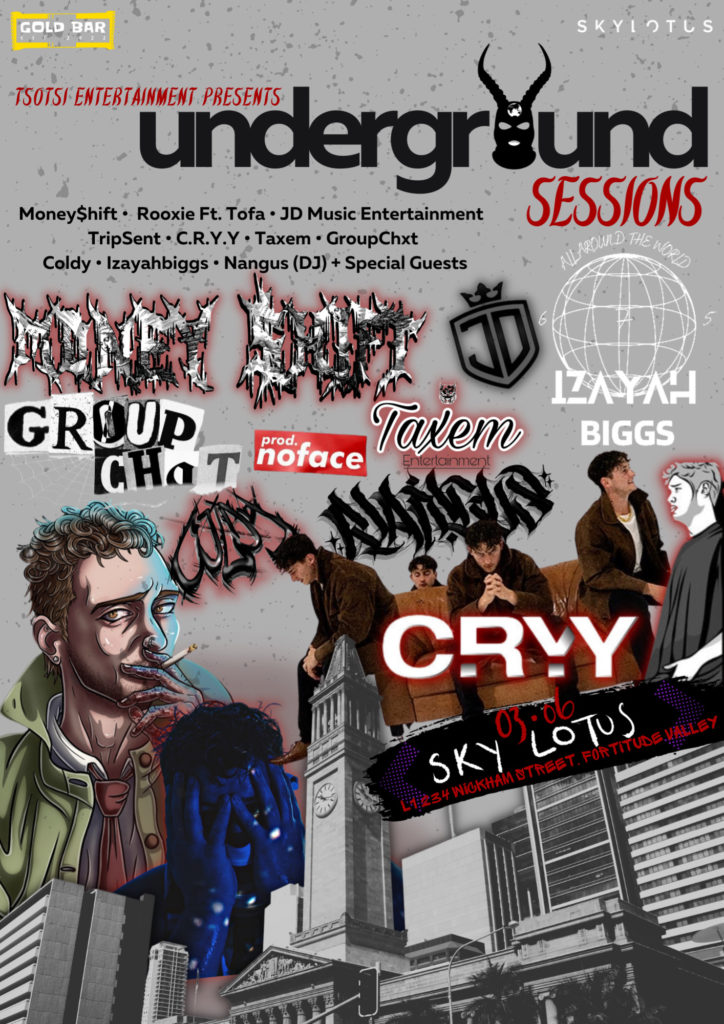 When? : June 3rd, 2023. 6pm to 10:30pm
Where? : Sky & Lotus, Gold Bar, Level 1/234 Wickham St, Fortitude Valley QLD 4006
* * *
Inspired by discovering the depth of God's purpose in his life, C.R.YY began devoting his time and musical efforts to Christian Hip Hop back in 2021, and aspires to deliver music that impacts people's lives in a positive and lasting manner.
The soulful conviction of C.R.YY's approach is undeniable just from listening through any one of his recent releases. A born again Christian, C.R.YY considers any opportunity to hit the stage and connect with a larger group of individuals a possibility to impart real change and a brighter tomorrow.
As such, the event next weekend, June 3rd, 7pm will promise an unrivaled display of purpose, ability and passion.
* * *
Line-Up So Far:

– Money$hift
– Rooxie Ft. Tofa
– JD Music Entertainment
– TripSent
– C.R.YY
– Taxem
– GroupChxt
– Coldy
– Izayahbiggs

DJ (Nangus)

Hosted by:
Tsotsi Entertainment
Gold Bar
Sky & Lotus

* * *
Early Bird Entry has now Sold Out but General Release are Selling at Around $23.50 – Grab Tickets. Follow C.R.YY on Facebook, Instagram, Soundcloud & YouTube.