There's no need for an introduction here, we're diving right in. Time is of the essence. 
1. You haven't heard a new song you liked that you weren't told you should like by the media, in a very long time. Go forth and find one. Songs tend to hit harder when you hear them performed live. Even if the performance wasn't flawless. (At least you know it was live.)
2. You're bored of watching television, Netflix and Youtube clips. You know how one sided it is. You won't meet the love of your life there, or make any real friends. And you certainly won't be appreciated for your presence. (The Youtube comments sections are, in many ways, more hellish than the gunky cavern your hand will find down the back of the couch.)
3. You're less likely to find unlimited footage of these musicians online. If you want to experience something fresh, maybe even learn something – perhaps about the life of a real, hard working musician – you need to make the effort and get down to a show. Live music can be gripping and powerful, it can alter your perception and refresh your view of the world.
4. You might find yourself inspired and enthusiastic about your own musical potential.
5.  Mainstream bands know what to write and how to perform to keep the money and the fame in full supply. There's a particular set of systems that have been proven to work. Unknown musicians write and perform the things they feel, the music they are compelled to create, the unique experiences they've had in the cool and quiet underground. It's not trying to please anyone, it doesn't think too much of itself, it might even go wrong at some point; but it's an actual persons creation, an impressive set of skills, developed in a cold, hard world, and without the population of an entire continent as it's backing singers. They're baring their souls in the hope that you'll respond. It's scary, and fun, and unexpected, and unique, and loud, and wonderful, and messy. The real world isn't played on Radio 1. It's right outside; just past your comfort zone.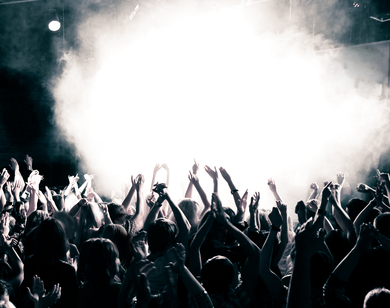 6. You'll only spend the money on pizza and diet coke if you stay in. Or alcohol, after which point you'll wish you'd gone out and found something new and exciting to be a part of anyway, so it's really barely a choice. Get out there.
7. Being one of the first to discover an incredible new band or artist is extremely exciting. You feel like you're part of the elite few who know the world's best kept secret. Plus, now is the best time to get up close and personal with these artists – just before they head off as a slightly bigger deal into the abyss of the world's stages.
8. Music saves lives. Literally. If it hasn't saved yours yet, you haven't found the right music. You must keep searching.
9. Most lesser known bands and artists have very affordable, if not free, gig prices. You'll be saving a ton of money by not going to the arena show to hear thousands of strangers sing the song louder than the star. And less people will get in your way (though a few more may spill their drinks on you, but that just increases the chances of making a new friend.)
10. If you don't support underground music, it may very well disappear. Forever. And then you'll have no choice but to listen to pop. You made it this far so it must be at the back of your mind to get out and see something new. Alternatively, if you've disagreed with points 1 -9, and yet you're still reading; you possibly do need to get out more. In which case I strongly recommend a night out watching an unknown band; it may just be the thing that reignites that youthful glow in your soul. It's still there – you know it is. Let it live. Let there be light. Let there be live music.