What is Branding?
Branding is setting into motion mass communication intended to make people aware of you and/or your work. Rather than needing to present a 100 word bio or blurb detailing what you do, you figure out an image, a collective statement or symbol representative of your ideas, and this becomes the instantaneous connection between yourself and your audience.
So much our day to day is spent online now. We work there, we research there, we socialize there, we even seek out potential love interests there. The internet is a part of us, it's in all of our pockets, and it's your gateway as a musician to the thousands of people out there who will get what you're about. If you want to reach a wider audience, you simply cannot ignore the web. And why would you want to? Social media has made it easier than ever to reach anyone and everyone. The only problem is that anyone and everyone are simultaneously trying to do the same. So, how do you make yourself stand out? The answer is by building your brand.
Why is Branding Important?
Think of Twitter – one of the biggest and most commonly utilised social media platforms on the planet. It's a place where endless numbers of bands and artists have made first contact and connected with the people who now make up the bulk of their dedicated fan base. Now consider this – every single tweet, regardless of the nature of its intention, is limited to 150 characters.
You can't fully express or summarise your creativity in a single tweet, though if you can, perhaps you're not as creative as you thought and a little more musical development could be on the cards. What you can do though, is cater each tweet to something new – a new song, a new gig, a new quote or idea or something about your personal identity that will connect with your followers and potential fans. The important thing when doing this is to make sure there is some thread of consistency to go with everything about your music. This is your brand – the idea or image that is recognisable and easy to detect in an ocean of other images; the visual that represents you.
Your brand is more than just your logo. Your brand is your identity as a band or as an artist. Your brand is how you first appear to people, how you market your music, how you advertise, how you're seen and considered. It's the thing people will recognise in an instant as you, as your sound, as your creative output.
All those infamous companies we know and trust and see every single day – we recognise the brand by its font, its logo, its tag line, the simple image that connects us to the content and purpose of the company – McDonalds, Starbucks, Apple, Nike, Tesco, and more relevantly – The Rolling Stones, Prince, Kiss, Elvis, Eminem, etc. etc. We recognise the brand before we even hear the music. Consistency is the key to becoming a household name. Choose something that works, and stick with it.
Visual imagery is where it all begins. It's what we scroll past everyday on our phones. It's what we see pinned up in the doorway of the venue, or scattered across the tables in pubs. It's great if your music is great, but how will you get people to listen to it in the first place? Whether you like it or not, visual imagery is the very first port of call when connecting with your listeners. In many ways, making the music is the easy part – without a brand, so much of it will remain unheard.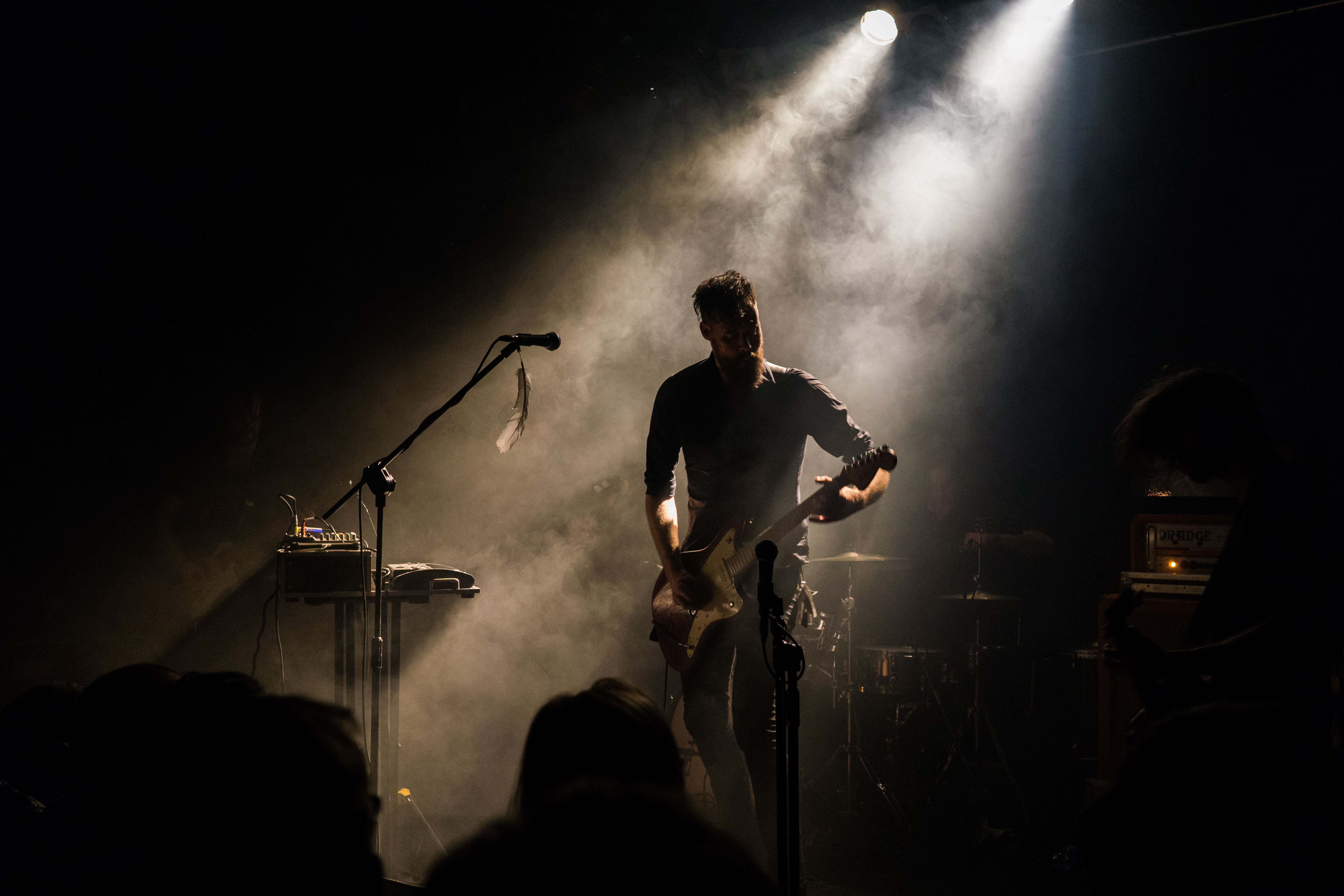 How Do I Build My Brand?
Something we talk about often here is the fact that there is an audience for everything these days. Whatever genre you fall into, whatever style of music or whatever the nature of your performances, your audience is waiting – they exist already, you just have to find them. Once again, the internet, the source of and solution to so many of life's problems, is here to save the day.
With specific audience targeted marketing you can reach the precise demographic that you think (or know from research) will appreciate what it is that you do. A good way to work this out is to look at your current fan base – what sort of people they are, what ages, which genders, etc. Then you should look at bands or artists who are perhaps similar to you, or other public figures even, who share similar ideals, and take a look at their audiences. Find your demographic and you're ready to reach out to them with targeted marketing. This is where branding comes in.
Your music, your creative reach, your artistry – as vast and varied as it may and should be once people get on board, needs to come through at first in the most concise, cool, captivating manner possible. You only get a split second to grab someone's attention. You need them to stop, you need them to notice you, you need them to press play.
Logo Design
Start building the brand. Image or brand perception is what draws people to be interested in you and your music. A great place to begin is with a unique logo. If you're artistic and skilled or knowledgeable in graphic design, brilliant – get to work creating your own stamp of identity. If not though, and that's most of us, there are many companies out there who offer stunning logo design and help with branding; reach out to them, and make sure you take on something that is of the absolute highest quality, a design that works in any format, as well as one that you're happy to see and showcase everywhere you go.
A great place to start when getting together a high quality logo for your music or your band is a high quality, well renowned logo generator or logo maker. This takes the hassle and effort out of design work and lets you submit the relevant details and keywords so you can then browse through hundreds of potential images and logos until you find one you're happy with. The quality is generally high as customer feedback is the primary source of survival for online companies, and in most cases you'll find this to be one of the easiest and most affordable options when sorting out a band or artist logo.
CD Artwork
When it comes to high quality graphic design, the same applies for the artwork that will be the cover of any and every single or album that you release. There's no excuse for poor quality. If you want people to buy it, if you want them to want it, you have to make it crisp and captivating. This is also true for any bands or artists who will be looking for music reviews or features on blogs and in magazines – poor quality artwork or photos will be avoided like the plague, and can, in some cases, prevent people from even pressing play and listening to your music.
Merchandise
People connect with musicians and bands because the music speaks to them and they like how it makes them feel. If they want you to continue what you're doing, if they want to let more people know about you, or if they want to put up a flag and let other fans recognise a shared passion – they purchase and showcase proudly the merchandise of that artist or band. Owning and wearing merchandise created by and intended to represent an artist or band is a way of showing lasting support. It's a great way for people to feel involved and welcomed into what you do, and it's a great way for you to get free, unlimited visual advertising out and about in the world.
T-shirts, hoodies, hats, mugs, beer-mats, socks, aprons, plectrums, posters, stickers – you name it, people brand it, and other people take it home like long lost treasure. Make sure your logo and your image are up to scratch, and get creating and selling the connected merch to represent it. You can even give merchandise away in competitions online or at gigs. Get people sharing your content on the promise that free merch will be rewarded to a randomly selected winner – you get more promotion for your latest post, more free advertising to potential wider audiences, and much more than this; you get some excited and, in the case of the winners, very happy fans.
Stay Professional
It's important to show your true colours as an artist or band, so be yourselves in every way when it comes to making music or gigs or even portraying your real voices online. However, there's undeniably a certain level of professionalism that needs to be created and maintained when building a career in music.
Every single music publication or venue or potential industry connection you approach will be someone who receives hundreds of emails and messages each and every month, many of which are unsolicited,. You want to stand out, and that's where building your brand comes in, but you also want to keep things categorically professional. Take your music seriously if you want to build it up, treat it like any other business, and show people that you're dedicated to this mission and to your craft.
Some ideas for improving how professional you appear are to get a personalized email address for your band – this can usually be done through your website host, and should be something like – Martha@biggreenband.com. You should also seek to get professional photos taken for your website and press release, as well as for use on social media – if you can get live performance photos, all the better, particularly when booking gigs. The same goes for videos. Video is the way forward these days. As a society, we are far more likely to press play on a video than on an audio link or even a simple 'read more' on a Facebook post. Connect to your audience using Facebook Live, Youtube, Instagram and Snapchat. These things are tools, they are your gateway, your window to opportunity.
Stay Active On Social Media
The reason people follow you online is because they want to see updates about your music. They like what you do, they clicked like or follow or subscribe – they want to see and hear more from you. If you let the buzz fizzle out you may sadly be forgotten about or replaced by the next exciting new band or artist – you know, the one that did keep the new stuff coming (there are plenty of them, more than ever before).
This isn't to say post pointless updates about mundane daily tasks, nor is it to say keep making those empty promises of new music or new events. If you want to keep reaching a wider audience, you should always be working on your music, always be working on your performances, booking gigs, recording, making new connections. So, naturally, this is the stuff you can update your followers about. Keep it real, keep busy, and things will grow.
If you're serious about making music and pursuing this as a career – your brand is your ticket to being heard. Be smart, and keep building.