Southampton based Jude Ωne Eight is a guitarist and songwriter who has joined forces with a talented array of friends to create this latest collection of tracks. The project features a vast and creative mix of styles and sounds, but the underlying thread throughout it all is a hearty dose of melody and meaning. 
The variation is incredible, and this is clear from the very first switch between opening track Better Not Wait and track two Stage Fright. The opener features the pleasantly energetic, stylish yet gentle vocal tones of featured artist Naomi Terry. It's a pop-punk meets melodic rock anthem, and a great way to begin a new project.
The following track seems in many ways to be the polar opposite of the opener, stylistically speaking. Yui Karlberg takes to the stage and offers up a cool and confident performance of what appears to be a reggae infused, soft rock, perhaps even folk-rock sort of song. This second track is sublime – the performances are particularly beautiful, but the way in which it's been written and structured just really brings out those moments of beauty to their absolute fullest potential. A truly superb piece of song writing and musicality, it sets a beautiful mood that leaves you feeling pretty wonderful.
The switch is vamped up yet another notch for track three, and by this point it's clear you're in for a completely unpredictable ride with this album. It's almost like a Now CD, but without any of the heavily marketed pap; one made purely out of independent music. A Murder Of Crows brings a dark and distorted weight to the collection. Steve Erida's vocal provides an edgy, passionate twist to the project, and the performance suits this type of song brilliantly.
They Live has a wonderful sound of The Pretenders to it at first. You really get to focus in on the lyrics with this one, and they're excellent; really unusual, expressive of a sort of reflective, unique depth that leaves you eager to hear more. It's a track that again brings the soft rock sound to life, drawing you in with the melody and the subtlety of Marlene Rodriguez' leading vocal, and finishing it all off with a brilliant chorus section. I was actually reminded a little of The Pixies as this track progressed. Another definite highlight within the collection, though it really is an enjoyable and thoughtfully written project in it's entirety.
Hawaii Five-O keeps the good vibes going with a massively melodic and mellow tune – Opkar Hans' lyrical lead seemingly tipping it's hat slightly to the lyrical style of The Beach Boys. This song gets better and better the longer you listen, it's the sort of track that just warms you right up. The chorus is massively addictive, and the verses are so peaceful and loaded with imagery. A real pleasure to experience.
Journey To The Centre takes the creativity to a fairly experimental new level. Marlene Rodriguez returns to satisfy your need for the unexpected, which occurs in full force as those drums and that hard hitting guitar solo slam into play – just as you thought it was safe to sit back and relax. This track brings you to your feet. It's a stunning piece of music that exercises the artists' right to create freely and without barriers. The variation by now is something you'll be keen to continue taking on. The collection is exciting, to say the least, and what's more is that it's impossible to predict – there is not so much as a glimmer of complacency. The realness is unsinkable.
All Of It with Pammie Moore brings a gorgeous bit of alternative folk music to the table. The song is so unusual, yet beautifully now sounding – there's a simplicity to it that causes the absolute strength of those strings and that vocal display to rightfully demand your attention. Once again, the creative freedom is explicit. The song has the effect of taking you on a journey – through sound, through story telling, through your own thoughts.
All Our Leaders with Marco Lofi comes at the right time following this last track. The vibe switches quite suddenly again, much like in real life, and you're given an Eels-like array of melody and instrumentation, with an unapologetically political edge. The vocal featured here has something hugely approachable and honest about it, which pushes the power of the song's depth even further. The rhyme scheme is wonderful as well; the song is massively memorable – it's a struggle, in all honesty, to listen just once.
Pammie Moore returns at this point with the iconic track No One Buys Music. The kind of track that puts you completely at the mercy of honesty, and leaves you sitting back in utter agreement. Pammie Moore's vocal style has something very real about it, which suits the subject matter superbly. There's a hint of Kate Nash in the delivery at times, which brings about an enjoyable touch of nostalgia – a feeling emphasised further by the whole idea and fact that nobody does buy music anymore, and that's an incredible shame.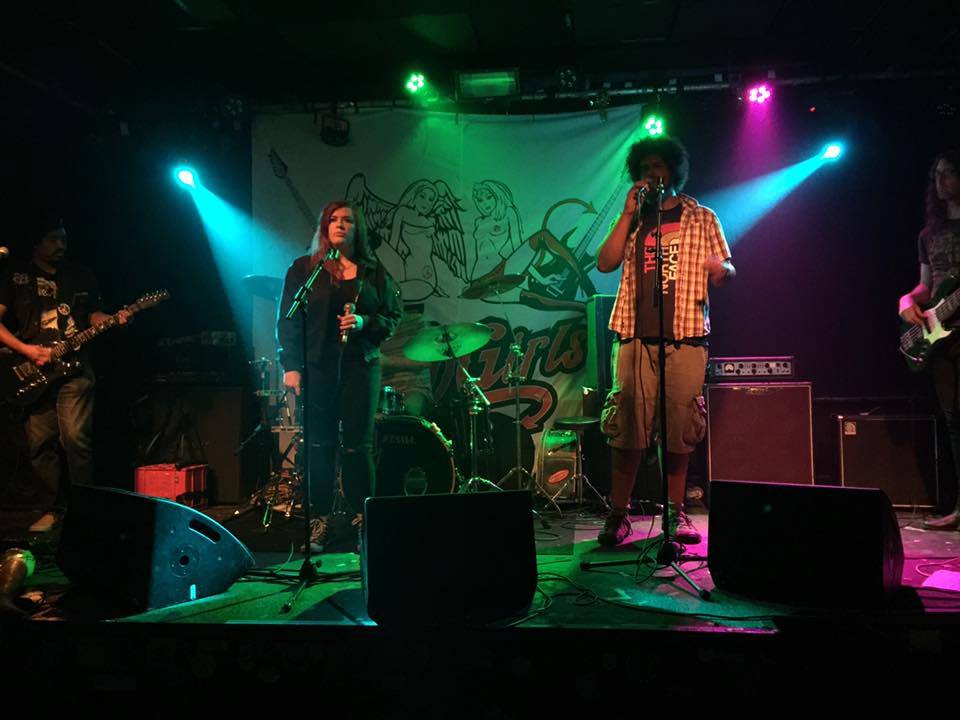 IDK features Marlene Rodriguez for the penultimate song on the collection. There's a punk rock sort of urgency to this at first, which later evolves into a dream-like, almost trip-hop inspired pre-chorus, which is again, in turn, dissolved into that distorted, honest heaviness. Then you get Purple Friend to finish everything off; a respectful and powerful song about the late and much loved artist Prince.
Much more than an album; this project, when listened to in full, leaves you feeling like you've spent an entire day exploring and experiencing the various corners of the world. Purple Friend is a fantastic way to close things down. The acoustic guitar and the spoken word Issa Loyaan Farrah provides capture your attention from the offset. The poetry is mesmerising, the sound in it's entirety has a hypnotic and compelling effect, and the whole thing has a bewildering sort of beauty to it. Pammie Moore's beautiful vocal plays out for the hook section, highlighting the key idea, the key phrase – the thing that reminds you of the unpredictable and unusual creative path the whole thing has taken.
This album is a little like a 'how to' on modern life, or perhaps a run through of the way things are; for other worldly visitors, maybe. It's fantastic, from start to finish. You can't predict a single moment of it, and the arrangement is a job well done in that it's a pleasure to hear each new voice and each style of expression one after the other. Well worth a listen in full.
Find and follow Zen Juddhism on Facebook and Twitter for all the latest updates. Take home your copy of the album via the Website.