Here's a fascinating body of work. Vicki F is entering the fray with an EP of new material and a pretty fearsome set of credentials.
Definite Yes is not about to take any prisoners. Vicki says she is working at making music that comes from her soul. Well, here it is, and it's damned direct.
We are talking impassioned vocals. We are talking some pretty meaty riffing on guitar. All wrapped up in some smart production, great songwriting and a healthy little shot of gently snarling punky attitude. But it's got mood and heart, and tunes and thoughtful lyrics, too.
First out of the traps is The Desert. It's an organic-sounding song which seems to mourn and to scold at the same time, and this interesting balance of emotional resonance is just one of the things that will ensnare the right kind of listener. It survives on raw nerve and power and some cool, accomplished musicianship driving through. I loved the use of repetition in the lyrics; the vocals upping the ante with each repeat, yelping and reaching down into Vicki's inner self to deliver the message: 'You left me in the desert'. Well, it looks like she's found her way back from said desert, and if I were you, I'd pack my bags and get out of town. Now.
Musically, it feels like Vicki may have employed R.E.M as a backing band for a few of the songs on Definite Yes, but never more so than on The Desert. What a coup! It sounds muscular and assured. Authenticity reigns: you've got to love the electronic ambience of the guitar amps' buzz at the top and tail of all of the tracks on the EP.
Tell Me You Want Me might be a narrative continuation of The Desert. Has the character from the first song found her quarry, forgiven them and is now propositioning them? It's a fun idea, but works just fine as a stand alone piece, too (of course). This tune plugs in to a more pop-friendly arrangement, with some enthusiastic syncopated guitar and vocal moments creating some great instant hooks.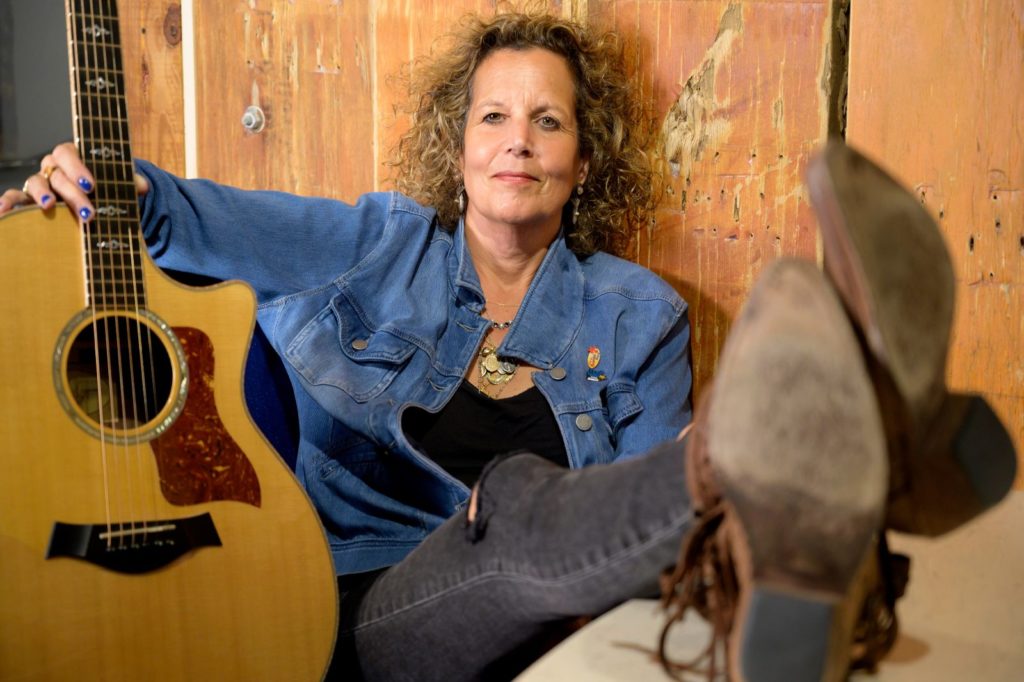 Everything Is Fine taps into Americana in a tuneful way that compliments the strong narrative thrust of the lyric. It's a more sedate tune that allows the acoustic strums, piano and drum kit to crisply walk us through a sardonic (or is it?) rumination upon the state of our protagonist's situation. Never has a platitude sounded quite so loaded! There's some smart use of double tracking on the lead vocal that warms up and thickens the delivery, and this halfway point in the EP provides the perfect moment to reflect on Vicki's definitive vocals and messages. Towards the end, we are encouraged to join in the singing with her ('Everybody!') – even if it is through gritted teeth!
'There might be some glory / But there would be a price'. This little nugget of wisdom leapt out at me from Blood Moon. Rolling, syncopated drum patterns mark out the bones of this 3 minute gem.
And this track (again) emphasises how good the musicianship is on the EP. Effortlessly flowing, with just the right amount of flourish and never undermining the songwriting, this collection does a great job of showcasing Vicki F's character and her singular, confident vocals.
Definite Yes (the track) concludes proceedings. And it's hard to imagine a more emphatic conclusion. It's as confident as the other tunes, but also a little more wistful. As you listen through the collection, you begin to learn the little idiosyncrasies of Vicki's vocal style – like her penchant for ending phrases on a tricky triplet run – which is beautifully highlighted here. Some sweetly sung backing vocal pads add to the pensive atmosphere, but the refrain of 'Definite yes' punches through it all with its inherent affirmation taking us to an ending that comes all too soon. The ghost of R.E.M. (and also possibly Queens of the Stone Age!) is present and correct here, and I find myself wanting to reference Debbie Harry, Toyah Wilcox and, perhaps most obviously, Patti Smith to round this review off.
But Vicki F is carving out her own, distinct furrow, and it's well worth our while exploring it.
Stream the project on Spotify. Find & follow Vicki F on Facebook, Twitter & Instagram or visit her Website.