From The Gallows is Germany based Tir Nan Og's fifth studio album, and it's an absolute blast. The project fuses the energy and confidence of punk with the raw creativity and hypnotism of Celtic folk, all of which comes through beautifully intertwined with impressive, captivating songwriting, and a stunning display of musicianship.
O'Hanlon's Last Words is the opener – an incredible track. The story telling, the melody, the sheer energy and skill put forth by the music – the song has an instantly uplifting and addictive quality, and despite the context, the leading character presented in the lyrics, it really has the effect of making you want to press play two or three times over before you even progress through the rest of the project. What a fantastic band.
As you do make your way further into the album, you're likely to be browsing for live shows at the very same time. The musicality of this project is phenomenal, but not just this – the songs are infectious and brilliant. Hangman's Tale continues down this gorgeously gloomy pathway, leaving you inescapably energized as the contextual sadness pours out. A live show from Tir Nan Og would most probably make for the perfect, high energy, blissfully happy evening out – the sort of event that gets everyone's hearts racing and their minds free from concern.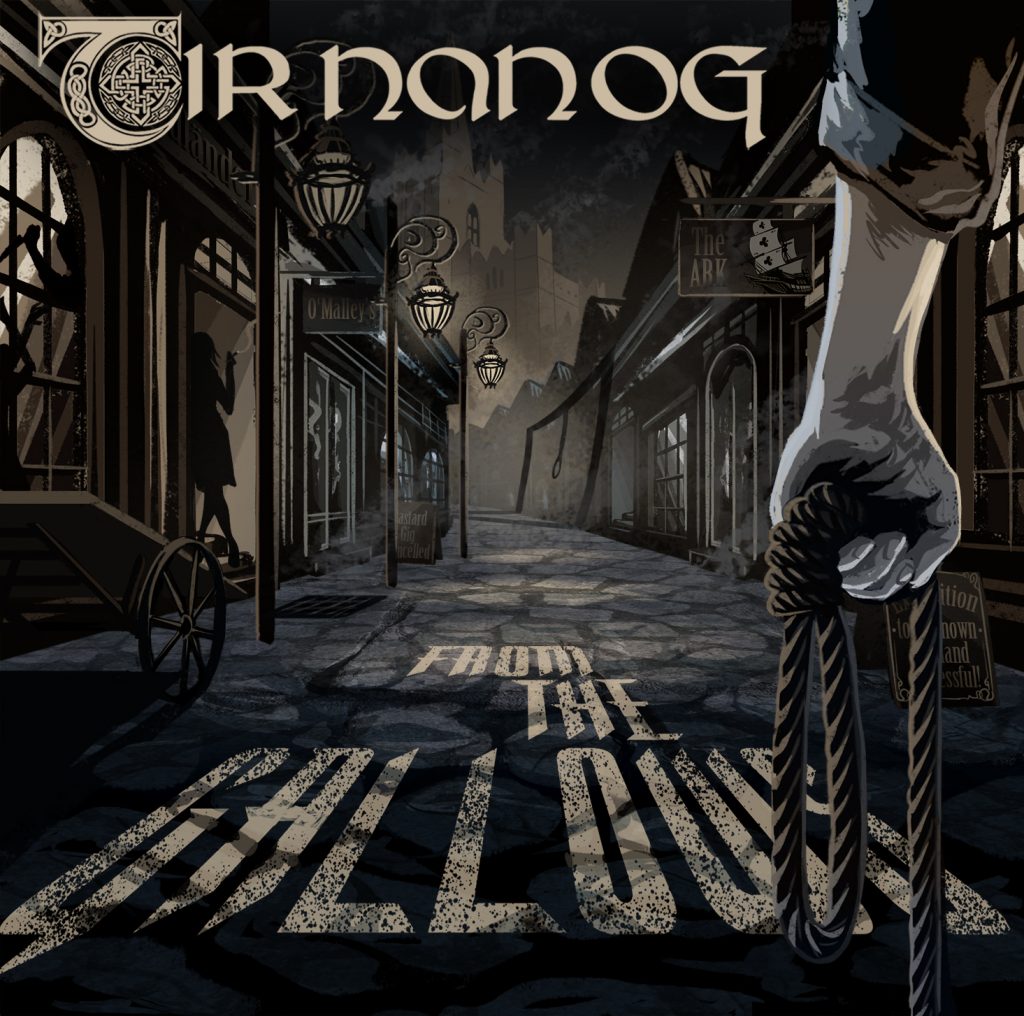 Firestorm keeps you dancing with your knees up but creates a slightly different mood and offers up a different leading voice. The song fits in perfectly with the energy of the album, as well as keeping things fresh and forever interesting. This feels like more of an alt-folk or even a soft rock piece than those which preceded it. Monster (in my mind) varies again, showcasing eclecticism yet maintaining your interest and affection. This one feels deeply reflective and intimate, a moment of space and calm within the chaos and vibrancy. It's well placed and works beautifully.
A classic or traditional Irish-folk feel comes through with Last Farewell, the melody feels familiar to an extent, though the set-up, the structure, offers something mildly theatrical and gradually evolving. The placement of each line and the instrumental break that follows it makes for a detailed and colourful composition. Then the energy smashed back sky-high with the brilliantly upbeat and boisterous 3 Nights in Town. The mellow, story-telling verses contrast effectively with the explosive, instrumental hook sections. The perfect scene is laid out before you, and despite the details, those three nights in town start to grow more appealing with every moment that passes.
Shaun O'Malley strikes with another hit of space and personality, certain acoustic moments within really lay bare the strength of the song and the leading vocalists abilities. It's a simple song in some ways, but it's well received at this point within the collection. Monday Stroll follows, an unexpected personal favourite – this meeting of the indie or folk-rock energy and something a little further afield makes for a captivating melody line and story. It's all at once haunting and musically satisfying. Certain moments within the melody feel familiar in the way that many indie-rock anthems used to.
Black November is beautiful, powerful, majestic, unpredictable. A touch of theatre returns, as does a sense of sadness and vulnerability that connects on a fairly personal level. There's a delicacy here but it's not without that lingering, manic air of creative energy. Bastard Reel makes perfect sense afterwards, the wind instruments lead gorgeously into those which bring the rhythm and the pace, and this one has endless levels of both. The instrumental touch works well as a break from the lyricism – it allows your mind to follow the mood of the music in a less confining setting. Then you get the unexpected brightness and somehow joyfully depressive song that is Story Of My Life, another brilliant piece of writing and performance.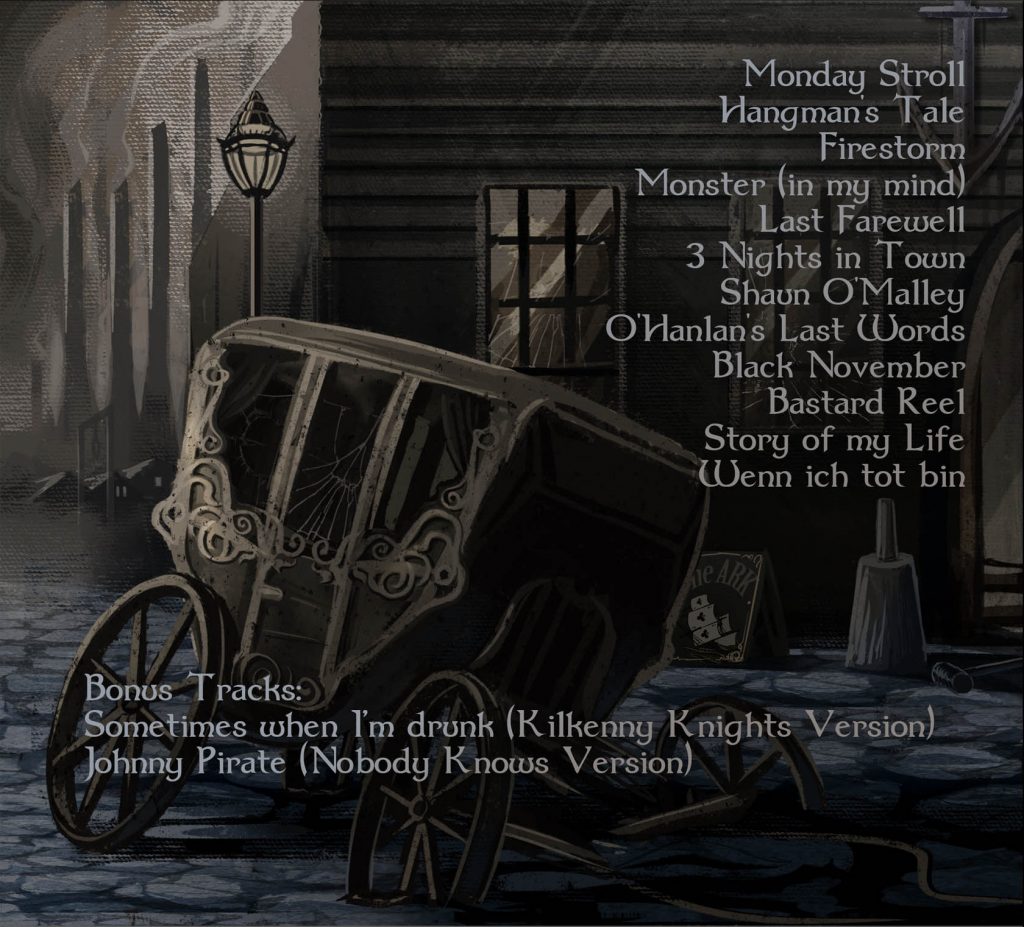 It's difficult to represent these tracks well in writing – you really need to press play, turn up the volume, and just let go. Wenn Ich Tot Bin continues down the hopeful road towards optimism and possibility. In reality, the carefree approach to these topics is refreshing, calming even. It's a total pleasure to escape to these songs.
As things move swiftly towards their fiery, inescapable end – the album offers a couple of bonus tracks to keep you satisfied a little while longer. Sometimes When I'm Drunk (Kilkenny Knights Version) offers a final reminder that it's more than OK to occasionally lose yourself in the moment. The somewhat painfully realistic and detailed portrayal of this song makes for something that feels like a Friday night out in an overcrowded, over-intoxicated Irish pub – a feeling many listeners are likely to welcome with open arms.
Johnny Pirate (Nobody Knows Version) marks the end of the album. Surprisingly you get one final story from the band, a complex and explosive meeting of moments – a leaning back and forth between English and German, another effective use of contrast between the mellow and the manic. It's a huge way to finish and it tops off what has to be one of the most enjoyable and invigorating collections of recent years. Tir Nan Og are a band you need to know.
Find & follow Tir Nan Og on Facebook & Instagram. Visit their Website for more information.