Blissful good vibes meet with a mellow performance approach and a chilled perspective on life overall throughout this fresh EP from San Francisco's Sifu Bey.
Beginning with the aptly-titled Groove Contagious, a retro yet delicate, almost gamer-like soundscape accompanies a quiet and breathy, seductively calm vocal line and hook, later developing into a slightly more passionate and impressive flow. Meanwhile that rising and falling riff proves beautifully hypnotic – a contagious groove, by all accounts.
Cruise Control follows and with a touch of cinematic sound design we're transported to the sunshine coast to lay back and embrace the positive energy. Already that leading voice is familiar now, loaded with personality, recognisable in its notably gentle confidence.
Galactic Groove switches gears a little, a distant and raw acoustic strum accompanies a quickly memorable, infectious hook and melody, followed by an array of gentle voices that set the scene and speak on personal attitude and reflection in an uninhibited fashion.
Injecting a little piano-led jazz and a decidedly contemporary, familiar rap flow, with short lines and simple references, Organic lives up to its name by reminding you that this entire project would likely translate beautifully at a live show. The detail here is strong, little inflections and moments help really make this something of a timeless, inspiring anthem. A definite highlight. The lyrics and the increasing passion captivate well.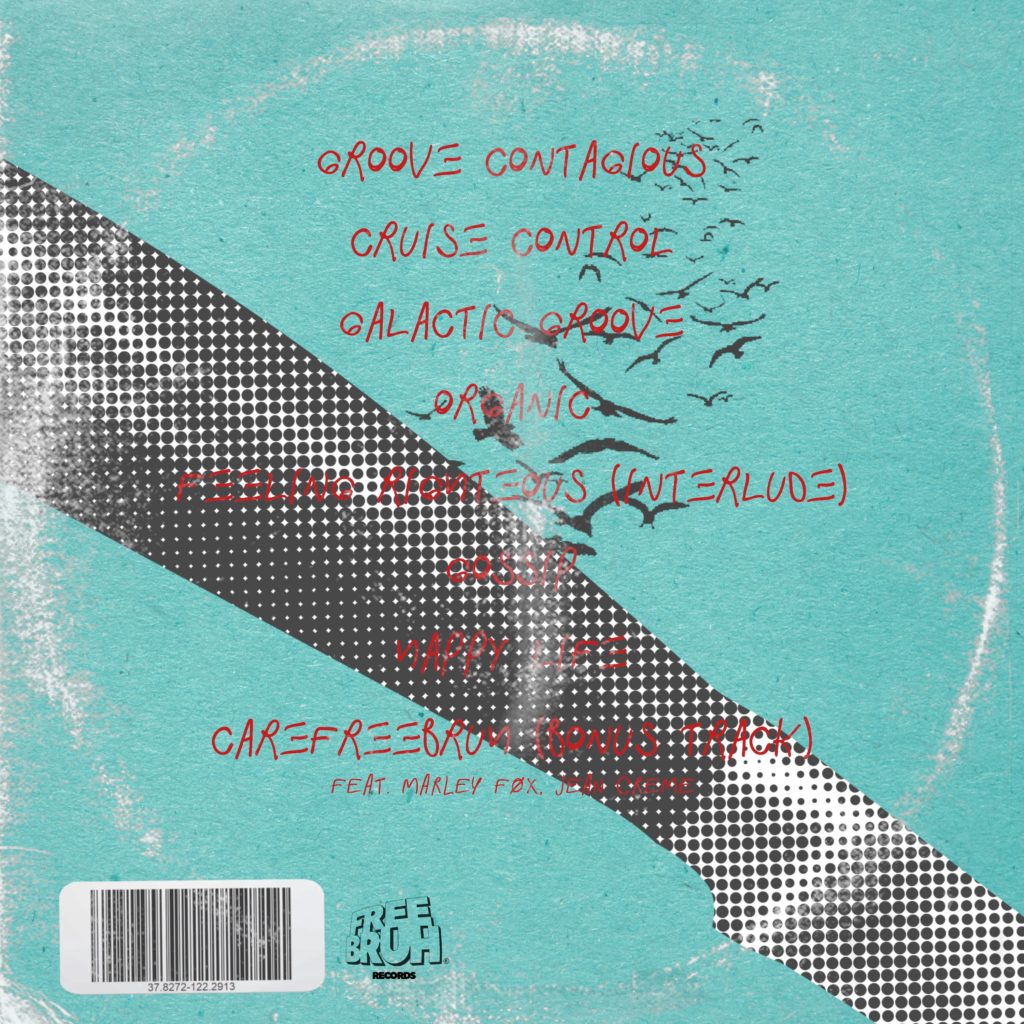 During the EP's latter half, things get a little more personal, showcasing vulnerabilities and honesty in a manner that's easy to connect with. Feeling Righteous kicks off the process in the perfect way. An entrancing, engaging groove, with a subtle call-out for help and understanding. Beautifully crafted, an addictively calming yet questioning piece of contemporary alt-pop. It starts to seem like this EP gets better and better as it moves along.
Gossip adds a touch of industrial sound design and a call-and-response lyrical set-up that showcases versatility and keeps things eclectic and interesting. Reflecting on the topical trend and weakness of gossip, the track again allows listeners to connect a little more meaningfully with the artist behind the work.
Then we get to the incredibly uplifting, ambient and colourful beauty that is Happy Life – a title-track that wholly encapsulates its underlying sentiments. Hopeful sax and realism meet with a laid-back energy that's addictive to have rain down around you. Another highlight, perhaps simply for how unique it is and how strong the effect of its escapism. You can disappear into this one.
Bringing things to a close, Marley Fox and Jean Creme feature on the EP's final track CareFreeBruh. This one gets creative, a little experimental, introducing a faster pace, a clear sense of confidence, and a dynamic and energy that end things on a definite high.
Sifu Bey has ventured into this project with the intention of being himself entirely. This stands tall in everything from the producer choices to the bars to the performance. Unique artistry is a tricky thing to master, particularly whilst maintaining a level of professionalism and appeal. This project has it down.
Download the music via iTunes. Find & follow Sifu Bey on Facebook & Instagram. You can also follow Marley Fox, Jean Creme & producers Silencio & Akili Simba.