Shane Scarazzini has written a collection of movie-ready classics with this release. The opening riff on Camilla kicks of the Dear Madeline EP with an immediate warmth and sense of recognisability. Then you get the depth of that leading voice, the additional character offered up by it, and the progression to a choir-like moment of togetherness to reinforce the rise.
This is something like Americana with a rock edge, a layer of synths, superb story-telling, and a near-gospel style performance – not to mention a hearty hit of big-band, piano-led country swing to see things out. A brilliant opening song and the perfect way to begin this increasingly impressive project.
Holler Number Seven follows on and brings instant energy and smiles. The dueling banjos aura appeals for its organic brightness, quickness, and the musically flawless nature of the delivery. The song that proceeds to emerge is one of short lines and an anthem-like vibe that's easily memorable – a piece that would likely create a colourful moment of chaos at a live show.
Keeping eclecticism at the forefront, and a clear understanding of arrangement and holding an audience's interest, Dear Madeline (the title track) provides a moment of mellow blues swagger at the album's mid-point. Think Johnny Cash, low-key captivating and an unavoidable shoulder sway. A welcomed moment of calm that showcases the expressive intricacies of Shane's voice and simultaneously lays out a calming, instrumentally warm soundscape.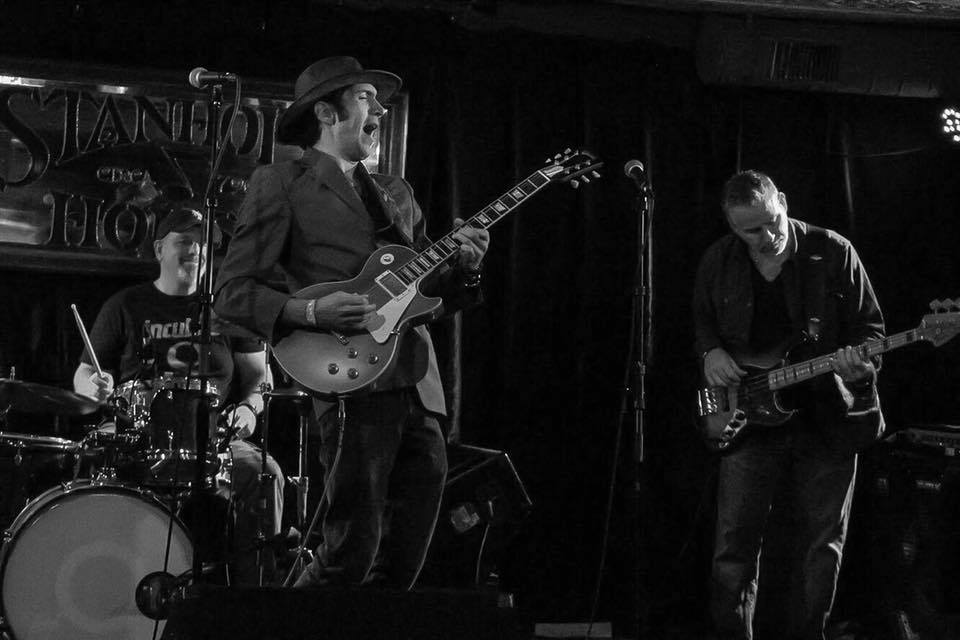 Later on, Old Man Shawn throws caution to the wind, injecting a hit of blues-rock swagger and a near-Chuck Berry style piece of music. Distorted power chords contrast with Shane's smooth vocal and lead well towards an absolute knees-up of a hook. The instrumental break in particular makes for a brilliant moment of free-flowing energy and united dancing. Featuring Don Holocher on drums and Lucas Carillo as multi-instrumentalist and producer, Shane Scarazzini & EightFingers almost certainly could offer a live show to remember – well worth heading out to if you're lucky enough to stumble upon the opportunity.
Bringing things to a somewhat unexpected finish is the fuzz-soaked and funky, bass-driven Shoot The Devil Down. Lyrically there's a fascinating concept at the heart of this one, which Shane delivers in a subtly bold and catchy way. Yet another side to the band is highlighted during these final moments. The latter half sees the musicians explode into a completely hypnotic few minutes of expressive performance – solos, riffs, energy, pauses; a real cinematic outpouring of compelling instrumental work that ends the show with an unforgettable bang.
Dear Madeline is a surprisingly varied and consistently entertaining new project, from a band with a beautifully organic, energizing, and notably recognisable sound; one that refuses to be pigeon-holed. Well worth letting play at volume this summer.
Find & follow on Facebook & Instagram or visit their Website.