Life-time culture shifting painter Ruby Mazur gloriously revisits his 1971 Mouth & Tongue symbol from The Rolling Stones Tumbling Dive record sleeve, for a 50 year anniversary.
The celebration will see 13 derivative pieces of the 'Mouth & Tongue' that continue to embody the spirit of rock n' roll at the Holle Fine Arts Gallery on Maui in collaboration with Cosmic Wire; a cutting edge and revolutionary hybrid art exhibit displaying both digital NFTs and physical canvas of the works.
The day's proceedings will prove an immersive gallery experience with live music from Falling Doves and a surprise NFT event for patrons as they revel in the opportunity to mingle with Ruby and other island influencers.
A percentage of the NFT proceeds will go to LET ME HELP, a New York based charity supporting The American Cancer Society, Anti-Bullying, Broadway Heros, Covid-19 Relief and Prostate Cancer.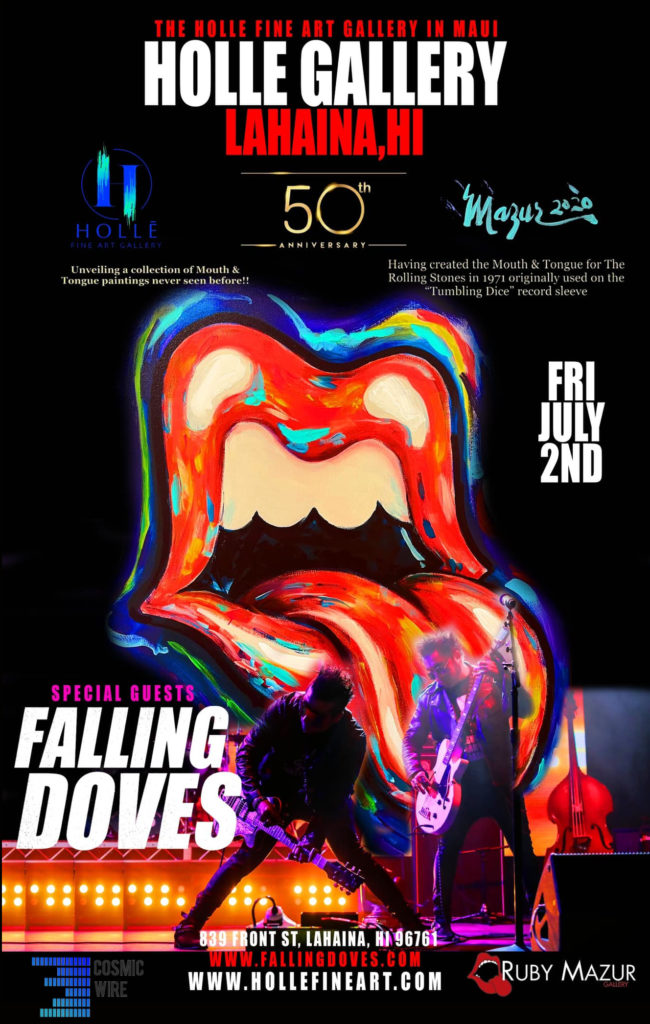 " Ever since earning a Grammy nomination for designing the 'CrowFoot' album art in the 1960's, Ruby Mazur has been asked to illustrate and communicate the musical message of the world's most famous performers. Capturing pivotal moments and cementing trends, Ruby has worked on over 3,000 album covers for artists like Elton John, Billy Joel, Ray Charles, Sarah Vaughn, Van Morrison, Jim Croce, Jimmy Buffet and B.B. King or with record labels like Paramount, Atlantic, and Warner Bros.
The paintings and works are inspired by Ruby's outrageous rock n' roll days and his second life in Maui, conveying the wild and dynamic music scene with the humility of the island way of life. "Going digital with Cosmic Wire on my paintings with these new NFTs is like the "Old World" going into the new frontier of the "New World" of Art" commented Ruby, "This is an exciting new experience, merging both worlds where I can dip my brush into paint with one stroke and it goes almost instantly around the world."
Futurist publishing and technology company, Cosmic Wire, specializes in protecting and monetizing the world's most valuable IP, traversing the now trillion dollar blockchain industry since its 300% market increase from 2019-2020. Understanding the potential of NFTs to enable artists to sell and own their work directly, Cosmic Wire is focused on fair agreements, direct rewards, and downstream residuals and payments via their proprietary Licensing and Publishing model.
The artworks will be authenticated and protected using proprietary and unique technology from Cosmic Wire partners, REV3AL Technology and NCODED, disruptive multi-factor authentication and encryption technology that shows the authentic creation of the work and protects it from being counterfeited in the digital space.
The holistic multi-media company will be producing and publishing a number of exciting projects over the coming months while also founding a clean energy solution specifically focused on the environmental impact of the crypto industry and secure digital archive to protect humanity's most valuable artistic assets."
Check out Ruby Mazur on Facebook, Twitter & IG.