Rick Lee James' album Thunder is one that brings together dedication, faith, and masterful musicality. A bible reading kicks the project off but it pours through in a beautifully ambient manner – feeling like professional, spoken-word style storytelling; drawing your focus to the heart of the album and indeed to the details that originally built Christianity.
Afterwards, the title track is a beautifully country-soaked, melancholic and emotional piece – a cover of a never before released song by the late Rich Mullins, co-written by Phil Naish and Lowell Alexander. The strength of the writing is wonderful, James' voice is stunning, passionate and easily capable of meandering accurately throughout the song's melody. The hook – sounded like thunder – is one that quickly leaves its mark. Whether the faith aspect is what originally drew you over or not, the music undoubtedly works incredibly well on the strength of its own set-up. There's a tenderness to the sound that's a pleasure to lose yourself within.
As the project continues, there are many moments of optimism and brightness to counter the reflections on difficulty, so the playlist feels eclectic and varied enough to hold your affection. The Love Of Christ is a beautiful folk-rock song with a gorgeous level of warmth to it. This feels like finely honed musicianship before anything else – the faith aspect stands tall on the power of that. Rick Lee James is clearly a songwriter by nature, so this collection just works.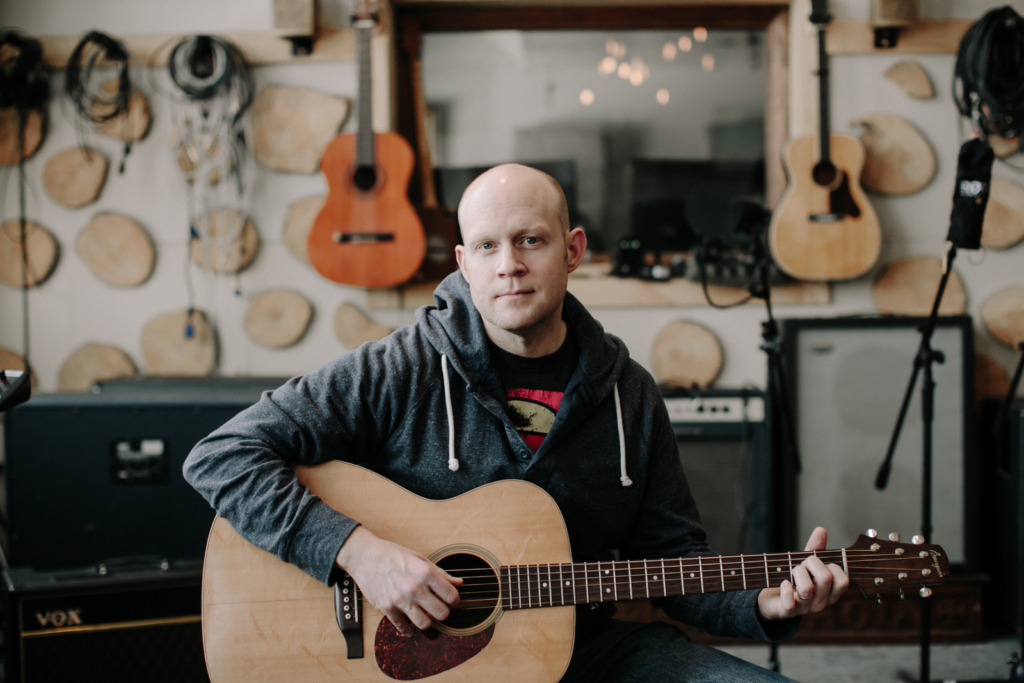 Throughout the album, superb guitar work is met by varied energy levels and a string of consistently refreshing lyrics. As an ode to something bigger than ourselves, there's a certain newness to this project – it sounds crisp and clean, deeply rooted in its underlying sentiments but also cleverly connected to the contemporary world with these cool Americana tones. At the same time, James includes himself in the process – it doesn't feel preachy, it feels personal; you can hear him working things out, being honest and open, and still always holding tight to that faith and that belief that things will be OK. This authenticity in itself is calming to have fill the room. Whom Have I In Heaven But You  (Psalm 73) is a great example of this.
As a singer and songwriter, Rick Lee James is undoubtedly up there with the best of them in the country and Americana genres. There's a clear theme and intention throughout this project, but in my opinion it's been approached in a way that highlights a fair few forgotten ideas and points. The intro in particular paves the way for this, reminding us of the values at the core of the religion. The second reading at the half way point brings it all back again, inspiring positivity and togetherness in a beautiful way. Songs like Glory To God The Trinity reinforce praise as well as continuing to explore and celebrate the details.
Love Divine, All Loves Excelling (Perfect Love) is a personal favourite – a great sense of rhythm and a slightly Christmas-like feel. There's an inherent sense of joy and colour to the whole thing. Love Our Enemies has an equally warm sound and sentiment – the solo acoustic offering works just as well as the full band approach; again reminding you that Rick Lee James is a skillful and captivating artist in any setting.
Be My All adds a piano-led ballad to switch the mood slightly. The Lord Is Our Shepherd keeps this aura alive a little longer afterwards. There's a delicacy to these moments that's calming, reflective, and keeps your focus on the words. That personal touch again helps drive the concept home in a genuine way.
The Lord Is Our Shepherd is a song with a heartbreaking backstory – one that sadly is all too familiar to many couples. Rick Lee James takes on something incredibly difficult and faces it with a rightfully questioning nature and a subsequently admirable portrayal of strength. For anyone who has felt the depths of darkness in such difficult times as miscarriage, this song offers brightness, a light – a helping hand and a reminder that there is hope and love left to come. We never met you, but we love you is an incredibly powerful line, performed here in a stunning, mesmerising manner. A defiant and rather breathtaking moment within the album.
I will see the goodness of the Lord in the land of the living… (Psalm 27 13-14). 
Stay adds a touch of soul and blues to the final stages of the collection, another highlight for its compelling vocal performance and the strength of the long-form melody. My Master Was So Very Poor follows and brings the album to a gentle and peaceful finish – though with a touch of realness that's easy to appreciate at this later stage. As suggested throughout, Rick Lee James is a wonderful singer and musician, and this project is a joy to listen through and one you can turn back to again and again.
The album will be available on February 8th and there will be an album release concert on February 22nd at the John Legend Theater. The music video for the song Thunder will release on January 9th, with a viewing party at 3:00pm. Find & follow Rick Lee James on Facebook, Twitter & Instagram to stay updated. Pre-order the album via iTunes.