The opening song alone on this project has the sort of multi-layered, multi-coloured energy to leave you willingly addicted to its presentation, and that's only the beginning. Emma's Dizzy Spells is a totally interesting song, a unique story-line comes through among a cleverly structured melody and a musical backdrop and performance that float somewhere between the likes of Bowie and something a little heavier. There's a definite lightness to this first song though, a pleasant sense of character and development that feels really refreshing.
The Death Drive follows and leans further in that heavier, darker, more distorted direction. Having said that though, there are certain snippets of jazz and delicacy that really help create a powerful contrast within the walls of the song. The further into it you get, the more this creatively free chaos emerges, and the more and more manically interesting the artist and the project become.
There's more than just freedom on this project, the very idea of punk holds the key to that word anyway, but with these songs you get an element of provocation – certain ideas that linger with you after listening, and the Thelonious Monk aspect adds so much that manages to escape expectation. You quickly acclimatize to the Pete Murphy sound and so by the time Brainfever Bird steps forwards you almost except the unpredictable oddness of it. The music drags you through these spiraling, cascading sounds, as if you've just taken a little too much of something (or perhaps just enough). It's a unique form of escapism that makes certain you notice it.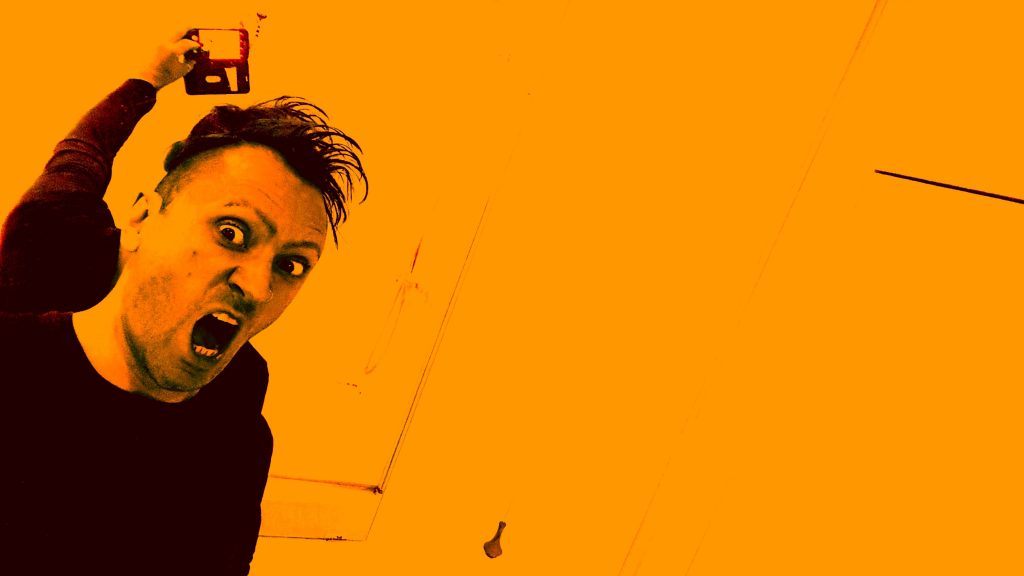 Anna Logic is a song that brings through a notably rhythmic, indie-rock anthem of sorts. It's a simple set-up at first, the instrumentation though seems new once again – adding to that multi-coloured ambiance in general. As always, Murphy utilises language to get you thinking, and he dresses this up in these vibrant, meandering soundscapes to really help drive the concept of thinking outside of the box. Filibuster This follows and draws your focus to the production aspect of the album. I heard a little Nine Inch Nails briefly, there's a serious undertone to this one and a generally retro feel to the instrumentation. It showcases yet another side to the artist. The stop and start nature of the track misleads you down a couple of different pathways, calming you with rhythm and melody, then quickly reminding you to think for yourself.
Elsewhere on the album, expect late night circus-like intensity and multiple layers of artistic madness – Head, Thelonious, Punk, and Toes offers a brief moment of hypnotic calm before through I Think He's Dissociating smashes onto the scene with all of this and more. The Best Drugs I've Ever Had  comes afterwards with a now familiar, industrial-style beat, and a surprisingly soulful leading vocal. This one is a definite highlight for its satisfying progression and the inbuilt concept that is likely to draw more than a few listeners in from the offset. It's a well written song with a huge hook section, boldly crafted so as to make it hit with memorable impact.
Black Dog Rebirth adds a lot to this melodically accessible section of the album. The music feels soulful again, a mellow groove contrasts with the intense wanderings of the lyricist's mind. There's a subtle funk vibe here that's well received at this point. Thelonious follows and re-introduces that alternative Bowie aura that was dabbled with earlier on. Then things come to a close with I Wouldn't Lick Your Index – a song that brings darkness and optimism together under an unsettling and somehow simultaneously calming backdrop. The originality and character of Pete Murphy's work returns for one last explosion of artistry, though again, this is a really well-written and considerately crafted song; beautiful even, particularly as it fades so gradually into the distance.
Thelonious Punk is a totally unique and consistently interesting album that I highly recommend you check out. Emma's Dizzy Spells and The Best Drugs I've Ever Had are easy contenders for the long-term playlist, though this project in full is an easy go-to for whenever the predictable pop of mainstream radio grows a little tiresome.
Check out the full album on Bandcamp. Find & follow Pete Murphy on Facebook & Twitter. Visit his Website for more information.