Here at Stereo Stickman, we're huge fans of Pete Murphy. His experimental artistry is truly unlike any we've heard before, and his unwillingness to compromise his integrity has birthed some genuinely conceptually intriguing music. In addition to Pete's musical talents, he's just an incredibly kind hearted person.
His latest release, however, By The Way of the Devil, sees Murphy at his darkest and most desperate point. It takes us on a journey filled with evil, greed, abuse, and ultimately hopelessness. He actually wished us luck when he passed on this record, which, in hindsight, was a much needed and generous warning.
By The Way of the Devil was written, recorded, produced, mixed, and mastered in just 11 days – and it absolutely does'nt show in the slightest. The tracks are meticulously crafted, expertly layered, and all-round really well polished. A lot of the vocals were first takes, and although they're far from pitch perfect, the discrepancies work incredibly well for the vibe Murphy's trying to create. This only serves as another notch in Murphy's artistic belt, and firmly establishes his unrivaled and tenacious creativity.
The record kicks off with If I Were The Devil, an introduction laced with eerie instrumentals, thumping drums, and an old recording of the same words that's as foreboding as the music that sits beneath it. Given the subject matter, and the current state of the world we live in, Murphy quickly cements his ominous tone of hell on earth with eccentric and often times grotesque instrumentation.
Afterwards, In Flagrante Delicto is a quick, thumping and melodically catchy tune that's at odds with its disguised but heavy lyrical subject matter. Although it seems to start off in a happier place, with Murphy's vocals having a very Bowie-esque feel to them, that feeling is quickly subdued with a not so subtle darkness that can only be described as satanically hypnotizing.
Garden Rocks is a trippy song that only the exceptionally brazen artistry of Murphy could pull off. It's captivatingly creepy, and transcends about 3 different genres over the course of the tune. There is a notable Being For The Benefit of Mr. Kite feeling to it, and I actually got scared by a few sudden voices that randomly appeared during the song.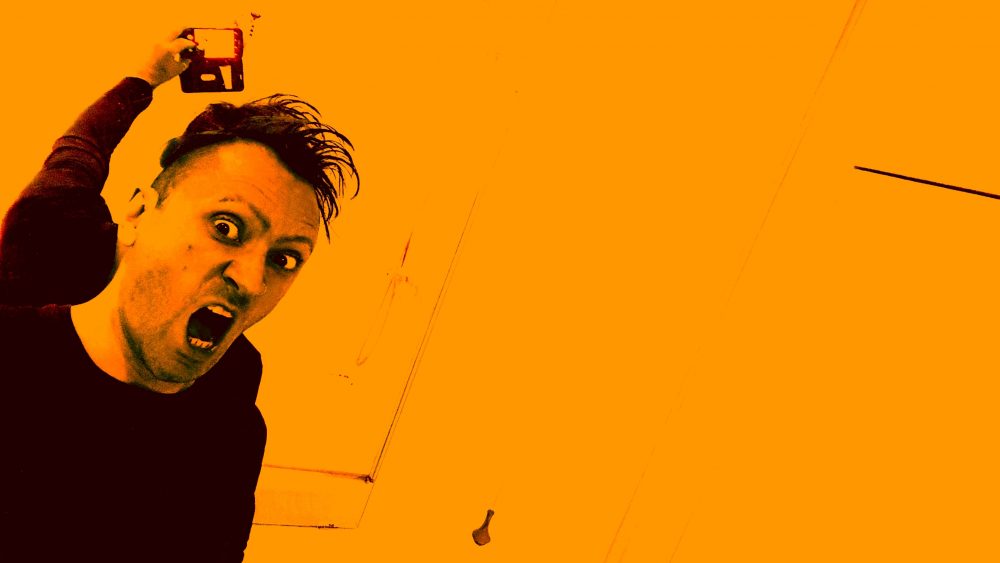 We are in Hell is a transition track that builds nicely and captures the menacing ambiance of evil. It ends just as chaotically as it started – with a disorganized Theremin that leads oddly but perfectly into A Glass Eye for Detail; which is like being stuck in a carnival from hell. It has arguably the most thought-provoking lyrics of the entire album, and these can be interpreted in a variety of different ways.
The following track Time and Space serves as another interlude track and only helps Murphy expand the world he has created on this record. Warm Dog is a cacophony of sound in the best way possible. It reminds me of a Jack White tune where he would be at his craziest and most apathetic. Despite the rather abrasive music behind the lyrics, this song has a dark sense of humor to it that's greatly appreciated at this point on the album.
Castlevania on the original Nintendo had some of the most memorable music of the 8-bit era. The Devil Take Over sounds like it would fit right at home in one of those games, with the addition of a sick guitar solo. Canary in the Mine is probably the most tame song on the record and draws its inspirations from classic hard/blues rock. It's full of swagger and features the best vocals from Murphy on all of By The Way of the Devil.
The album ends with essentially another instrumental that's reminiscent of all the previous villainous sounding tracks, with a vocal sample proclaiming "thank you my friends". If this were any other piece of art it would be a strange ending, but considering the journey the listener had just gone through to get to the end, it's a befitting finale.
By the Way of the Devil is flat out weird, but it's also genius. Pete Murphy has proven once again that his experimental and unapologetic artistry is truly one of a kind. The impressiveness of everything he does is that it doesn't conform to any established norms, yet is somehow familiar enough and so well executed to be extremely appealing. Not everyone is going to appreciate Murphy's avant-garde style, but for those who give him a chance – you'll be treated to some positively amazing art.
Find & follow Pete Murphy on Facebook & Twitter. Visit his Website for more information. Check out our in-depth interview with him here.