Turn this one up loud. Press play for You Gotta Have It; the sheer beauty of that lonely, rock-guitar solo, trying to edge it's way into the world – you know something good's about to join it. The music this band makes is everything they promise it will be. The rock and blues fires out at you, as naturally and genuinely as possible.
The guitar work is sensational, as is the thickness of those drums, and what's great about this EP – is that the whole thing has been ideally recorded and mastered, to the point that you capture perfectly that live band sound, without sacrificing quality. Studio quality, listen at home quality – though, to be fair, you won't be doing that for long. McBane are an act you need to spend the evening with, this much is clear. Even so, you can listen at home if you want to, the point being that it sounds superb through any medium – the energy is not lost, nor is the quality. Everything remains as fired up as it should be.
Turn Away quite literally slides into action with a brilliant rock and blues rhythm and riff. The song writing is laid a little more bare here. You can hear the leading vocal more clearly, the walls have been stripped away, the melody sounds classic yet fresh, the harmonies, the hook – this one strikes you as a genuinely impressive piece of song writing. The smooth yet heavy rock and blues performance is still there, it's just letting you take a little breather for a while, to get to know the band. The vocals are fantastic, it all makes for a really feel good, summer time kind of vibe.
The choir-like chorus sections have a wonderfully vintage sound to them, much like those of The Rolling Stones or Primal Scream. It's a pleasure to hear something so brand new that subsequently manages to hold on to all that was great about those formulas. If it's not broken, don't fix it – just freshen it up a little. The passion is consistently evident alongside of the musical skill, and that's a huge part of what creates a sound that is extraordinary, and exceptional. This seems to be the kind of thing McBane have been reaching for, and they've smashed it.
77 in a 55 brings the beat that makes your body move. This track has a little bit of a punk rock sound to it – maybe the vocal effect that's been used. At it's heart though, that thick and stylish guitar riff runs riot in your mind as you listen. The instrumental bridge section of this track runs away with your head even further, for a good couple of minutes. The music takes over you. If you're lucky enough to live anywhere near Athens, Ohio – a night out watching these guys perform is a must.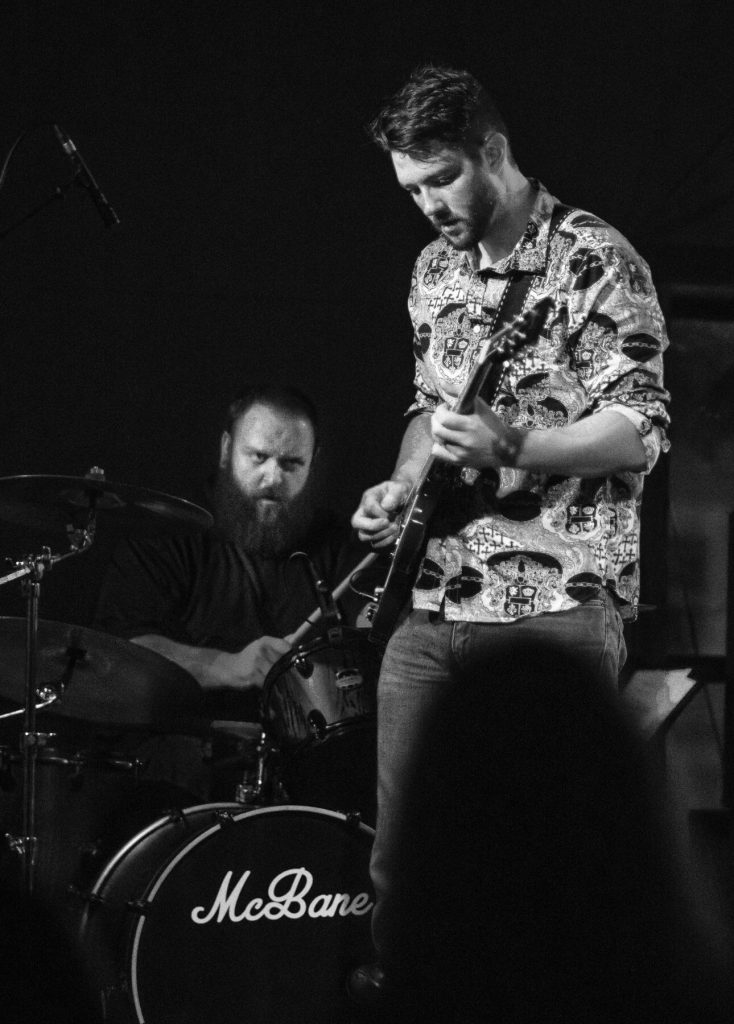 Penultimate track Mendoza makes sure you know it's name before the music even starts. It's effective, you don't forget, and the sound of that blues slide guitar and rhythm that follows is just beautiful – in a knees up, everyone together, great vibes kind of way. The sound of those guitars is spot on, it's everything you want from organically made music, incredible performances all round and finished off with an all important dose of unity. They're a tight band, you can tell just from listening to the ups and downs, the stops and starts, the rhythm changes in this track. It's only as the music ends that you even notice there haven't been any lyrics since the opening title. A brilliant piece of music.
Company of Kings is the track that politely sees you out the door, until next time. There's something quite special about this final track though. It feels like the moment at which you realise, that beyond the blues, the rock and roll, the live music outfit of the weekend – there's a crucial edge of creativity and feeling, and that's something that shows it's face through the song writing, not just the performances.
As mentioned earlier, you can tell these guys are a close unit, the ability to structure their songs in such a stop and go way makes this clear. Maybe the closeness hugely affects the writing, too. This final track is stunning, it has an anthemic nature to it, much like certain classic tracks by Kings of Leon – you sort of stand there, in the audience, in awe, mesmerized, at the mercy of these artists. The title is beautifully appropriate for what you feel when you listen. This is an absolute must hear of an EP. Five tracks, twenty five minutes of blues-rock and indie bliss.
Grab your copy of the EP over on Bandcamp. Find the band on Facebook. Visit their Website for more info. Both photos used in this piece were taken by photographer Scott Marx. The McBane EP was mastered by no other than Brian Lucey, known for his work with The Black Keys, Beck, and Ghost – to name just a few. No surprise then that the final mix sounds so slick and satisfying. A brilliantly talented band with an incredibly well polished EP of fantastic songs. Get involved.