Jonathan Burkett's album Life As I Know It is a thoughtful and professionally captured project that opens with, in my opinion, the perfect song to set the mood for the whole experience.
Changes is a track that offers a certain chord progression and uplifting smoothness, drawing you in from the offset, and adding to that a gentle yet memorable melody-line, followed by the leading artist's initial, striking rap performance. The high energy of the performance during those verses adds a mighty level of passion to an already inspiring piece of music and writing. The doubled vocal sound gives the track a sense of togetherness, of weight and possibility, not dissimilar to the energizing effect of a classic Tupac single.
After the opener, Burkett holds nothing back in presenting eclecticism, various layers of colour and complexity, and a consistently heartfelt aura and intention that just lets this project stand so tall. One Life switches the mood from RnB to reggae, still staying in line with that professional, crisp production, introducing something that feels nostalgic and fresh in the same instance. Ambelique's feature adds a beautiful contrast with Burkett's rap vocal and helps increase the authenticity of the sound. This is a definite early personal favourite, but really this album continues to surprise and entertain in a pure and hopeful way.
There are a number of features on this project, an important thing to point out – there are so many additional voices and elements that help keep things interesting, but at the same time, Burkett has a definite sound that stays strong in every example. The threads throughout this project are consistent and addictive, the features light up the outer edges in a beautiful way, but there's equally enough optimism and artistry in what Burkett has created. The balance is just right.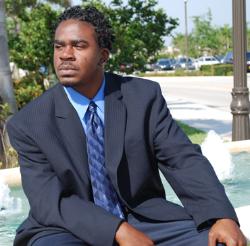 Elsewhere on Life As I Know It, expect big beats, plenty of melody and colorful instrumentation, and a fair amount of story-telling. It's not all of the uplifting or motivational style, songs like Crush On You lighten the mood, offering that dance-like energy and just a simple track to unwind to at the end of a long week. Whether you're looking for that boost, that necessary belief in yourself to get things done, or whether you simply want to escape or enhance a particular moment, the album has you covered.
Arrangement-wise you get a fair bit of that laid back, scene-setting all at once, preceded and followed by something that hits a little harder and seeks to connect with you on a more personal level. Taking Numbers keeps the mood easy, impersonal, focusing on keeping things joyful, Making Money follows with a much more ambitious subject matter and a total shift in energy. The pace is high, the vocal delivery and the drum-line, the synths – it all creates a manic aura that perfectly matches the underlying idea of moving forwards, making changes; making money. Pour It comes afterwards and smooths out that underlying vibe in a way that seems laid back again, observational, fairly mellow.
In addition to the album's playlist you also get the radio edit of One Life and a remixed version of Crush On You. The latter sees the big beat and bounce of track shine even more brightly, the reggae-like sense of movement returns and the rhythm of the leading voice makes for a brilliant way to finish. As stated earlier, Jonathan Burkett has put the time and effort into this to make it something worthwhile. It's a project that speaks from the heart, but that also seeks to embrace and entertain its audience in the way that great music should.
Stream the album on Spotify. Find & follow Jonathan Burkett on Facebook, Twitter, Soundcloud & Instagram.