An artist I've been listening to and indeed writing about for five years now, the UK's own and a songwriter and voice just perfectly connected to what moves and calms a listener – John Jenkins has a brand new album out soon, and it's one of the best collections of original songs to emerge so far this year.
Following the initial heart-breaking yet beautiful reality of the album's title, If You Can't Forgive You Can't Love, there's something equally revealing and rather blissful about the opening simplicity and warmth of A Stranger to Your Heart. John's voice, quiet and comforting, familiar, accessible, genuine, meets with the simple strum of the acoustic guitar, and offers this intimate, descending melody, with short lines of softly spoken poetry. The first third is a thing of its own, and then the beat drops in, the soundscape broadens, and the piece energises in a way that sets up the rest of the album just perfectly.
Is That What They Say follows on, a country ballad with Celtic undertones and a brilliantly folk-like story running through its simple melody. Complete with harmonica, strings, and a gorgeous resolve, the song details the topic of gossip in a small town – familiar lines seem unique yet also naturally remind us of similar chit-chat that makes its way through most of our lives. The final verse is quite beautiful, John has a way with making the most striking lyrics softly pierce through just when your guard is down.
Keeping arrangement effective, The Last Train From Baltimore takes on finger-picking and imagery for another glimpse of fire-side folk that observes and reflects all at once. Then we get a touch of sultry swagger and soul as the wonderful Kathleen pours through – a Townes Van Zandt cover and the first official single from the album.
Moon And June is an early highlight for its simple and joyous rhythm and colour, the optimism of the melody and the ache of the story in contrast, the recognisable acoustic riff.
Cracks follows on well with another image-laden story that captivates in this stripped-back setting. Gorgeous vocals from John, as always, meander through this melody in a softly emotive and pure manner. The album title comes to mind, not for the first time – its truth feels heavy yet important; If You Can't Forgive You Can't Love.
Not wanting to ramble I try to summarise and point to highlights, but there's not a bad song on this album – not even one that falls below par. The Wrong Side Of Sadness is perhaps a slow burner but only in terms of its progression from good to great. Contrasting brightness of music and lyrical struggle once again, ultimately leaving a sense of beauty and soul lingering; that piano part is especially powerful.
Strangers On A Train feels like a timeless folk classic, paired vocals offer a welcomed dynamic – a little Beautiful South but with more of a gentle and contemplative writing style. Then the sudden western twang and knees-up intro of Hearts and Minds kicks in with a brilliantly uplifting rhythm and pace. Never one to submit to prediction though, John weaves in an unexpected story, and more than a few lyrics that inspire a deeper level of thought and awareness in the listener.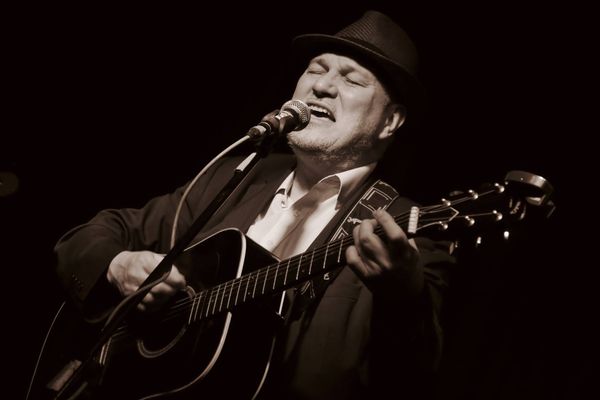 Living Someone Else's Life is a personal favourite, one I might choose to replay if there somehow isn't time for the whole album. But then, the sudden colour and caress of The End Of Summer helps it really settle in, and this is true of the entire thirteen-track arrangement – each new song compliments the last, and indeed the next, in a wonderful way.
As a final example, the familiar pop-rock embrace of When The Morning Comes is followed rather epically by the build-up and drop into indie-rock anthem territory for a mighty closing track that is Desert Hearts; an absolute must-hear from the new album, and a great way to round up this conceptual, deeply considerate journey.
Superb, stunning even. Musically familiar, a project that could, on the one hand, blend in with the ambiance of many pubs and rooms that choose to play it. However, if you let yourself really listen, John's voice – his overall artistic voice, not just the one that sings – shines with a uniquely intricate and thoughtful brightness. This album reminds us of many things that matter in life, not least of all the consistently illuminated fact; If You Can't Forgive You Can't Love.
Album out August 6th. Check out John Jenkins on Facebook, Twitter & Instagram or visit his Website. Check out our interview with John Jenkins here.