Jacob Didas is an artist currently working as an active Army Officer and Psychiatric Nurse stationed in Honolulu. His true passion is music, and the album Lucid was produced in a home studio during his free time. The passion is something that's clear from the offset, and along with this is the innate creativity with which he crafts his tracks.
Drumroll is a completely unpredictable piece of music, and this is something you quickly come to realise as true of much of Didas' music. The track is hugely original and features an immense collection of sounds and snippets of genres that somehow work beautifully together. It has an organic, indie feel to the instrumentation, with a slight hint of funk, and the rap vocal adds a brilliant energy and allows listeners to really get inside the creator's mind and feel a little closer to the thought process behind the project. It's a great introduction to the album.
Manic takes shape in a completely different way to the opener. Didas takes his creative approach and fuses it with a blatant skill for producing music, so not only is the sound fresh and exciting and energising, it's also flawlessly constructed, mixed and polished. The rap performance on this track is insanely fast and quite mind blowing to listen to – it fits with the darkness of the track and of course the overall concept of being Manic. As mentioned, the creative edge is clear and consistent, and when you combine this with genuine skill and passion the result is something utterly striking and memorable. The way in which the instrumentation evolves and changes throughout the track is always unexpected and new, but always effective.
Deluded  brings a heavy, organic, perhaps even tribal sounding beat and vocal chant, and plays it out alongside a beautifully calm piano performance. The music is instantly intense, but there's this glimmer of peace within the sound, and that makes it all the more unusual. The intensity falls away fairly soon, the vocal is laid bare, and you really get to focus on the lyrics – which are incredibly honest and thought provoking. The intensity is heavy, as it should be, and the track does leave you wondering about delusion and all that surrounds it in life.
The entire soundscape of this album is mesmerizing, the perfect choice for an evening of something fresh; upbeat but meaningful, incomparably creative and free of any artistic restraints that the mainstream industry can sometimes place upon it's pawns.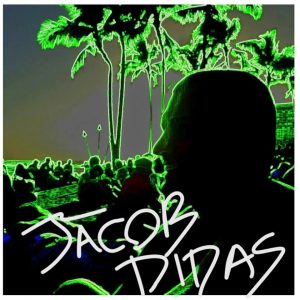 As you make your way through the collection there's a familiar feeling to Didas' leading vocal, with it's calm and confident expression, and the generally adventurous and experimental nature of the music. The experimentation works, on every level – the music is superb, each riff and each performance is exemplary, and this all makes for something outstanding. Even if you miss a few lyrics here and there – Wagwan features a machine-gun-like vocal flow – the music keeps you enveloped in it's power. The sound of the artist's voice has a somewhat comforting sound to it, so it's likely you'll listen back more than a few times.
There are some beautiful moments of truth and openness in this project, Flight is a great example. There's an emotion to the performance that you can hear and feel amidst the epic, jazz inspired musical backdrop, and this emotion makes you take every word almost as gospel. The music highlights the poetry and rhythm of the artist's lyricism and performance, and in between vocal moments the music is always refreshing and exciting. Phantom shows this raw, emotional side a little further, bringing back the gentle piano sound, weaving it's honesty and feeling around you. You also get to hear Didas singing, which bares even more of his artistic and creative colours. As the track builds there's a thick and heavy distortion that's not dissimilar to Dubstep, though always that piano continues, and the feeling and the words stay with you. It's a pretty blissful thing to witness. It's unusual, in the best possible way, and the music and the lyricism never disappoint.
Homebound explores the tender side of the creative process a little more, slowly evolving into a beautiful bit of spoken word and classic jazz, complete with saxophone and a mellow, once again organic sounding beat. The track talks briefly about the soul being free, and this is in fact the feeling it gives you as you listen. It's a stunning piece of music with a real sound of humanity and freedom and feeling to it. It's a great moment at which you feel quite connected to the artist, and get a better understanding of what it's all about. Aisle (Interlude) follows on beautifully; a gorgeous, piano-led instrumental moment of pause, within which you can reflect and take in what's come to pass. The collection has been very thoughtfully arranged, and the effect is unquestionable. Octane smashes back to the high intensity from earlier in the project, a welcome lift in energy and volume. Then final track Vision leaves you drenched in a little of everything that's been experienced throughout.
This album is the kind that leaves you not wanting to miss a moment. The way each track has been crafted and structured means that nothing is where you'd expect it to be; you have to follow each moment and each bit of music to make sure you don't miss out. It's a clever way to write, and what makes it even more impressive is how crisp and complete it all sounds. There has been so much put into this, and you can tell with every beat and every breath of the music. It seems almost impossible that this was created in a home studio, in what is essentially 'spare time' for the artist, but beautiful things often emerge from unexpected places. A definite recommend, one of the most eclectic and creatively free albums of the year. Well worth a listen.
Find and follow Jacob Didas on Facebook. Listen to the album in full over on Youtube.
https://youtu.be/dWQ7bZ5tITU