At just eighteen years of age, artist and rapper Israel Naor has written and compiled this full-length, conceptual album as a means of confronting personal demons, connecting with those who've traveled similar pathways, and simultaneously celebrating the brighter times in life.
Split Personalities offers a string of creatively ambient soundscapes, somewhat retro in nature –  jazz-cafe vibes emerge initially, along with the more vintage side of hip hop backdrops. Comeback Another Day through Pressure (Feat. Genesis) open the project up with all of this, the various sections working hard to create a mildly theatrical, passionate and colourful gathering of moments.
You quickly get caught up in the musical detail, the intricacies, and the complex and emotional story-lines. Naor's lyricism and his delivery appear with equal intensity – a fast pace and a series of bars that are likely to require a second listen in order to truly capture what went by. You can tell early on that this playlist has been crafted and arranged by means of a thoughtful, artistic and meaningful approach.
American Deceit (Feat. Brain Harris) welcomes a brief break from organised chaos, a soulful vocal melody and a mellow groove accompany a more chilled out rap delivery that presents a quickly compelling story-line. This is a definite early highlight and a personal favorite. The realness is on another level – it's refreshing to hear this kind of considerate, reflective and genuine writing in contemporary hip hop.
While Naor puts so much of himself into this music, he also presents the tracks with a fair level of that which is more widely relatable or accessible, so the project in full welcomes the listener to reside on the same level as the artist. The music and the lyrics walk hand in hand to create this embrace.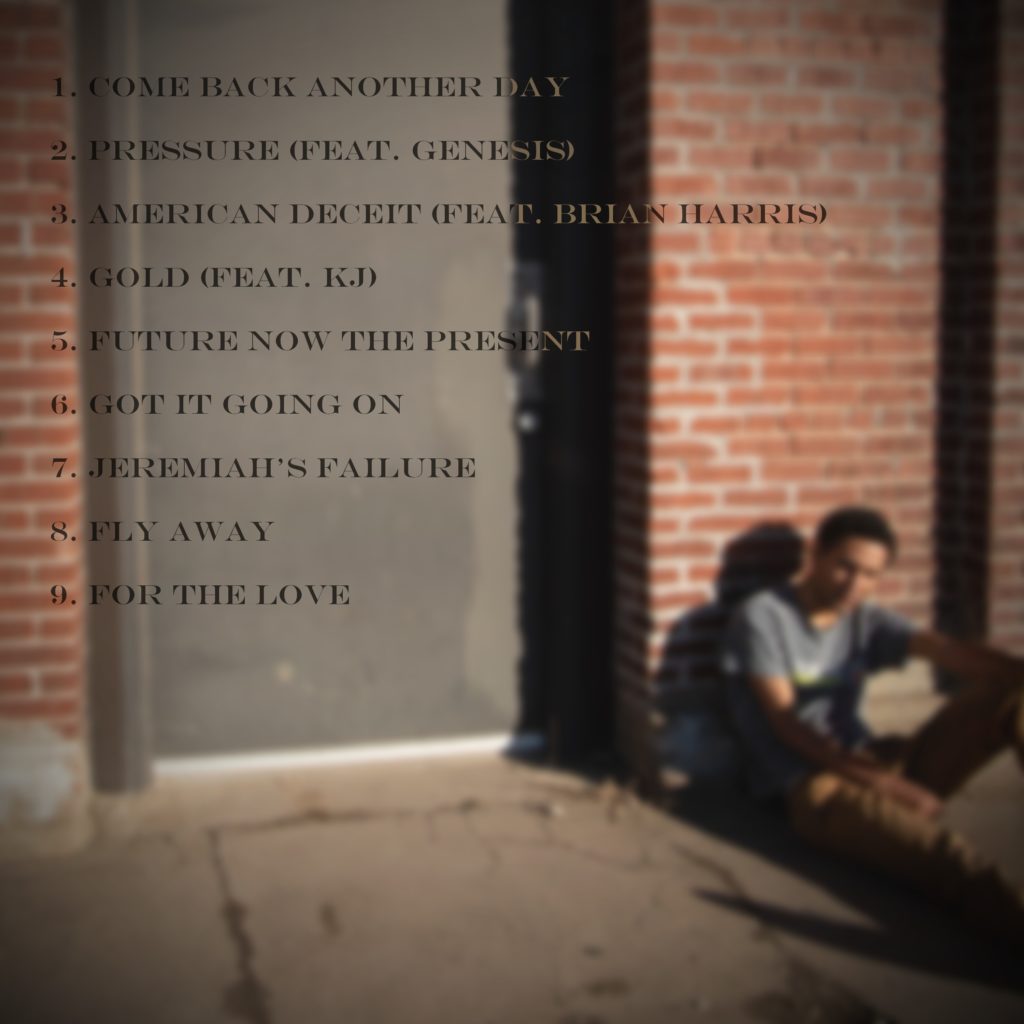 As things progress, the mood varies – rising up beautifully for the energetic and colourful Gold (Feat. KJ). Style and flawlessly rhythmic bars create a totally different, motivational vibe. Future Now The Present follows and mellows things out again but brings through a uniquely complex, scene-setting soundscape, and another fully captivating story-line with an outpouring of lyrically brilliant personal truth.
There's so much to take on from these tracks – as suggested, a single listen doesn't really cut it. This isn't your average hip hop playlist, designed purely to get you hyped for the weekend. It's more the sort of album you spend some time with, the sort that seeks to be understood and simultaneously seeks to understand and help you feel less alone in your struggles.
Got It Going makes for a rhythmic and hypnotically ambient moment during the latter half. Then you get the creatively alternative darkness of Jeremiah's Failure, a track that hits with impact thanks to its musicality and a quickly striking, even shocking story-line. You get a better image of the artist with each new track that presents itself. His bars hold nothing back, yet they remain intelligent and rhythmically effective at every step.
Fly away at the penultimate moment offers delicacy and calm, a heart breaking journey through regret and harsh realities; a reflection on real life that makes you want to really appreciate the good things – the little every-day joys we experience – before it's too late.
Though the album has long-since worked its magic by the time the final track kicks in, For The Love is absolutely a final highlight and well worth holding out for. The smooth progression and the gentle ambiance is contrasted artistically with the raw, unapologetic openness of the lyricism. A subtle yet somehow bold way to finish what is a brilliant album. A must for hip hop fans who crave the presence of something intentional and truthful, with unquestionable skill and a natural passion for the art form.
The future looks incredibly bright for this young artist who already speaks volumes in terms of both depth and skill within his music. Find & follow Israel Naor on YouTube & Instagram.
https://soundcloud.com/jeremiah-coe/sets/split-personalities