Something brand new to completely take your breath away today. Interstate Traffic – an alternative rock band from Indiana, offering up their debut EP If That Really is Your Name. The dedication and effort put into this project shines bright throughout; every little thing has been well thought out, practiced and placed – just where it needs to be.
The music is experimental, to say the least, and in a number of different ways. Fusing a range of genres from jazz to rock to folk and beyond, the band bring something refreshingly new and expressive to modern music. Not least of all the introduction of a unique and beautiful vocal – incredibly original sounding, yet with a smooth and classic feel to it, and those lovely, raspy breaking points, just every now and then, to bring that crucial element of honesty and openness to the music.
The EP opens with the immensely peaceful tones of Let's Live. The marching band type beat of this one is presented in such an easy listening kind of way, that it really has a sound entirely of it's own – not confined by any expectations, or possible recommendations from genre obsessives; and this is a wonderful quality. Gorgeous harmonies throughout, a brilliantly simple and sweet guitar riff circling you as you listen, and yet amongst all of this easy-listening criteria are some really thoughtful and emotional lyrics – real ideas, real concerns, real feelings. A powerful song, and a great way to begin the project; a small taste of the true creativity that grows and grows as the tracks go by.
The track Jessica is loaded with the orchestral kind of big band sound; summertime in a small, sleepy, wine drinking village kind of vibes. Really interesting song writing, and superb performances from all of the band members – a clearly skillful group of musicians, drenched in their own creativity, and yet welcoming you to be a part of it with every note and every word. Inclusive and accessible, and sounding fantastic. This is the third track of the project and by now it's clear the absolute variety that you get with this band. I love the live-crowd touch that seeps in at the end; it completes that flow of imagination that the song brings upon you as you delve into it. A total pleasure to listen to.
Neon Jewels throws in yet another curb ball, but you expect it of Interstate Traffic by now – it's exciting, it's a big sound, it's their sound, and it works on so many levels. A really simple yet addictive melody, one that stays in your mind afterwards, and lethargic sounding chit-chat, almost, of fame and what will become of us. Have a listen..
"I'll settle for whatever the world gives me.."
Straight after this they break it all right down to the core; just a simple, jazz-like guitar, and the warm, familiar voice you've been falling for as the tracks played by. Summer Sky (With You On The Side) – a lovely track, pretty much acoustic sounding, adding that likable touch of singer and songwriter, that realness of the working, well rehearsed, thoughtful and ambitious musician.
The final track of the EP is Sojourns. This one really stood out for me; a particularly intriguing and experimental piece of music, one that builds and builds, wraps it's feelings and it's drive around you until nothing else matters. Real story telling, scene setting, imagery, and again that soothing voice – both spoken and sung – making you believe him, and making you want to know more; what's next, what have I been missing?
In addition, there is that gorgeous and simple guitar riff for the most part, bringing about the peaceful atmosphere, even later with the urgency of the drums – it's a song that surrounds you as it gets louder and louder, but never overwhelming you with sound. It feels a bit like your floating out to sea, but you're not worried; you couldn't care less in fact, you're completely relaxed and what will be will be. A really great song. Inspired, I'd say. I'd love to know how it came about.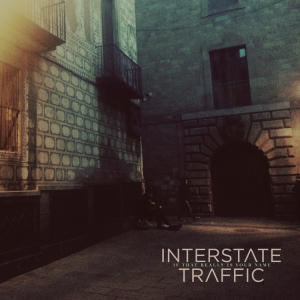 Interstate Traffic are, without doubt, one of the most inventive and original bands out there. A completely unexpected and yet welcomed collection of music, creating with each step whatever it is that they feel they need to express, with no holding back, no innate need to write to please anyone, and with no blatant influences, too – which is really refreshing. If anything at all I'd say there are times when you can feel a little bit of a Queen vibe, the creative freedom and expression are of a similar consistency, but it's really not like anything else we've heard in a while. A brilliant EP, really interesting, really captivating; melodically, lyrically, instrumentally. A winning combination of traits.
You can find the band on Facebook and Twitter, and you can grab your copy of If That Really is Your Name over at Bandcamp – a gorgeous collection of six superbly imaginative songs. The band also have a Website, so head over there to learn a bit more about them. Make sure you stay tuned to catch any future releases and upcoming gigs.