Intellessence is an artist with a long standing and strong connection to music and the arts in general. His belief is that the power of art lies in its ability to inspire, to awaken and elevate our consciousness, something with which I wholeheartedly agree, and given the names of the tracks throughout this album and the atmospheric experiences they offer an audience – this is precisely the result you can hope for when listening through.
The aptly titled Awake kicks things off, followed fittingly by the atmospheric and melodic Tranquility. The ambiance offered by each piece creates something thoughtful and detailed around you but which is equally smooth and easy to escape into.
Taking every element of artistry to heart, each track on this album has a single word title, and each word is something poetic and scenic in itself – conjuring up a set of ideas that seem to match the mood of the soundscape that follows beautifully well. Whisper, for example, though it feels like a warmth indie-rock offering, loaded with layers of riffs and instrumentation, showcases a distant vocal line and certain samples that float quite far away from the centre of volume – appearing as something of a whisper, making the experience and lyrics come through in a similar fashion.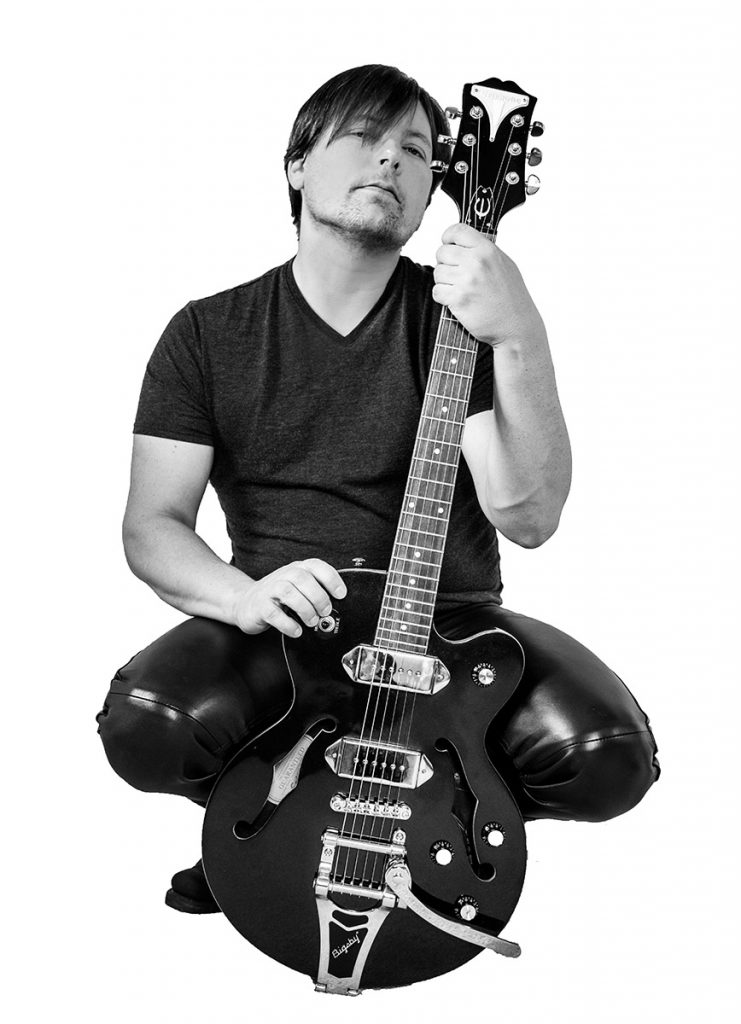 Elsewhere on the project the music offers a fresh look at musicianship and creativity, occasionally moving towards various genres, even leaning as far back as the original indie-pop and rock sound as heard from the likes of the Stone Roses – Solace in particular fuses melody and instrumental delicacy in this sort of nostalgic way. A track called Simple follows and surrounds you with one of the most beautifully pure and hypnotic soundscapes of the collection. Intellessence offers consistently expressive, emotional guitar work and accompanying piano parts, along with forever relevant drum lines – not too heavy, not too off point, and a whole wash of other considerate elements that help craft something magical.
Forever is a song with a little more instrumental grit than than anything else, the leading guitar riff seems closer, sharper, and the mood of the chord progression and the notes chosen offers something distinctly reflective and occasionally melancholy. The mood actually seems to shift in a few different directions as the music evolves. When the vocal comes in, a slightly Pink Floyd-like song emerges, and as always, the music fits this central feel really well. It seems that Intellessence as a creative builds his compositions with the audience in mind, seeking to inspire but also crafting around you something inclusive and relevant to any and every listener. These are not overly personal accounts, the recordings don't seem to focus on a particular sense of character or a front man, as it were, they work to involve you in the moment, and that's hugely valuable.
Ethereal introduces a soundscape that would feel right at home on the soundtrack to The Beach or some modern-day remake of it. Hopefulness and peacefulness walk hand in hand here, alongside of a subtle but certain touch of electronic influence. After this, Blue is an absolute personal highlight, a stunning piece of music with the ongoing accompaniment of some distant spoken vocals that really make you feel as if you're right at the centre of something epic.
Things come to an almighty and heart felt finish with the simply titled Love. The song has a softness that lets you really reflect on the concept of love and your own relationship to it. It's a powerful way to finish, something about that guitar riff and those short snippets of melody and poetic declaration – it's entrancing to listen to and a definite final highlight of the whole project.
You are everything to me… You are everything…
Find & follow Intellessence on Facebook. Visit his Website for more information.