Stormy days mean it's definitely time for some hard hitting, punchy, electronic rock music. Fresh from Budapest, fusing all the fast and hard parts of electronica, with the ear worm melodies and raw instrumentation of indie rock; I, Symptom make music to get you geared up for the weekend. Or, if preferred, to drown out the world entirely, and go do your own thing to.
It's music to be listened to loudly, and the production is so very well done on this album that the chaotic synths blend brilliantly with the sharpness of those rock-like vocals and beats; high volumes just enhance the effect. With the track Mercyfuck, a project released alongside the album, the crunch of the guitars and the vibrance of the vocal give a sort of Nine Inch Nails feel, but amongst all of this; it would seem right at home in the early hours of the morning, at the absolute heart of a rave.
The album opens with the anthemic melodies of Sunshine; addictive, swooping synths and a catchy vocal bring the summer time vibes out in full force. The track swiftly mutates into a more industrial sounding piece of music, reminiscent of earlier trip hop music, and later the two vibes sort of fuse together, and it's really not like anything we've heard in a while, but it works surprisingly well. The song has a strong presence, it surrounds you and takes hold of your consciousness. Brilliant production, as always with this release, but also a really memorable and outstanding melody that gets caught in your mind. A great way to open this kind of album.
Things get a lot darker for I'm the Bullet in Your Brain. I was reminded a little of Placebo, again that fusion of rock and electronic music that does it, but once more – really stand out melodies, separating this from a lot of other heavier indie releases of recent months.
Quasars Sing a Lullaby is perfectly placed in this project, bringing you back down to a mellow, reflective place, and yet again – the melody – beautiful this time, and some really interesting beats throughout this one. Unexpected, and not like anything else, yet it's effective; hypnotising even, the way it just wraps itself around you. There's a glorious distorted guitar solo at the break down section that was a great moment within the otherwise fairly heavy wall of sound and effects. Pretty clear by this point the creativity is free flowing and powerful with this particular artist. Completely new sounding, and nothing out of place or irrelevant. Really strong.
I Know What's Good For Me brought out the Marilyn Manson, Rob Zombie kind of mood for me, personally, which I've missed – it's been a long time since I indulged in that kind of album. It's dark and dirty in all the best ways. It works best at full volume, well mixed and produced to work in such a way; it fills the room and fills up your head as all the best art for escapism should.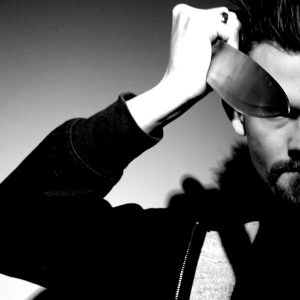 Prison Bitch grabs the baton effectively with this dark vibe, those industrial drums and distorted synths surround you again, but the melody is fresh, and it's a little lighter than the previous track. Another well placed moment to sit back and reflect, to just enjoy the music as part of the moment.
A series of moods are explored throughout the tracks of Handmade Love, but the atmosphere has a very distinct thread through it – you could listen at home, on a long drive, or out at the club – maybe even sunrise at a festival, for those insomniacs who just can't get enough of that dreamlike way of life.
Dancefloor Freak was probably a personal favourite from the whole project. I, Symptom are, once again, bang on with their melodies, but this particular track just captured all the right moments; with it's instrumental flair, the seductive beat, the strange softness of the floating, dreamlike synths that whirl throughout. It's a great track, definitely, from an album well worth taking the time out to hear.
Handmade Love is 8 tracks that fuse really well together within the project, yet make unmissable tunes individually as well. Head over to Baboom to hear the whole thing for yourself. In the meantime, here's the hypnotic video for Mercyfuck..
Stay up to date with all things I,Symptom – Follow on Facebook, Twitter, Soundcloud – and grab your copy of Handmade Love, the brand new album, right here. I, Symptom are also part of the #WEATNU movement – We Are The New Underground – so check that out as well if you haven't yet – a multitude of undiscovered music that absolutely deserves to be heard. Get involved.