Songwriter and artist Halloween Hopes impresses with limitless creativity, pristine musicianship, and powerful songwriting throughout this superb new album Killing Time.
Featuring doubled-vocal indie warmth and an organic rock set-up through and through, the project quickly draws your focus towards the emotion and passion in the songwriting and delivery. The writing is deeply poetic, reflective of notably human qualities and feelings, and this is highlighted in the vocal lead and the way the instrumental builds and envelops listeners in its changing energy. Killing Time Blues is all of this, and kicks off the album in a beautiful way.
Soon enough, the intensity rises, the weight and distortion with it, as a clearly alt-rock and metal influence shines on a brilliantly theatrical yet still poetically sincere Need For Speed.
We then get a soulful guitar lead for an ambient and dramatic Stolen Soul's Song – a powerful track with an infectious riff and more of that progressive and classic rock aura. Pair this with upfront vocals and contemporary, meandering lyrics, and you get something that's impressively refreshing.
Cutting Of The Branch injects even more eclecticism. An official single from the project, the song features new vocals from Nida, and a piano-led soundscape that keeps your focus on this simple yet satisfying, addictive and emotive melody and story-line.
Halloween Horror Store then lightens the emotional weight and intimacy with a scene-setting story that intrigues and entertains – with power chords and a fast pace to match. For Better, For Worse (Mary Worth Song) follows, and that eclecticism reaches even greater peaks. An acoustic piece, which connects on a profound level for its contrast with what came before, the song is minimalist in set-up yet mighty in impact. A beautifully reflective, contemplative and again poetic moment – well worth more than a single listen.
During the project's latter half, we get as many hits of fun and scene-setting as we do the more personal displays of vulnerability. Skiing With The Monsters is categorically a bold and energising example of the former.
Then there's the unpredictability style-wise – the hip hop injection for a captivating, stylish progression from My Halloween Dreams and Killing Time Rap, right through to the penultimate track It's Time, Time, Time to Party. Of this section of the album, Seeing Things That Aren't There is an absolute highlight, musically unique for its juxtaposition between piano and heavily effected synth-bass notes, lyrically immense for its fast bars yet concise, rhythmic and fascinating lyricism. A brilliantly creative, artistic and memorable hit of identity and originality.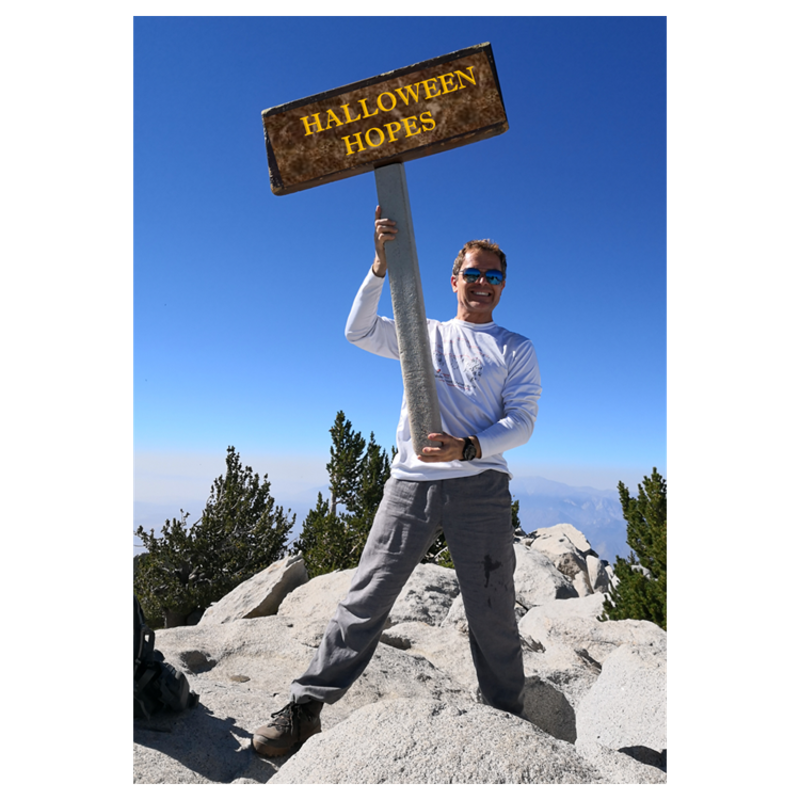 The final song on the album is an emo-rock-esque, gently riff-led and vocally harmonious Killing Time Grunge. Delicate vocals from Lucas allow a certain softness and emotional integrity to really reach out. The melody is again simple yet addictive, the pop-rock progression a fitting way to carry this movement through the story and the notes. It's an infectious and heartfelt anthem, easy going yet emotive, and perhaps one of the closest to mainstream sounds on the album. A gorgeous way to go out.
Halloween Hopes is a songwriter with a seemingly unstoppable creative drive. No genre or subject is out of reach, and every topic tackled is done so in a professional and, more importantly, engaging and likeable way. These songs feel genuinely new, yet they take influence from known-to-be-effective building blocks across the board, so the playlist comforts and refreshes all at once. Well worth knowing about.
Download the album via Bandcamp as of September 20th. Check out more music from Halloween Hopes on Spotify or YouTube. Follow him on IG for updates.