Introducing an artist and songwriter with a powerful energy, talent and originality, Grayson June is as passionate as he is hard-working, and more importantly – his music hits with incomparable impact, for both its creative aspects and its sheer emotional honesty and vulnerability.
As a bold starting point, To Love You injects style and a strong groove into the room. Riding the wave of a funk-kissed, seemingly organic soundscape, the song utilizes vocal rhythms and personality to further entrance listeners, feeling a little Dominc Fike-esque in terms of the contemporary scene, but taking likable inspiration from some classic hits from across the past couple of decades. A great track, with great energy and good vibes – a strong way to introduce the Grayson June collection.
Can't Look At The Stars keeps that vocal familiarity at the forefront – the style is similar too, but the song creates an entirely different mood. Faster-paced yet softer in sentiment, the song again makes fine use of creative production, complete with chaotic details and a quirky, distorted bass-line.
Lyrically, Grayson pours his story into the process, impressing with his rhythmically faultless bars and intriguing with his life and reflections upon it. The structure works brilliantly, the switch right before the hook is powerful, unexpected, and allows that title idea to really stand tall in an again addictive fashion. It's already clear to see that both talent and dedication have helped craft these tracks – professionalism and artistry united amidst a passionate desire to write and perform.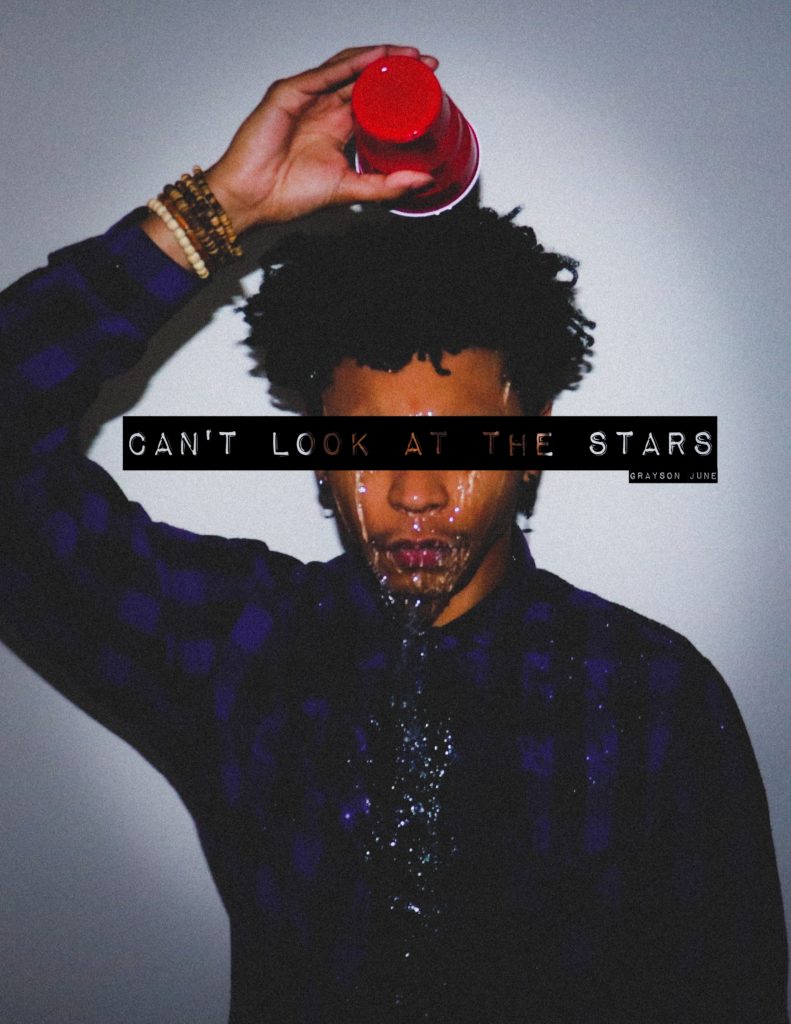 Taking the rap aspect to even greater plains, Heavy Eyed is a dark and immersive anthem that draws focus to the imagery and energy that Grayson utilizes in his writing. The soundscape itself reinforces these reflections on struggle and uncertainty by offering a sense of overwhelming, distorted yet melodic chaos that washes over like a strangely cradling energy.
The song grows more and more intense as it progresses, the relentless nature of the lyrics and indeed the beat proving less than easy to absorb, but interesting enough to get you coming back for a few replays. The retro melody and vocal effects are also unexpectedly refreshing right about now.
"I never sleep at night because I'm stuck inside a day dream…"
Darkness rules again for a somewhat oriental, industrial and breathless Corrupt You. Stylistically and conceptually the opposite of To Love You, the track is still very much in tune with the Grayson air of creative freedom, but it showcases a carefree, confident and stylishly unique attitude in this setting.
The hook is bizarrely hypnotic, its off-center melody proving as addictive as any of the other hooks from this playlist. Versatility is often the key to longevity, and there's no question about it here.
Make your way through an equally artistically free Where Are You? and 2019's Fast Food in addition to the above, and pretty quickly you'll see how serious and focused on the process June really is. Contemporary yet interesting, engaging and often captivating, professional yet passionate and consistently impressive (even flawless) performance-wise. Well worth knowing about.
Download the music via iTunes. Check out Grayson June on IG.