Cam Fraser, known by his somewhat more enchanting stage name of Fun Cam, is a musician and song writer with an extensive and impressive collection of music behind him. In the past, he has studied both English Literature and Music, been involved in an array of other musical art forms, and in recent years was nominated for a Toronto Independent Music Award; for Best Indie or Alternative Album. He's an artist well worth checking out. His background and life experience has led to the creation and production of songs ranging from the melodic and infectious sound of power pop, to the downright divine and distorted sound of indie rock and roll. There's much to be heard, and all of it showcases song writing and creativity of an utterly wonderful level. We took a closer look at his Basement Rock album.
The variety of musical and song writing styles within Cam's back catalogue is impressive, to say the least. While listening to the Basement Rock album, you can swiftly move from acoustic rock softness, Bandana Jean Girl, for example, to full on punk rock randomness; Vegan Girlfriend, in particular – all of which sounds superb, skillful, and fully accomplished throughout. Vegan Girlfriend has that cranked up vibe to it, those distorted guitars, a hint of Beach Boys in the chorus melody; the harmonies, maybe, pushing it in that direction. It sounds beautiful, actually, a lot of fun, plus a lot of authenticity, performance wise – something which there is just not enough of in modern music. Such a strong collection of influence and inspiration, and all pretty flawlessly performed. The genuine love of and desire to create music is consistently on show, and that adds a really likable and listenable dynamic to the whole album.
Baby Tonight is a stand out track, melodically it just surrounds and soothes you as you listen. It feels like a timeless hit. It's simple, musically, but I guess the benefit of that is that you really see the song writing for what it is, and it is fantastic. It's an incredible track, well written, well structured, and superbly performed. Furthermore, as if nothing else had by this point – the solo guitar part won me right over. It's exactly where it needs to be, it surprises you, but only for a second, and then it makes perfect sense – and the whole song just fits together sublimely.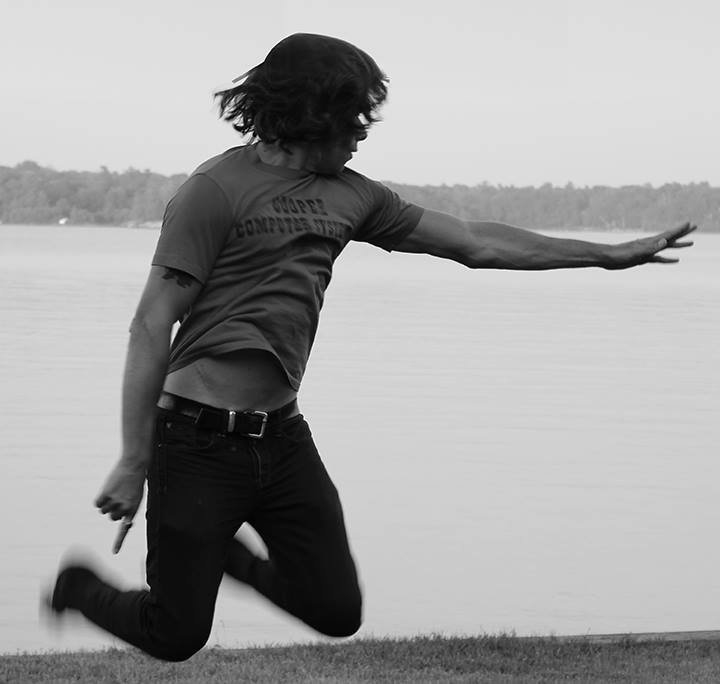 Small Town Swing Bridge is another gorgeous track. The vocal is wonderfully warm and genuine sounding – the kind of voice you just believe in, like it's someone you've known for years. The crash of the drums and the way in which the musical parts are so comfortably connected with each other, it gives it a real feeling of now, realness, and honesty. Plus, that touch of Eels inspiration, that ongoing guitar riff, adds a whole extra level of beauty to the track. It's relaxing, and at the same time inspiring, in that it makes you think. Lyrics that make you think outside the box, I guess that's what it is; words that make you wonder more intensely about life. Not just the words alone, the way the music fuses together so effectively, it adds to that thought provoking feeling of escapism.
In addition to an incredibly well developed level of song writing, the general creative flair within this artist also shines brightly on a purely musical front. Fun Cam's cover of Hit Me Baby One More Time is simply genius, quite breath taking, actually. It's acoustic, yet it's so powerful – Cam's vocal is brilliantly suited to this kind of performance. This kind of track lets you know that the music could work as a rock and roll show, but also as just one man and his guitar – the strength is likely to blow you away in either scenario. A wonderful position to be in.
Always expect the unexpected with Fun Cam, if you can do such a thing. Head over to Soundcloud to get soaked up in it all. The musicality, the emotion, the fun, the loudness, the quiet fragility; it's all there. Check it out for yourself. His brand new video is out in the next couple of weeks, but for now, let yourself drift off with this one – this is Small Town Swing Bridge..
"You've got that sinking feeling, that you're falling without a rope.. there's no paddle in the boat."
Click Right Here to buy the album, or grab it over on Bandcamp if preferred. Find out more about Fun Cam over on his Website. Keep up with his musical endeavors over on Facebook, Soundcloud and Twitter.