There's something extremely original and unique about this album from rapper and songwriter Doc STRANGE. The music and the stories, the flow, all offer up something partly retro and seemingly free from influence or concern. It's a loud and vibrant project, colorful and chaotic, creative and powerful, and really – the more you listen to the tracks, the more the art of it all starts to connect and sink in. Doc STRANGE does what he does because it's real, that's who he is as an artist – it's authentic, believable, and increasingly enjoyable.
The opening and title track sets a slightly different ambiance to Invasion!, which follows it. The latter has a more rhythmic and classic feel, the opener gives off something distinctly original and unusual – laying the sense of personality out from the offset. Invasion! is a huge track with a touch of depth and captivating story telling. Kris BOSS accompanies Doc STRANGE on this song, as well as on Blade Runner, Outer Space, ROSWELL, and Like Michael – he's a fellow North Texas lyricist with a street savvy style and delivery that perfectly contrasts and compliments Doc STRANGE's approach.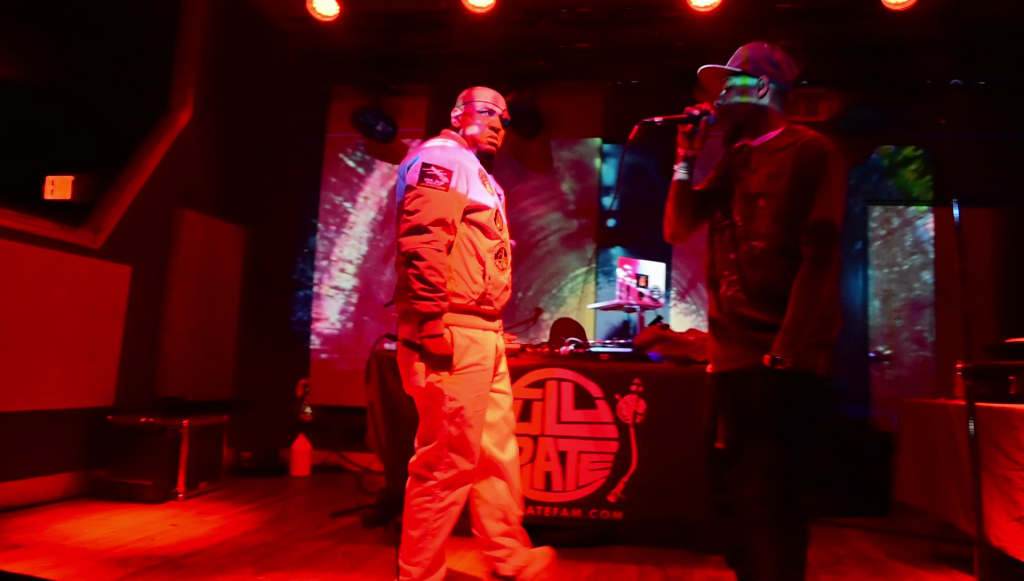 Moving on through the album, Man & Machine toys around with industrial creativity, representing the concept in just about every way. This feels like a modern hip hop moment soaked in a little something from the nineties. Blade Runner follows and furthers this thread of sci-fi and entertainment. You start to get a stronger feel for the influences and character behind the music. This one holds tight to your attention as well as offering up another retro yet simple, satisfying beat and backdrop.
Doc STRANGE tells stories, and he puts a hell of a lot of passion and drama and power into his performances of them. Certain instances appear in contrast with this though, sovietfunklaboratory is essentially just over a minute of experimental funk-driven instrumentation that offers a joyful break from the lyricism. Sexxx with an Alien comes next and is as bizarre as it sounds, though it can't be explained well with words alone. This mellow, strangely calming piece of music and performance is something to be witnessed for yourself.
Outer Space cranks the energy up – the music is manic and mighty, the vocal pace intense and faultless. The track hits hard and reminds you of the presence and power of the rapper behind it all. Another Dimension breaks things down again for a more mellow exploration of thoughts and stories. As an artist, Doc STRANGE presents various moments of eclecticism that suggest his creative reach and abilities are pretty unlimited. The arrangement of this album works well as everything heavy comes before something fairly mellow, and vice-versa. Contrast is mighty, and it's well integrated here.
ROSWELL touches on a topic that many will recognise. Doc STRANGE's fusion of musical prowess and a notable interest in strange happenings is refreshing to witness. This track has a great hook and the artist's performance is on point, never failing to deliver with weight and intent. It's endlessly theatrical and entertaining and interesting, it provokes thought while making you feel unexpectedly happy – and quite inspired to go ahead and do whatever it is that you've been wanting to do.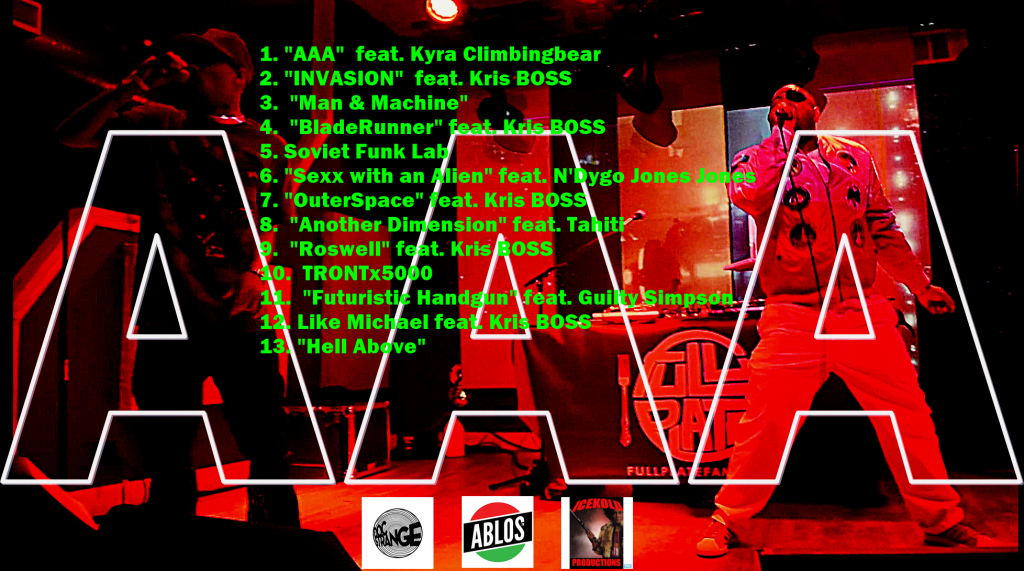 Things continue to evolve in an electronically vintage manner throughout the ambient and sci-fi soaked, largely instrumental TronTX – another moment of welcomed space and calm. Then there's an outpouring of classic hip hop alongside of a similarly reflective and retro soundscape for Futuristic Handgun. Doc STRANGE puts forth another varied performance, keeping things fresh and impressive. Guilty Simpson features on this track – a hardcore Detroit rapper who's longtime affiliation with J Dilla created underground Hip Hop classics.
The creative freedom to explore and express whatever is of interest is unstoppable here, which makes for something loaded with individuality. A touch of Outkast comes through on occasion, as does a hint of Cypress Hill and some of the more classic driving forces from early hip hop, but this is brief and mainly in the rap flow, occasionally the beat. Everything else feels completely new. Like Michael continues the vibe and provokes thought with its story telling.
Hell Above closes things down, the story line appeals and the rhyme scheme impresses. The vocal rhythm varies throughout, keeping things interesting, entertaining. The hook hits hard and reminds you of the creative building blocks that made up this entire project. Doc STRANGE has a lot to offer that can't really be found elsewhere right now. It's a pleasure having this collection play out around you and hopefully there's a lot more to look forward to. Well worth tuning in for.
Doc STRANGE's project AAA is the follow-up his critically acclaimed EP Sindrome, produced by Tahiti and featuring Hip Hop legend Kool Keith on Telekenesis. All the songs on this project were produced by Doc STRANGE, in house producer Mike Turner, and Menace, who produced the album closer Hell Above. Menace is a Dallas radio DJ and underground producer/emcee who has collaborated with the likes of Royce the 5'9 & Nature. The entire album was mixed and mastered by platinum producer Ty Macklin, whose production resume consists of songs for Erykah Badu and India Irie.
Download AAA via Bandcamp or search for it on all major download & streaming services as of March 6th. Find & follow Doc STRANGE on Facebook. Visit his Website for more information.