The more new music releases you tend to listen to on a daily basis, the more you appreciate and welcome it when a band or artist gets fully, deeply creative with their sound. Dirty Backseat's EP GooBad emerges from the first few moments as the work of a band doing precisely that.
Before you read anything into their work or their approach, the track Ghara'an starts to play, filling the room with this fairly incomparable aura of optimism intertwined with chaos. There's a beautiful feeling of togetherness about the use of a chorus of vocals, giving the song a football match feel, and at the same time, there's something brilliantly retro and joyful about their instrumental set-up. It brings dashes of world music and electronic experimentation together in a strangely indie-pop sort of way, and overall – their sound seems fairly incomparable right now.
Cassette Tapes follows the opener and brings lyrics, melody, and a subtle but distinctive leading voice to the stage. Their sound leans effectively in a nostalgic punk-pop direction now – think 90's alternative, along the lines of Garbage, but with far more that's unpredictable.
As the song progresses, the melody and the soundscape change almost entirely, and this unexpected mid-section adds a superb dynamic that draws your interest and affection even further. It's a fantastic track with so much going on yet it seems, at the same time, to know exactly what it's about and what it wants to present. The second melody weaves its way into your consciousness pretty quickly, and at five minutes long, the whole thing surrounds you in a classically authentic, alternative indie-rock manner; with some flickers of psychedelic samples to help keep the ambiance fit for escapism.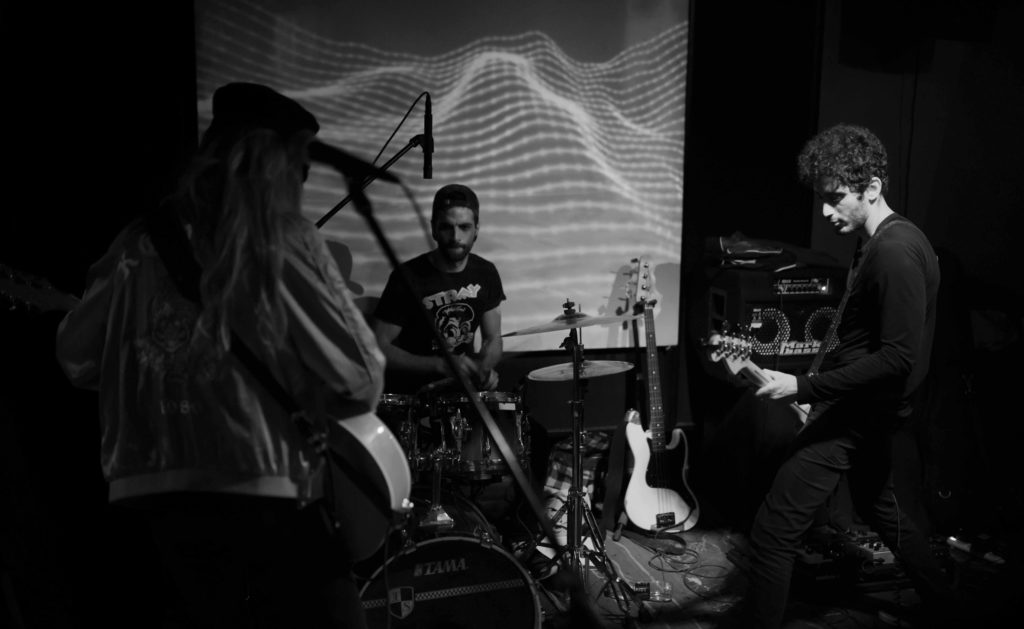 By the time Shouf Shouf (Alien Abduction) kicks in, the band's heavy bass-lines, experimental backdrops, and smoothly carefree leading voices, all have a definite air of familiarity. This song appears fit for the stages of any number of synth-pop or alternative festivals this summer. The band don't follow the expected structures in their songwriting, their music could veer off at any moment down some instrumentally expressive pathway, and when it does – you're more than likely to welcome and embrace the ride.
Etnein is a song that stands out at first for its Kings Of Leon style opening riff. The varied leading vocal changes the sound a little too, though the delivery fits the mood just as well – the band have a clearly shared understanding of what they want to achieve. This grows to be a fairly epic, hypnotic piece of music with a brilliantly progressive and intriguing set of riffs. The intensity continues to rise throughout, surrounding you with volume and manic energy. A live show from Dirty Backseat is where things are likely to really blow you away.
Bitter Sweet brings the EP to a close with one of the most instantly memorable leading guitar riffs and a melody and mood reminiscent of The Stone Roses. This track marks a final highlight and an exciting moment in terms of securing the band as one to watch out for. Their instrumentation follows its own rules at all times, so whenever the songs feel comforting or familiar, the soundscapes supporting them work hard to keep you on your toes and consistently entertained. It's refreshingly enjoyable at every turn. Bitter Sweet spirals out into a cavern of audio madness and ends the experience in a bold way.
Dirty Backseat are currently looking to build their presence in the music world and book as many gigs as possible around Cairo and beyond. Make sure to get down to a gig as and when the opportunity arises. Download the EP via Bandcamp. Find & follow Dirty Backseat on Facebook, Twitter & Instagram. Visit their Website for more information.
https://soundcloud.com/dirtybackseat_cairoegypt/02-cassette-tapes