Delusive Relics offer a multitude of musical journeys and ideas throughout the aptly titled album Chaotic Nations. Bursting on to the scene with the electronic urgency of Command Machine, the project carefully walks the line between intensity and delicacy, offering equal parts whispers and weight, and always holding close to an artistic and unexpectedly soulful core.
The opener builds to be rightfully chaotic, multi-layered and energizing, inspiring to have surround you. Structurally there's a lot to appreciate, and performance-wise too – the whole thing sounds new yet satisfying in its approach to creative expression.
As things continue, you get a sense for the sound and style of the Delusive Relics band. It's not about genre, it's about writing and composition – it's about saying what most can't find a way to say. Inner Man follows the opener and feels immediately familiar yet gentler, veering off down a new and personally reflective pathway. This contrast between the manic and the calm becomes a crucial calling card for the band.
Come With Me Now leads with a refreshing flicker of solo piano – organic sounding, right there next to you, emotional and poignant in drawing your focus and your thoughts. The near-operatic vocal outpouring that follows is unexpected but rightfully heartfelt and captivating as it weaves its way throughout the music and the space. As is the Delusive Relics way – things are never as they seem for very long. This track evolves to become something fairly industrial and complex.
Elsewhere on the project, Fake World drives with distortion and pace – delicate vocals offer a smooth counterpart that keep the experience varied and colourful. Conceptually the scenes are laid out in a story-telling style, and melodically this rises up to be one of the most memorable moments. Paint your Feelings follows and creatively utilizes pauses, breaths, moments of quiet, to express a somewhat intimate and vulnerable string of ideas that provoke and inspire optimism and possibility. The song effectively makes you feel less alone, suggesting that whatever you're going through can potentially be dealt with in the way that this album is attempting to.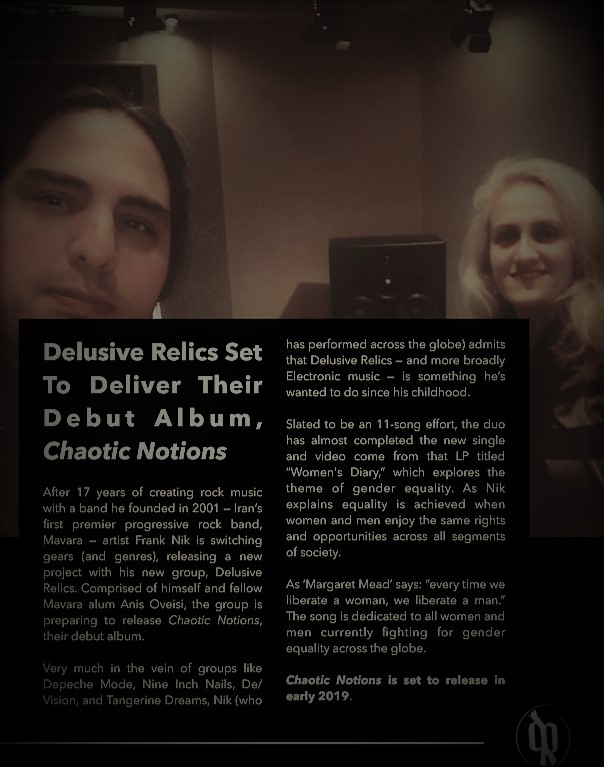 A Woman's Diary is the leading single from the album and a song with a fitting subject matter for today's world.
Gender equality is achieved when women and men enjoy the same rights and opportunities across all segments of society. As 'Margaret Mead' says: "every time we liberate a woman, we liberate a man."
The song opens with a soothing guitar part alongside of a tripped up beat, quickly setting the mood and capturing your affection. As the chords emerge, followed by the all-important vocals, the song slowly but surely paints a Massive Attack-like aura around you – thoughtful yet accessible enough to involve any and every one who hears it. The song grows to be immense – soulful and expressive in a mighty, beautiful way. A clear and brilliant choice for the single and an important release right now. Great art is often that which offers a voice for those who silently struggle or suffer. That's what this is, in more than a few ways.
Lost follows the single and guides you through an electronic dream world that's a pleasure to have fill the room. Push Them Away afterwards leads with a thick and funky bass-line, keeping things eclectic – vocally too. The track grows to be overwhelmingly immersive. This album is incredibly unique in its creative reach. Illusion (part 1) is an undeniable testament to that – an unpredictable, minimalist yet haunting composition that quietly demands your attention.
Delusion (Part 2) brings through a retro-EDM soundscape that rains down around you in a classically enjoyable way. The lyrics present a set of thoughts that guide you through the experience – a touch of Depeche Mode stood out here, not for the first time.
Things meet their finish with Hallucination (Part 3). Intensity peaks, the audio follows a creatively free route – sounds and samples pave the way, expressing various moments and emotions in a carefree, dark and rather fascinating manner. The latter half weaves humanity into the mix more and more so, and soon enough the song becomes this incredibly complex and wonderful composition that's impossible to ignore. Feeling partly unreal, partly tribal, partly like a fragment of a dream from a few nights ago – the track is clever and consuming as it plays out.
This album is something like Nine Inch Nails but with a gentle layer of trip-hop and a team of uninhibited ideas. There are some real, provocative moments of insight, among a gathering of unique instrumentals. A second listen lets it all sink in a little deeper.
Pre-order the album here.