A Voice In The Wilderness Vol I is a collection of songs David Vaters' has released as a solo artist, however, the project features a number of talented guest musicians who really help bring out the beauty and strength of the compositions.
Let It Rain is an emotional and powerful opening song. The cinematic style soundscape featured in the intro brings a touch of drama to the project, and the minimalist, poetic nature of the slowly unfolding song is blissful. The guitar sounds beautiful, as does David's voice, and these undeniably adoring and proud lyrics offer an invaluable insight to his perspective.
The opening instrumentation to Running To You has a gorgeously crisp and live sound to it. The song presents audiences with a sublime set of drums and a reflective and heartfelt bit of songwriting. As the hook sets in, David Vaters' leading voice has something of a Dylan sound to it, and by this point the music has built up and intensified to the full throttle warmth of country rock or Americana.
Leading on from here, the music becomes this hugely enjoyable, professionally crafted, easy to relax to collection of really well written songs; primarily dealing with faith, love, and compassion. 8 Ways From Sunday has the style and smoothness of a soulful soft rock piece, complete with a gravelly and passionate leading vocal, and a beautifully simple yet effective guitar solo. As things progress, there's a flicker of piano, and throughout the project the music presents these moments with wonderful attention to detail – never over doing it, just adding enough of that creativity to build upon the structure and power of the songs.
Brighter Than The Stars offers the gentle picking of an acoustic guitar, laying David Vaters' voice almost completely bare and presenting a notably intimate dedication of love. The guitar work is lovely, and the artist's voice is a dream to listen to – subtle when necessary, powerful when things build up.
This Cross moves things along powerfully. This song has a certain sense of intrigue about it. The opening lyrics – Don't Take This Cross – repeated simply over the strum of a guitar, draws you right in. David's voice on this song has a slightly different performance style to it, adding alternate emotions, a touch of drama, another touch of pride. There's a confidence to his voice that drives these songs in quite a striking way.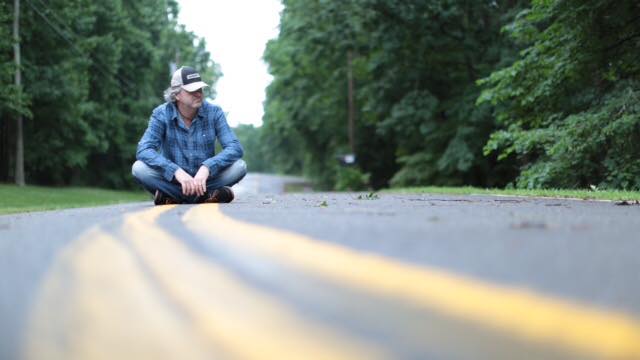 Mansion In The Sky is a beauty. The songwriter's thought process is made consistently clear throughout this album – the things that concern him, his thoughts for the future, his views on life and its depth and meaning. This song features a Spanish-style guitar part that comes as a gorgeous addition to the project and creates a peaceful space within which the lyrics of this song hit with impact. The accordion too – as mentioned, there are a number of little moments within this album that highlight how thoughtful and well crafted the whole thing is; they add a wonderful touch of individuality.
Something you may notice about David's songwriting is that his story telling is often very personal, almost seeming as if it's a series of thoughts or a diary entry on occasion – adding a very genuine touch of humanity. God (Help Me Out) underlines this further, the questioning nature of the lyrics highlight the songwriter's deeply reflective artistry and reminds you of that thread, that character, running through the collection.
See You In Heaven is a huge song, the full band energy comes through in masses and the leading voice reflects this energy and this passion brilliantly. Then you get the beautifully reflective and emotional It's Time, (featured below). This song showcases an exquisite piano part, loaded with feeling and a somehow calming sense of urgency and depth. This song definitely makes for a memorable moment within the collection.
The final track on the album is an instrumental version of Brighter Than The Stars. This is where you get to really appreciate those unique instrumental additions that shine with subtle brightness throughout David Vaters' music. This final piece has a stunning level of warmth and comes through with a very loving and uplifting energy. Every part is played with an absolute heartfelt passion for the sentiment of the song. It's the perfect way to finish.
Find & follow David Vaters on Facebook, Twitter, Reverbnation & Soundcloud. Download the music via his Website.