Countdown To Sunset is the artist name of Jay Williams – an experienced musician and songwriter based in Dallas, Texas. His EP Imperfections arrives as a preliminary project to an upcoming album, though the songs on this fall distinctly under their own thread of reflections and feelings, making it something special and unique in its own right.
Fine Lines is the opener and introduces a deeply thoughtful and emotional writer and performer, exposed under a genuine and fairly raw musical light. The acoustic presentation suits the concept well – the delicate passion of the leading voice draws your attention alongside of the simple strum of an acoustic guitar. The lyrics really stand out in this setting – the songwriter takes what feel like common occurrences, and expresses them in a poetic way.
'Conversations thin. Thicken up and try it all again.'
Slipping Away (Anyway) follows, a hypnotically rising chord progression rides alongside of a softly compelling melody that makes it feel like the acoustic, broken down version of a huge indie-rock song. The song's hook sinks in well, plus the structure of the song – the switch from the strumming to the picking, helps build a real sense of evolution and keeps things fresh and relevant to the unfolding story-line. Follow Through offers a more intimate display of story-telling that really gets you focusing on the voice and the imagery, the scene being set, above anything else. It's something of a mini-movie for those who value relationships yet find themselves thinking all too deeply about them sometimes.
Waking Up has a great melody, simple and effective, bringing through that indie-rock feel again – there's a sense of this being an anthemic track, the sort that draws the crowd closer to the stage at a live show. That's the lovely thing about projects like this, you get the precise representation of what a live show would be like – it's real, honest, appearing as a somewhat unfiltered expression of what it is to be human.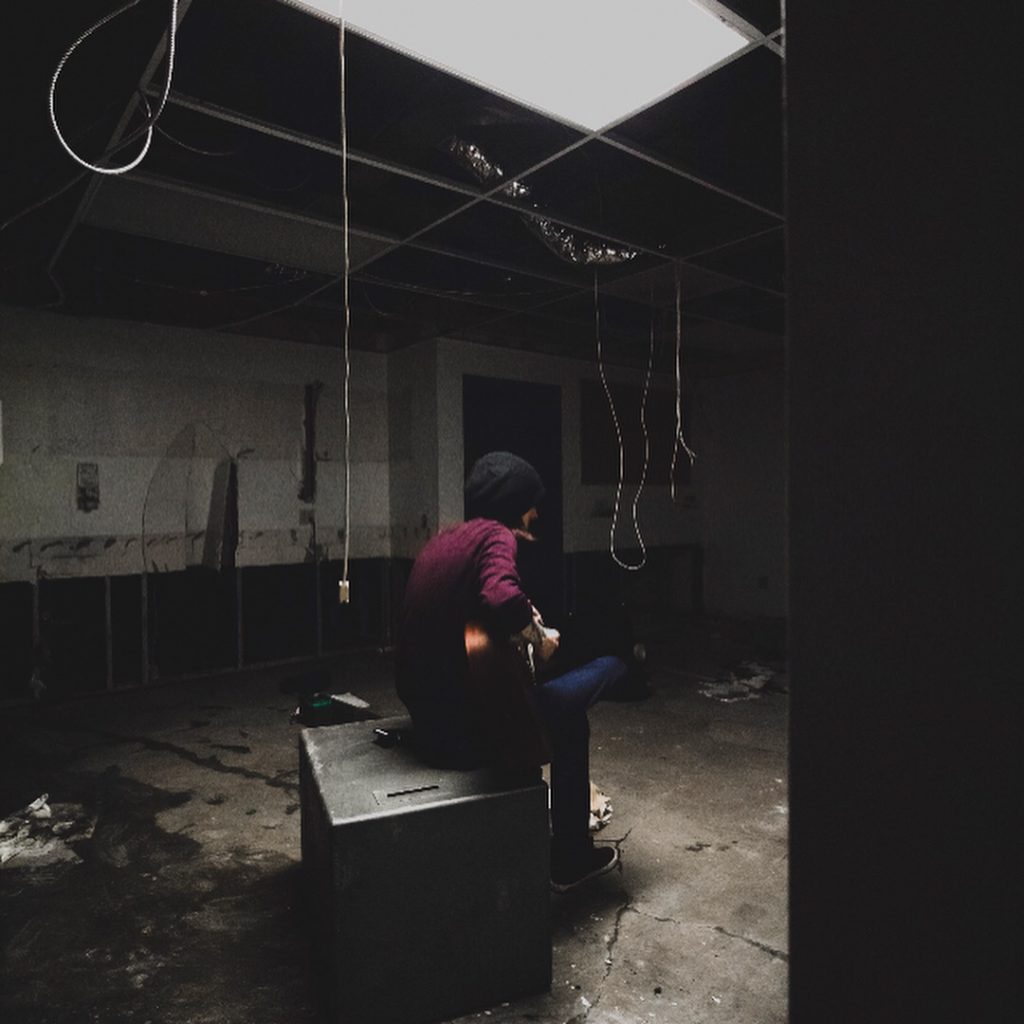 The Countdown To Sunset sound and approach to expression has something of an Elliot Smith vibe to it for the most part, the artist's performance style presents this gentle, almost whispered voice that quietly reveals the inner workings of his mind and his experiences. Walk Away is a song that really brings through this feeling of familiarity – the sound is slightly nostalgic, though the subject matter and the tone of the leading voice offer something new and deeply personal for music fans to connect with. These songs as a complete collection make for a playlist that listeners can turn to during the quiet times, those reflective evenings in – settling down, thinking things through, preparing, writing lists or journals.
What A Mess is a song that comes with a slightly Oasis-like chord progression, the acoustic guitar has a certain brightness here, the vocal melody appropriately follows suit. The delicacy remains, the thread that is the leading voice and this approach to writing and performance, but the mood changes a little here and it gets you thinking slightly differently. Times Up furthers this, creating a notably unique acoustic soundscape led by a gorgeous opening riff that takes its time to set the scene – calm and creative all at once. This final gathering of lyrics, this concept, and this beautifully rising melody, works well as the final song of the project.
There's a lot that comes to mind as you listen to these songs, Countdown To Sunset is a project that deals with a number of human emotions in a way that lays bare the truth of each thought or feeling. In essence, this collection relevantly highlights, in an authentically pure manner, the imperfections that make up a life. The more you listen, the more you notice – it becomes something of a comfort blanket for time spent alone. Any future projects are likely to provoke a whole new array of thinking, as well as a string of new melodies.
Download the EP via Bandcamp or stream it on Spotify.
https://soundcloud.com/countdowntosunset/times-up