Colin Clyne is a well traveled, widely renowned singer and songwriter, hailing from Scotland's own Aberdeen. We came across his album 'The Never Ending Pageant' and were completely blown away by the breath taking songwriting and performances throughout. A beautifully hypnotizing album, with feel good vibes, and an open, believable vocal, from a man who has seen the world in all it's glory and vastness.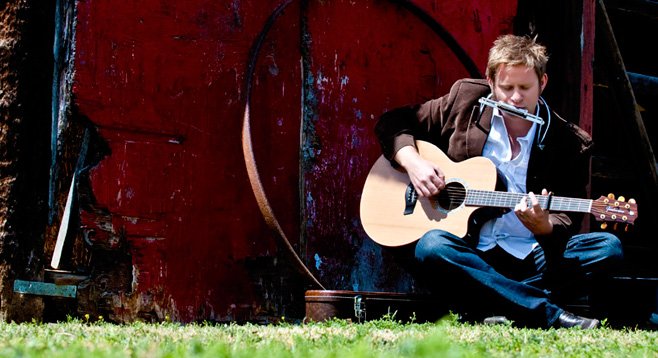 "This is the album we set out to make when we first met in 2006. However, it took a few different releases, a lot of gigs, tours and a massive amount of pageantry to get to the point where we made it." Colin Clyne on the release of the long awaited album 'The Never Ending Pageant'.
The opening track 'Merry Go Round' is something of a floor filler; overflowing with happiness, just a hint of blues, Americana music, top quality folk-rock – harmonicas and all. As the album moves along, it's noticeable how well each of the songs fit together – like the joyful pieces of a jigsaw. A refreshing reminder of the power of the 'album'; as a whole, a unique entity, not to be skipped through. One man's work of art, unfiltered, untampered with. Experience it as it was meant to be.
'Toast the Happy Times' was perhaps a personal favourite – an absolute feel good track, classic country rock vibes, a stunning vocal performance, and an utterly memorable and catchy hook. A superb track, one for playing on repeat at house parties, beach parties, long road trips. Whenever you want to bring people together, or just feel better about the world.
'Playing God' is a full on folk-rock classic anthem, reminding me a little of the great parts of John Butler Trio, but with something fresh, something unaffected and new. It builds up and breaks down in all the right places, and Colin's storytelling abilities shine bright throughout. A songwriter of a similar mentality and style to the likes of Bob Dylan and Tom Waits – both of whom he's been compared to in the past. Great vocals on this one, as always. Never letting the skill levels slip – a consistently on form and inspiring musician.
To finish the release is the gorgeous, sad, yet soothing folk track – 'My Bonnie Broken Valentine'. A simple song, guitar and vocals, a little bit of backing music, and then just the story, the melody, and feelings of love both found and lost. You feel the emotion through the nakedness of the vocal in this. A great end, or temporary pause, to The Never Ending Pageant.
On top of the song writing, Colin Clyne's live performances will give you shivers; this one in particular is an absolute stunner. This is 'Top of the Mountain', live in Glasgow..
Colin's journey has been one filled with experiences, many highs, and several struggles; in his younger years he was involved in an accident which severed his fingers and prevented him from playing guitar. Perhaps though, it was all part of the process – one of life's challenges that pushed him forward and drove him to fight for success even harder. An intriguing and respectable musician, who has mastered his craft to an immensely impressive level. The album is stunning, and his live performances are second to none.
He's had a particularly impressive year, and is set to support the incredible Scottish rock band 'Big Country' again next year. Now is the time to get to know the songwriter that is Colin Clyne.
If you feel the music the way we do – head over to his Website, follow Colin Clyne on Facebook, Soundcloud, Twitter, stay updated, and keep an ear out for live shows. The very best songwriting often lies just under the radar. Help keep real music alive.