Given Brad Geiger's extensive experience and musical influences, this album as a complete collection is quite precisely the eclectic and colourful project you'd hope for, and yet it's really also nothing like you'd expect.
Tom Rawling's Old Ladies Peep Show is an album inspired by a book that Geiger is writing entitled An Encyclopedia Of Time Traveling Criminals. Again, to consider this changes the direction of your thoughts a little, or perhaps opens your mind even further as you embark upon the listening experience. What you find within is a playlist fusing elements of retro electronica, orchestral ambiances, modern day EDM, and a little of all that falls between.
Alicia Poole O'Reilly Rawling and Samantha O'Reilly Rawling are early highlights, emerging as partly dark and fully rhythmic, hypnotic musical journeys that call out for you to explore the accompanying book at the earliest possibility. That touch of EDM really comes through in the former, an ocean of synths and colour surrounds you, giving off this quite addictive level of energy.
Elsewhere on the project, Geiger exercises his creative freedom in a totally unique and unpredictable manner. Monica Duff Gallagher seems far more like a free-style performance on the keys than a pre-organised or intently structured piece of music. There's an organic aura about the delivery and it seems to point in the direction of certain characteristics, which, being that this album is purely instrumental, allow each individual listener to fill in the gaps with their own meandering imagination.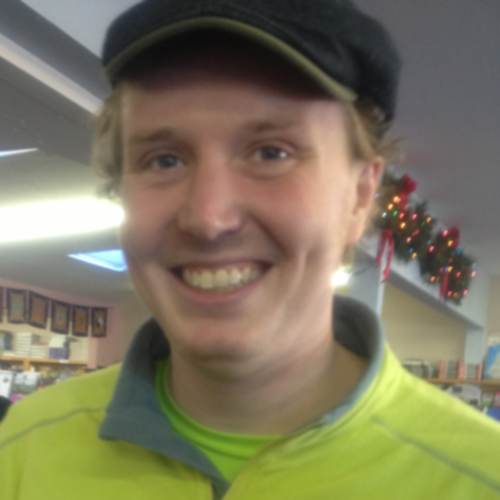 Certain moments really see the weight and pace of the music reach for the sky. Rebecca Holt Smith is a strong example, a track that would feel right at home as the final challenge music on some epic retro gaming adventure. At the same time, the opening vibrancy has the uplifting power of any synth-driven, top quality dance track. It makes you want to take action, get moving, do something more than just sit and listen. As always with his music, Geiger refuses to fall into the trap of complacency, so any brief moments of familiarity are soon re-imagined in an unusual and fairly striking way. There are a number of different occasions throughout this track that seek to surprise, and yet also, there are many in which those now familiar riffs return to satisfy in the way that any great chorus would.
Kelsey Cohen Powell sees the mood break down a little, something mellow steps forwards – thoughtful, simplistic even; when compared to all that surrounds it. Peggy Smith Gallagher follows and brings back the intensity, the distortion, the shock factor. The bass-line here drives the way, as well as these difficult to place synths and samples – some light, some heavy – all of which work against each other to create an attention grabbing level of contrast.
Molly Powell O'Brien appears afterwards – by this point many of the sounds and beats seem familiar. Even the nature of the creativity, the crafting of the soundscape – there's a distinct style to Geiger's approach, and though at first it seems completely new, you grow to understand and recognise it as the album pours through.
Things come to a surprisingly joyful finish with the delicately hopeful keys and tones of Margaret Ann O'Brien Gallagher. It's a song with a definite sense of melody that feels notably memorable and quite apt as the closing moment of the project. The track feels somehow even more free than everything that preceded it, almost emerging as something of a nonchalant jam session with nothing but good energy and an absence of rules. It's a good way to end the album, reminding you of what came to pass, but offering a more settled level of energy – within which the skill and style of the playing highlights the underlying ideas of the music in a clearer way; allowing you the space to more effectively consider the plot.
Download the album via iTunes or stream it on Spotify. Find & follow Rock Music Society on Facebook. Visit Brad Geiger's Website for more information.