Taking a somewhat new direction this time around, Arda and The Stolen Moon tackle the issue of contemporary living as something of a misfit – Outsider In Perpetual Motion proves a swirling chaos of musicality and topical references that feels all at once retro and relevant.
Initially adopting a slightly alt-punk, indie-pop vibe – not unlike Amanda Palmer in its spoken style voice, imagery and literal lyrics – Emotional Hacking details our protagonist's battle with the online world and modern society; ideas such as not having Instagram due to being unable to compete with the likes of the Kardashians.
The near six-minute track introduces the thoughts and feelings of this album well, the voice is immediately recognisable, the pop-rock tendencies organic and quirky yet satisfying enough to connect and prove memorable. The very concept of hacking one's emotions intrigues, and sets the bar effectively for the rest of the project.
Coming in at just nine tracks long but feeling like a full-length album regardless thanks to extended, post-four-minute songs in most cases, Outsider In Perpetual Motion comes across like an ideas project – a contemplative release, crafted during times of uncertainty but performed with a quiet confidence; which helps create a sense of leadership that's easy for fellow outsiders to follow along.
The Duke Of Icicle hits with gentle folk-pop rhythms and warmth after the opener, a welcomed second and male voice offering dynamic for this fascinating tale. Signals promises equal delicacy and a more simple, hypnotic setup of riffs and whispered melodies. A beautifully thoughtful early favourite, with a lyric-free, expressive latter half of acoustic finger-picking and meandering voice.
Poetic reflections step aside for a scene-setting storyteller in the form of Twenty63, catchy and energising, with a subtle depth that slowly but surely reveals itself as each hook repeats and envelops audiences. Another highlight, great contrast between seemingly simple verses and a more profound hook.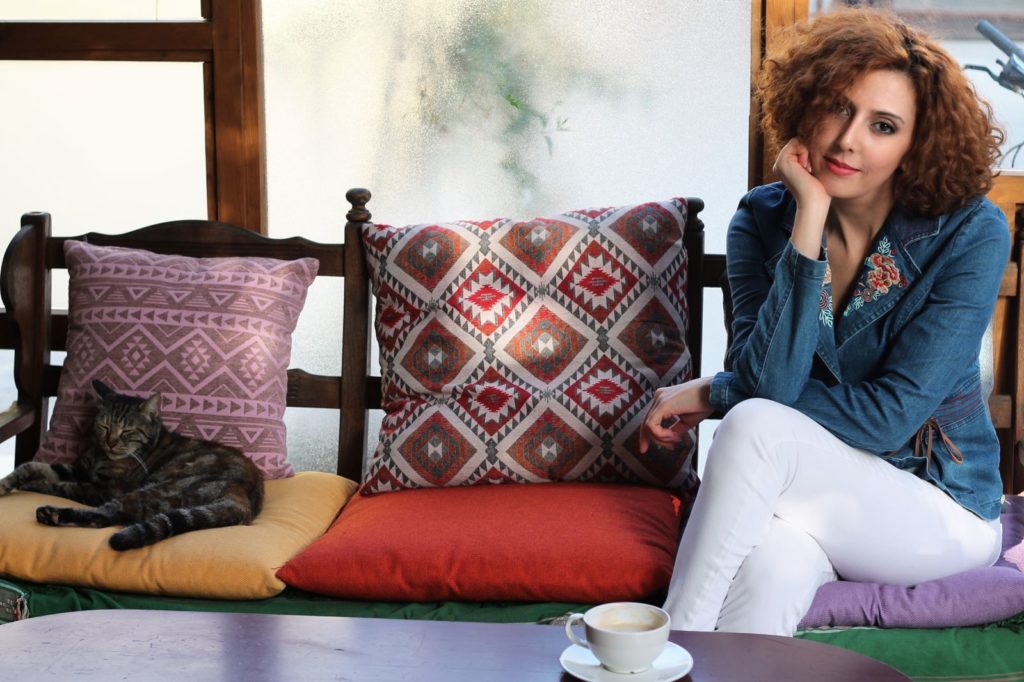 The Pebble In My Shoe is beautiful, engaging in its familiarity and simple fingerpicking alongside breathy, emotive vocals. Poetry returns, imagery and self-reflection, intrigue. The song builds up brilliantly, the first in which we're taken entrancingly from softness to drama and power. There seem to be clear levels of passion in the declarations and observations made throughout a series of fantastic lyrics, and these connect on a notably human level – more so with each revisit to the song. Alternative and refreshing in melody and concept, familiar in musicality – a great balance.
The depths continue for a hard to stomach Upset The Apple Cart, a little country-esque in its musical swagger, still keys and rhythm-led, with an overwhelming level of realness in the writing that outright takes the lead.
We then get the personal touch and brightness of Monkeys, a story of a dream, a family-friend vibe initially – hand-held rhythms and an almost child-like melodic progression. Always Arda writes uniquely original, interesting lyrics, and this project speaks volumes on behalf of that quality. The hook resounds – 'Could this be a sign?', another moment of mighty resolve and inclusive contemplation.
One last blast of lyrical weight and distorted musical soul is the wonderful closing track Fools & a Molina Moon. So many lines stand out, provoke thought, and the music proves gorgeously euphoric as it uplifts to reinforce the emotional impact of these ideas. An absolute stand-out, vague enough to be made your own, offering a mellow swagger of a groove and absolute passion in the guitar solos, dreamlike immersion in the synths. This closing track elevates the whole project, and in fact gifts it a stronger grasp the second time around.
Great song-writing, a bold and beautiful degree of artistic identity, and a project that fearlessly expresses the inner concerns and considerations of the artist.
Download the album via Bandcamp. Check out Arda and the Stolen Moon on Facebook or visit their Website.