Personal healing gifted as intricate audio escapism that embraces its audience – a new project from Darren J Harris (Ambient Counsel) always means a worthy break from the weight of the world, and Passages gorgeously illuminates that truth.
Clearing Light (Unexcelled Jewel) is the opening piece of the new full-length album from Tasmanian producer Darren J Harris – a post six-minute realm of binaural-style calm, mellow chimes, and waves of comforting warmth.
After a minute and a half, subtle melody sweeps through, changing the scenery of the mind and elevating the mood just softly.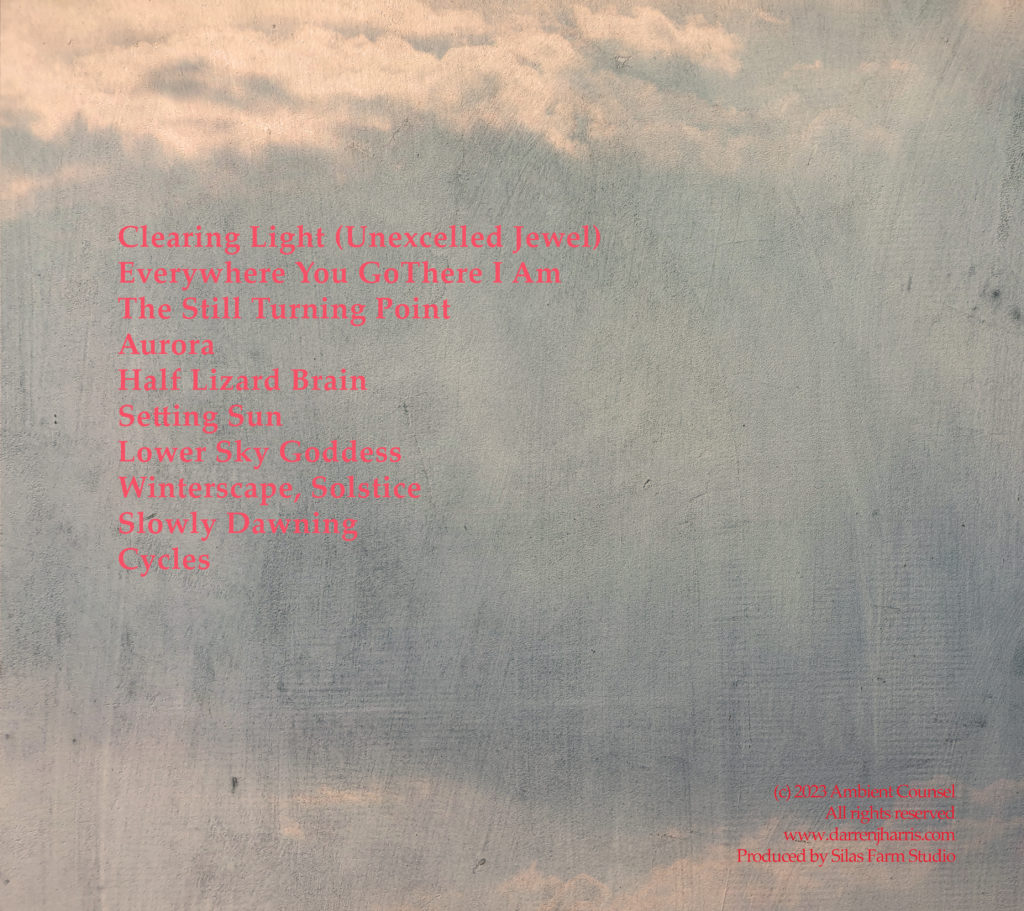 The extensive ambient tones and breaths of Passages continue to further the soothing effect of the music as the tracks quietly rain through.
Everywhere You Go There I Am connects for its inherent sense of unity, the humility of craft aligning with the implications of the title; a lasting trait throughout Darren's repertoire.
For The Still Turning Point, we get a touch of creative intrigue – almost like a conversation between dreamlike entities, echoing through comforting clouds of depth and lightness alike.
Humble piano awakens a change in tone for the mid-section – one part of a range of nuances that help give Passages a unique aura.
Following this, Aurora is stunning, suddenly other-worldly in its sparkling sense of distance, electricity, melody, and the complex intertwining of various moments. Increasingly euphoric, Aurora is an easy stand-out for its blending of evocative progression and vast ethereal wonder.
Creative sound-play continues for the long-form freestyle presentation of Half Lizard Brain, suddenly characterful and even joyous, fusing humorous effects with natural world fragments – water running, life thriving, topical possibilities lingering.
We then get a sense of weight, distortion and mild darkness for the aptly-titled Setting Sun, another variety of sounds and production traits that feel authentically new yet still in keeping with the aims of Passages. Lower Sky Goddess offers a similar continuation of bass-like notes and reverberating depths.
After this, Winterscape, Solstice feels like a delicate blessing, simple keys and possible jazz suggested in the hints of meandering melody and movement. Another highlight but all the more effective for its placement within the collection – an effect carried forward for the deeply meditative Slowly Dawning.
The closing work Cycles adopts a fresh perspective again, quirky tones and a colourful overall presence helping guide the listener through the final implications and ideas of Passages, for a brief yet effective summation of change.
An essential pause for the fast-paced world, finely-crafted with equal parts precision and emotional understanding – Passages, when played at volume to replace the sound of the external world, is a healing dream to delve into.
Stunning album, a real gift to let play this week.
Releasing August 7th – Pre-order Passages via Bandcamp or visit Darren J Harris' Website.