In a recent article regarding home recording and music production, we touched on the topic of high end music software (Ableton Live, Logic Pro) in comparison to the free options that allow people to simply 'give it a try' (i.e. Audacity).
In truth, their are alternative options out there that allow beginners to get a good grasp of the process and to have some fun in the mean time (without feeling like they're stuck in some retro land of late 90's computing). Acoustica's latest release Mixcraft 8 is the perfect example.
* * *
From the perspective of a songwriter, singer and guitarist, the software allows you to very easily record your instruments and vocals, and to then begin mixing and playing around with effects and virtual instruments as if it's merely an extension of your creativity.
A multitude of tools is useful, and Mixcraft 8 doesn't come short in that department, but the most important thing for me, as a musician, was that I didn't feel the software to be overwhelmingly complex. It didn't leave me wondering if I was way out of my depth, and at no point did it seem like an easier option to get somebody else in to do the work for me. Far from it. You don't need to be a sound engineer to make the most out of recording your music, and you don't need to fork out the depths of your life savings, either.
At just $89 for the Recording Studio version, or $179 for the Pro Studio version, Mixcraft 8 offers a great starting point for musicians who want to lay down their tracks in a professional and stream or radio-worthy manner. The added benefit is that you can rely upon it in the long term as you continue to develop your skills and desires within music production. As mentioned, the software doesn't overwhelm in any way, but that's not to say the tools and samples aren't there for you as and when you wish to explore and utilise them.
Mixcraft 8 Recording Studio comes with 28 pro audio effects and 15 virtual instruments, allowing you to build your own beats from scratch, not to mention unlimited MIDI and audio tracks. Furthermore, an important point to make for those of us who have spent years familiarising ourselves with organic music making – playing guitar, writing, singing, performing – and not so much with the more intricate, digital side of music making; there's very little you can do mid-session to mess up your progress. (A deep sigh of relief for many.)
It's a win-win bit of software that ranks light-years ahead of the free options such as Audacity (as mentioned in Beginner's Guide To Recording Guitar). For what you pay, the possibilities that lay before you are immense. Whether you're a singer and songwriter with an acoustic guitar or other, single instrument, or whether you're part of a band, with the full throttle, indie-rock, electronica-fusion sort of sound. If you're new to recording music, if you're a musician first and far from what people might refer to as an audio engineer, Mixcraft 8 is a more than decent choice.
Mixcraft 8 Pro Studio is extremely responsive. As mentioned, it's very easy to navigate through. The tools available are all clearly indicated and contained within a space that feels open to your own creative exploration. You can add an unlimited number of audio tracks as you work, this is true for both versions of the software, which makes them great for exploring new sounds and just generally diving head first into your new venture. The more you add, the deeper you delve, the more you learn, and, in theory, the greater the sound.
With over 7,500 loops, music beds, sound effects, and samples, Mixcraft 8 makes for fast, easy, professional music production.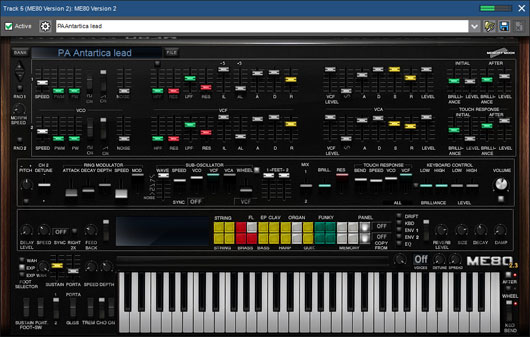 Additional Bonus Points:
Mixcraft 8 Pro Studio offers midi scoring and editing – you can compose your own beats, patterns, and musical scores within the program. It also offers an incredibly enjoyable live performance element – musicians can jam to their heart's content with automatically synced, non-stop audio and MIDI clip grooves using the amazingly flexible Performance Panel. They can also create their own mixes and mashups with audio warping and song slicing.
In addition, The Pro Studio version offers video editing – a fairly unique feature that makes it all the more useful for the long term creative mind. Mixcraft 8 also has the benefit of having some world-class plugins included in the download bundle. Melodyne helps naturally correct the pitch of your vocal recordings, and the iZotope mastering essentials come from one of the most respected plugin manufacturers on the planet. These plugins are perfect for any recording artist wanting to take their tracks to the next level. As a final note, Mixcraft 8 offers VST3 support, something which the more upmarket DAW Ableton Live doesn't currently. Always great to get an additional bit of edge.
Mixcraft 8 offers just about everything necessary to get started in the world of recording, and all at a fairly reasonable price. They're a thoughtful company who have made a series of products catering for the musician as well as the producer, so there's much less of that isolation that sometimes comes with the more intense recording software options. Check out their links below to get a better feel for what's on offer.
* * *
Visit the Acoustica Website to download the software and get started. Find and follow Mixcraft on Facebook, Twitter & Instagram to get all the latest updates & information.