Introducing the UK's own Jacob Davies, performing his original poetry as part of an extensive summer tour.
Newcastle's Northern Stage welcomes the rising poet and performer Jacob Davies to showcase writing from The Things They've Never Seen and Every Night Is November, as well as some unreleased material.
His biggest tour to date, Jacob Davies will take on some of the UK's most intimate venues to deliver his contemplative and deeply-reflective poetic works. Entry is FREE, so grab your tickets early to avoid disappointment.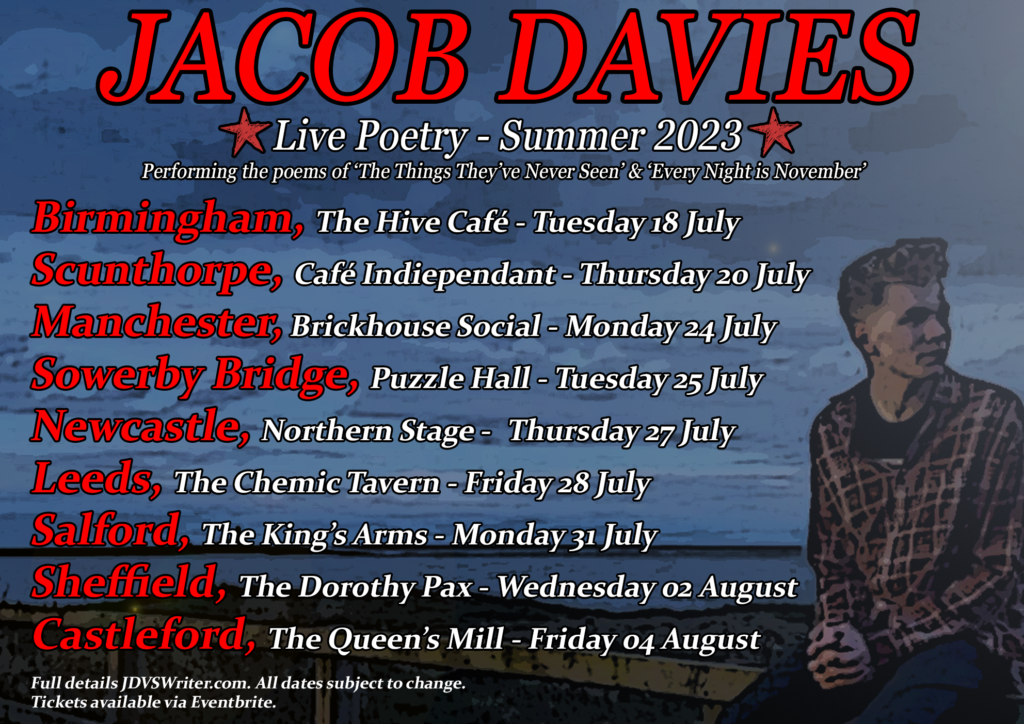 Hi Jacob – great to chat with you, thanks for the opportunity! For those new to your work, when did you first start writing poetry, and whom or what inspired you to start?
Likewise. I've been writing poetry and short stories for as long as I've been able to write. I first started writing was I was 11, and at that time it was my life's work to make sure nobody ever read it. I did quite well.
Over time it's become more and more important to me, writing helps me voice my thoughts and feelings, and make sense of the world – just about. I've had some of my best life experiences through writing and I'm enduring the journey!
What's your creative process – do you sit down with the intention of writing, or do ideas just come to you as and when?
There is nothing that could even be remotely described as a creative process! Often in the most inconvenient time, a particular structure, couplet or stanza will just appear and I'm pushed to catapult onwards from there. I give the idea space to form and try to fill in the gaps. It's incredibly freeing – and never ever mechanical.
The poems either come from thoughts I've been sat on for a very long time, or as a complete whim from seemingly nowhere. And, oddly, there's no in-between. For me, it's a different experience to anything else in life. It's my space and my work, and I love that.
In what ways does the live performance aspect help bring these poems to life?
I think my poems were written to be performed before even I knew it. So, naturally I think the live performance gives some poems a different edge. Just the timing into a line, or a particular emphasis or pace on a certain word can make a big difference. People seem to get something from it, and I certainly enjoy it… so, no complaints.
"Poetry is the only constant, the saviour and a huge part me."
Is there a big ambition in your mind, or are you just excited to be sharing your craft and connecting with other writers and poetry fans?
As much as I adore writing, performing and meeting people through the poetry, I think I don't have much of a choice. If I packed up my pens tomorrow and vowed never to write again, I'd last about 12 minutes. Poetry is the only constant, the saviour and a huge part me – so it's quite hard to have a seven-year plan when it's so closely intertwined with everything I am.
I really don't know what I'd be without the poetry… and I don't mean that in a corny Disney-character arch type way… I would genuinely be a blob of flesh with time passing through it if I didn't write.
What can audiences expect at these live shows, will there be opportunities for a Q and A, and will you be having any support acts?
I keep to a strict 'setlist' for performances, but aside from that it's a free-for-all… I had people shouting out questions mid-set in Morley last year which was hilarious and unexpected in equal measure. No support acts this time – but there is a pre-show video at some of the shows, which I've put together. It's a short collection of some of my inspirations and heroes, which I hope will set the mood quite nicely.
One thing I am intent on doing with the live shows is giving lots of time and space to the newer poems. It's been a year now since the release of my last book, and with my rate of output that's quite a lot of content. I really ought to work in dog years.
And more to the point, the new poems are closest reflection to the person the audience will see on the stage. We're all changing and adapting much faster than we'd like to think. Every Night is November, was finished around two years ago and so naturally, I have some new things to say. New poems like The Language of Flowers and Quarry Hill, are getting a first breath of air so I'm looking forward to seeing what people think.
Which single poem from your repertoire would you recommend in written form to people who've yet to read or hear your work, and why?
Oh, wow. That's tough. There's a poem in the second half of my most recent collection Every Night is November, called Lucky, Lucky 7, and I think that poem explains just about everything I have to say – so I'd point them to that one.
What are you the most excited about regarding this upcoming UK tour?
It's felt like such a long time since my last run of performances, so I'll mainly be looking forward to getting out of the house.
But in seriousness, I enjoy the experience of it all. The dates in Newcastle and Castleford I'm particularly looking forward to. Just once or twice you catch the look of understanding from someone in the audience or you deliver a poem just right and all of the mundane is suddenly a small price to pay. I'm so pleased I have the opportunity to do a tour like this.
Is there anything else we should know?
Get yourself a ticket via Eventbrite!
* * *
When? : Thursday 27th July, 19:00
Where? : Northern Stage, Barras Bridge, Newcastle upon Tyne, NE1 7RH
* * *
The live event opens at 7pm, with a pre-show video taking place at 7:20pm. Seating is unreserved so expect a laid-back and honest experience from one of the UK's fastest rising young poets.
Stay updated with Jacob Davies via Twitter or visit his Website. Listen to Jacob discussing his work Every Night Is November via the interview below.