Ontario based band Within Shadows are set to release their brand new album in the next few weeks. We caught up with them to find out a little more about the project, the band members themselves, and the music they create – here's how it went.. 
* * *
Hi guys. Thanks for taking the time to chat to us today.
Thank you so much as well for giving us this opportunity to chat with you. My name is Sean Farias and I am the vocalist for the band and I will be answering your questions.
You're due to release a new album in the very near future – how long has this been in the making, and is there a concept to the project or is it a collection of songs simply written during a certain time in your lives?
Yes, we are due to release our first full length album this December called Mind = Enemy. It is a 15 song album featuring 11 new songs and 4 remakes of songs we have previously released as singles and also on our debut EP. This album has been slowly worked on over the last year since the end of 2015. We decided to take this whole year to slowly work on this album and piece it together so we could put everything we had into it when it comes to musicianship, heart, soul and emotion.
The project revolves around our band's theme of fighting inner battles, whether it is depression, conflicts with other people etc. We try to share our experiences and rough times through our lyrics and then bring positivity to our audience so that they can get through things just like we have and that things get better.
You recently shared the brand new track Enough is Enough, an intense, high energy and explicitly emotional song. What inspired the writing of this, and do you find that performing or listening back to it helps you to understand or deal with things a little better?
We are very proud of this track. We have been getting an astonishing amount of positive feedback about it and a lot of people saying that it is our best track released to date. Which is pretty awesome and it is making us feel very proud about it. I write the greatest majority of the lyrics for our songs and certainly dished out a lot of my feelings that have been suppressed over the years. I tend to do that in all our songs.
This song was certainly about not being treated right by many people and me lashing out back showing I had enough of it. We were aiming for a high energy sort of post hard-core feel for this song. Since we do metal variety we try to cover all sorts of different musical genres in our different songs. Hearing this track and playing it certainly brings out these suppressed emotions the song revolves around and creates an aura where the aggression can be recreated. Even while recording vocals for this song I felt very passionate and let out that emotion.
Was it easy to choose Enough Is Enough as a single release, and will there be another single release, or an official video perhaps, before the album comes out?
As we have been working on the album throughout the year we have been slowly releasing tracks out for our fan base to hear and enjoy. It was very easy to choose Enough is Enough as one of those songs because we felt it was one of our strongest recordings. We are currently in the editing process for our first music video which will be another single from the new album. It is most likely going to be released mid-December or shortly after.
The artwork for the upcoming album features some really striking imagery – who designed this, and what was the inspiration behind it?
We work with the amazing online company All4band for all our projects. The owner Vladyslav Tsarenko has always been a pleasure to work with. They always take the ideas we envision in our minds for our projects and make them come to life and even more amazing than that. We highly recommend to work with All4band to anyone reading this. Their work is simply amazing.
How important is performing live for you as a band, and what's the live music scene like in Harrow, Ontario?
We have yet to play shows. We all individually have experience and previous bands we have performed with but together we still have not. We have been building our musical library and online presence before we start playing shows. We are already in the process of booking shows in a city near Harrow called Windsor. There really isn't a music scene in Harrow at all; it is mostly centred on the Windsor area. In the New Year we will be branching out more physically and we certainly cannot wait for that.
Will you be touring with the launch of the new album, and if so, where do you plan to make appearances?
We have been talking about arranging a self-booked tour. Since we aren't signed with a label nor have many stronger opportunities we ourselves have to work these things out. We are looking into playing shows around Ontario, Canada and also crossing the border and playing some shows in Michigan once we have a few shows under our belt in our local area.
What's one of the best live experiences you've had in recent years, and what is it that makes a live show particularly amazing or memorable?
The best live performance I have ever had was in my previous band The Culls when we played a venue in the Windsor area called Dominion House. The venue was the biggest we had ever played at the time and we were alongside many of our friends bands so it was a nice experience. The crowd was also electric and we got them moshing pretty hard near the end of our set which was really cool. Great night!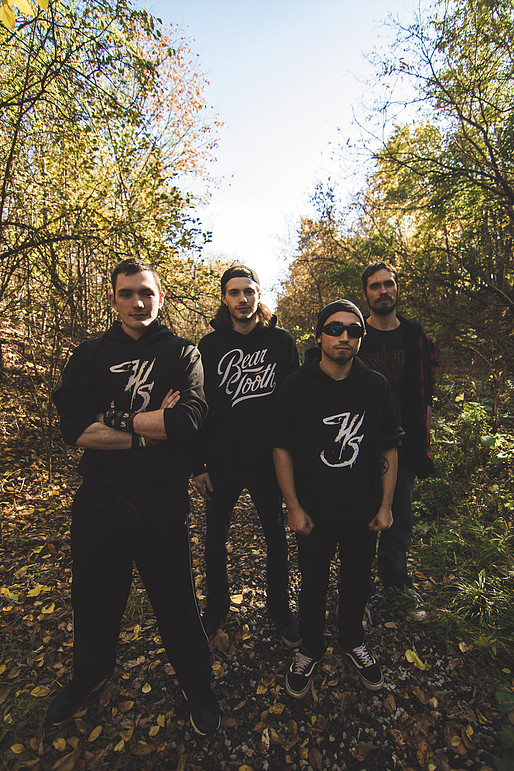 How did you all come to be in a band together?
The band started off as a solo project back in 2012. In 2014, I met Jordan Heffernan once we both started working in the same restaurant as each other and became close. I had him come over to lay down some drums and then things took off from there into a duo project. In 2015, Jordan introduced me to Brad Tiessen because at the time we were looking into finding a guitar player and he blew us away with what he could do. Finally, we come to where we are now in 2016 and we just recruited our bass player Jacob Bailey. He has been a friend of ours for a while and he fit in the group perfectly. We are all brothers and we are so happy to have the group that we have now together.
What's the writing process like for you as a band – does one person write the songs, do you each play a part, or do you turn up and jam until a riff or melody or drum-line stands out?
Usually our writing process starts in our jam sessions and band practices at Jordan's house. We record our practices on GoPro then reference them after. We will begin with a simple outline of riffs and then on my own time I will take those riffs that stand out and structure them myself into a song. In other instances I will structure and create songs on my own as well. Once the song's instruments are structured I usually write the lyrics to the songs. Sometimes I will collaborate with Jordan on lyrics as well. Then the tracks are recorded at my house.
Do the songs always begin with full instrumentation, or are there an acoustic aspect to the writing, and would you ever consider performing acoustically to see how the songs come across in a perhaps more intimate setting?
We actually have an acoustic song on our new upcoming album. It will be a recreation of one of our EP songs. We also plan on recording a whole special acoustic EP of some of our most popular songs in the mere future after the album release. As for live performances, we will certainly be doing some acoustic sets. We love playing acoustically and we find it very fun to change things up from our heavy set.
Are there any genres of music you're a fan of that may surprise some of your listeners, and would you ever consider creating something completely different to rock and metal?
I think we have already surprised our fan base by doing this recently actually. We just released a pop punk song not too long ago to show the variety our band can bring. For the most part the response was extremely good. Definitely think we threw our fan base off a little bit in a good way. Different genres and variety will always be brought by us since that's what we try to base our band around so we don't ever have to subject ourselves to playing one thing. We love all musical genres and will always showcase that every now and then. But our strongest roots will always be with metal at the end of the day.
Which artists or bands have you listened to the most over the past five years, and are there any up and coming acts you've discovered recently that you've been impressed or inspired by?
We all as a group have been extremely influenced and inspired by bands like Slipknot, Tool, Lamb of God, Billy Talent and more. Over the years we have discovered hundreds of more bands like Beartooth, King 810 etc. We will always be inspired by listening to other bands and especially by going their shows and experiencing them visually.
When does the album come out and where can people get hold of it?
Our album will be released by the end of December 2016. Physical copies will be on pre-order and then sent out or available in the New Year. Digitally our album will be released for anyone to listen to or purchase. It will be available on all musical outlets such as our official website, iTunes, Amazon, Spotify, Google Play and 150 more distributors.
Is there anything else you'd like to let readers know about the new album, your music, or your plans for the next few months?
We would like to thank everyone that has been supporting our band over the last 2 years. All the donations, listens, messages, moral support, and more; we couldn't be more thankful for everything you all do for us and pushing us to reach our dreams and goals. For all the people just hearing about us for the first time, we hope you give us a chance and you can take something positive away from our music and what we do that can put a smile on your face.
We plan on releasing our music video soon, releasing this album, playing shows in the New Year and exposing the band out even more. Then once we start getting out there more physically we will be attempting to send our new music out to record labels. All support and shares from our fans to these record labels is greatly appreciate as well to help us be recognized. We also plan on creating more music videos for our musical library. There will be lots of content and exciting things to come from us. Be prepared!
* * *
Make sure you don't miss the release date – find and follow Within Shadows over on Facebook and Twitter. Visit their Website for more information. 
https://www.youtube.com/watch?v=BBu3RUUXXk8