Turquoise Willie blew our minds recently with their recorded-in-a-day-and-a-half album Distorted Truths & Outright Lies. Their music is second to none – organic, vibrant, loud, exciting. We caught an interview with the band to find out more about how it all came to be and what inspires them to create this kind of music and perform in this way. We got into a lot with this one, here's the conversation in full. 
* * *
Hi guys, thanks for the interview & congrats on the impressive new album. Where did the title and concept come from?
I (Jason Young – vocals/harmonica) had that title written down for quite some time. I remember thinking it would be a great album title and in the eleventh hour, it made its way into a song (Hey Rollo). It wasn't planned at all. I was writing the lyric, and it hit me…it was in perfect context and it worked with the rhyme!
What inspired or influenced you to go for the full throttle, day and a half recording session, with so little processing afterwards?
A couple things, money!! Haha!! Studio time is expensive, especially in Nashville!! I'm a firm believer that an album should be a complete thought, from the continuity of the sound all the way through to the order of the songs. A lot of times people will record over a long period of time, at different studios, which often leads to something that seems disjointed.
When Chris Schiltz (Guitar) and I talked about the way we wanted to record, we talked about music we loved the sound of. There's a magic to the recordings from Muscle Shoals and the Stax stuff out of Memphis. The common thread is that those songs were recorded with all the musicians playing together, like a band! If a drummer lays down a take by himself, with a click track, it may very well be technically perfect, but if he lays it down and all the other guys are playing with him, he digs in differently! Take your favorite food dish, deconstruct it and cook all the ingredients separately, and then eat them together, it won't be the same. When you cook things together, certain subtleties pop and elevate the overall dish. We just wanted to make a delicious album.
Was the songwriting included in that time frame?
No, it wasn't. I really hope the songs seem like some time was taken writing them!
(They do, I just thought I'd check!) How did you meet and what prompted you to start performing together?
We met playing on the road with an artist out of Nashville. We've all worked together for a long time. Chris and I started talking about doing our own thing over a couple pizzas one night after a gig. The next day, on the flight back home, we got deeper into the idea and that was the start of it.  Since then, we've both wondered why we didn't do this years ago. I guess all things happen in their own time.
Where did the band name come from?
Rudy (Drums) moved into a new house and in one of the closets, there was a copper bust of Willie Nelson that was all patinaed. He said, "I found this turquoise Willie head in the closet!" Something about it just really resonated like, man…that would be a cool band name.
Who writes the songs and what's that process like?
Chris and I write all the songs together. We meet every Wednesday at the same Mexican restaurant for dinner and then we go write, sort of. Chris is this killer guitar riff guy and I'm the lyric guy. He'll play me some cool lick and I'll start singing a melody over it and record it on my phone. I like to listen later and come up with lyrics while I'm driving so nobody can hear if I have dumb ideas!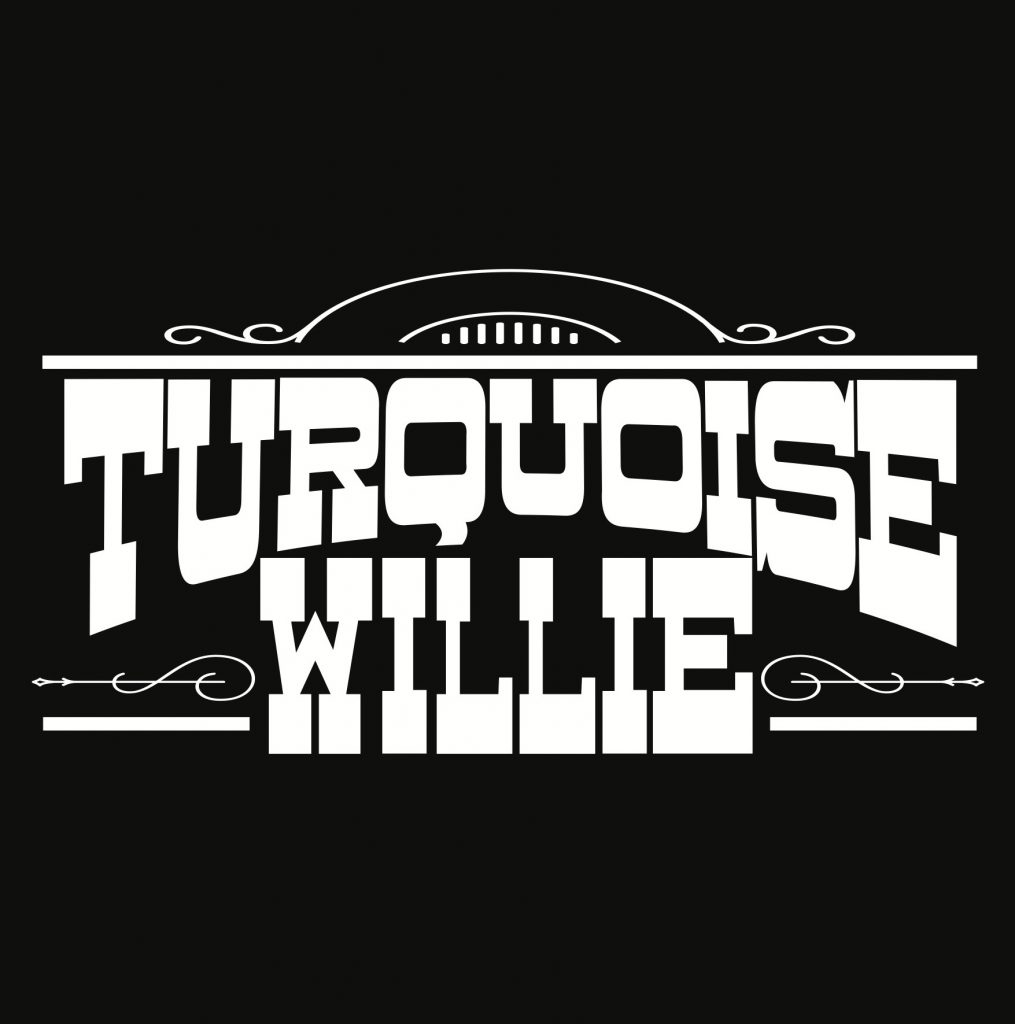 What can audiences expect from a live show?
They can expect us to sound like the record!! They can expect to see guys who love playing music together, and they can expect to hear music that makes you feel good!
What's more important, live performance or songwriting?
I think they're equally important. Songwriting is important because you need the songs to initially connect and get people to want to see you live. The live performance is important because that's where you emotionally connect with people and that's when they become fans who will continue to support you.
What makes a gig a night to remember?
It can be any number of things really. A great city, a great venue, or even a great sound system. But a crowd, big or small, that is really diggin' your chili, now that's what makes it one to remember!
What do you think about when you're on stage?
What we're gonna eat after the show!! I'm just kidding…or am I? Honestly, the stage is a place where you don't really have to think about anything, you can just be in the moment. I do look at people to see if they're into it or if we need to adjust the set list.
Do you hope or plan to take your shows further afield than the US anytime soon?
Yes, please! We were fortunate enough to play a couple small gigs in London last year, and we can't wait to go back! They really appreciated our music. It was a really moving experience that we hope to relive many times.
If you could collaborate with any artist or band, past or present, who would it be – and why?
This is a really tough question. There are so many that come to mind. I'll let Chris pick his from the past and I'll pick from the current.
Chris said Steve Cropper or G.E. Smith because they both do that cool riff-n-rhythm guitar thing. Since he said two, I'm gonna go with two current guys. Ed Sheeran and Chris Stapleton because they both write such great lyrics and are both fantastic vocalists. I could go on for days about the people I'd love to collaborate with!
What are your plans for the year ahead, and what are your hopes for the future? 
This year is about trying to spread the word about the Willie and play as many gigs as we can. We are about 70% done writing the next record, and we're also thinking about a stripped down acoustic EP.
In the future, we really hope we can spend as much time as we can overseas.  We are hoping to get involved in the festival circuit all over Europe.
Is there anything else you'd like to say? 
I'd just like to ask people to be supportive of music they're into. If you like it, talk about it. Share it with others who you think might like it. Go see live music every chance you get!!
We'd, of course, like to thank you for taking the time to listen to our music and talk to us about it.
* * *
Huge thanks once again to the band for their time & for their epic approach to music. Check out the album on Spotify. Find & follow Turquoise Willie on Facebook, Twitter & Instagram. Visit their Website for more information.