Following the release of his single Born 2 Be Free, we caught an in-depth interview with artist and songwriter Toby TomTom to find out more about his creative journey so far and his hopes and plans for the future. Here's the conversation in full. 
* * *
Hi Toby – thank you for the interview, how are things with you right now?
Things are going great! I'm already working on my next song as I continue to promote Born 2 Be Free. It's so chill getting coverage in blogs and getting plays on radio and the internet. Like an out of body experience watching it all go down. This journey is such a learning process as I grow as an artist/songwriter.
What can you tell us about Born 2 Be Free – what inspired the writing of this song?
So cool you asked! I wrote a lullaby on acoustic for my first son called Someday (This Gift of Life). It was written in a dream and converted to acoustic guitar as I walked him along the beach in his stroller. This song was eventually featured in an Off-Broadway play at the Billie Holiday Theater in Brooklyn (The Obeah Symphony). Then my second son was born and my wife said – "you have to write a song for him too."
Well, as anyone who writes knows, it's all about that inspiration and I felt if I just sat down and wrote without it, the song would be terrible. So I let the thought drift to the wind. Then one night, when he was about 4, I had a dream filled with the wind blowing over the sea inspired by his spirit. The next morning, I sat on a park bench by the water, guitar in hand…and Born 2 Be Free was created. Born 2 Be Free was written as an ode to my son and my wish for his life and everyone's life.
What could people do more of to help make sure no one misses out on their right to freedom?
I think Elie Wiesel said the opposite of love is not hate, it's indifference. And Martin Luther King Jr. said the time is always right to do what is right. So we all should stand up and speak our truth, even if it makes us or others uncomfortable. Having spoken up for myself or others in many situations, I've always been surprised at what can transpire if we only take the first step! My father said be brave, take that step, and someone will help you along the way. And I've seen evidence of this.
How long have you been making music?
Whew, since I was like 7! Started on trumpet, learned drums and percussion along the way, attended college on a trumpet scholarship, morphed to guitar and piano to write songs, learned studio production, learned acoustic guitar for the purest form of composition and returned to studio production. Like been making music forever and a day!
Your voice is stunning on this release, were you trained as a singer, and who or what do you think inspired this style of performance?
Thank you so much! I think playing trumpet for years helped my breathing as a singer. I did take a few singing lessons but didn't feel I was very good 'cause I was trying to emulate other singers. What stuck with me was the words of Shelby J who was Prince's lead female vocalist before he passed. Once in a demo session my brother and I were producing her on, I was showing her how to sing a part and she said something like "you should be singing this". I didn't see it then, but once I started this journey, her words stuck with me.
My son totally inspired this performance. I just wanted my voice to be big to convey my message to the world. My other inspiration was Trevor Gale, VP at SESAC. When I first started this journey, I met with him and played a couple of my acoustic tunes. He said go out and perform, strengthen my voice, find my style and see if people dug it. I went old school and followed his advice, playing the bars and open mics until I felt ready to record. Even though at its essence, Born 2 Be Free is a folk song on acoustic, his guidance encouraged me to find my voice and be big!!
There's something inherently uplifting about the song – how did you arrange the instrumentation, was there a band involved?
Thank you. I def wanted the song to lift spirits and give hope and glad you picked up on that. I wish there was a band involved! But I couldn't find anyone to work with me. I'd play the song on acoustic guitar then say that I wanted to convert it to dance with EDM stylings and the couple of producers I met with would look at me like I was a crackhead! So, thanks to the inspiration of my friend William Vazquez, I put my studio together and made it happen. On this one, I play all the instruments myself.
In terms of arrangement, just wanted a wall of sound to really communicate what Born 2 Be Free is lyrically. I brought in Kris Rice to sing some of the backgrounds. Because she's primarily rock and folk, she brought a completely different vibe and rhythmic sensibility to the song, which mixed in really well. And, I took a poem from Montreal emcee APZee, sampled it, timed it up and flew it in.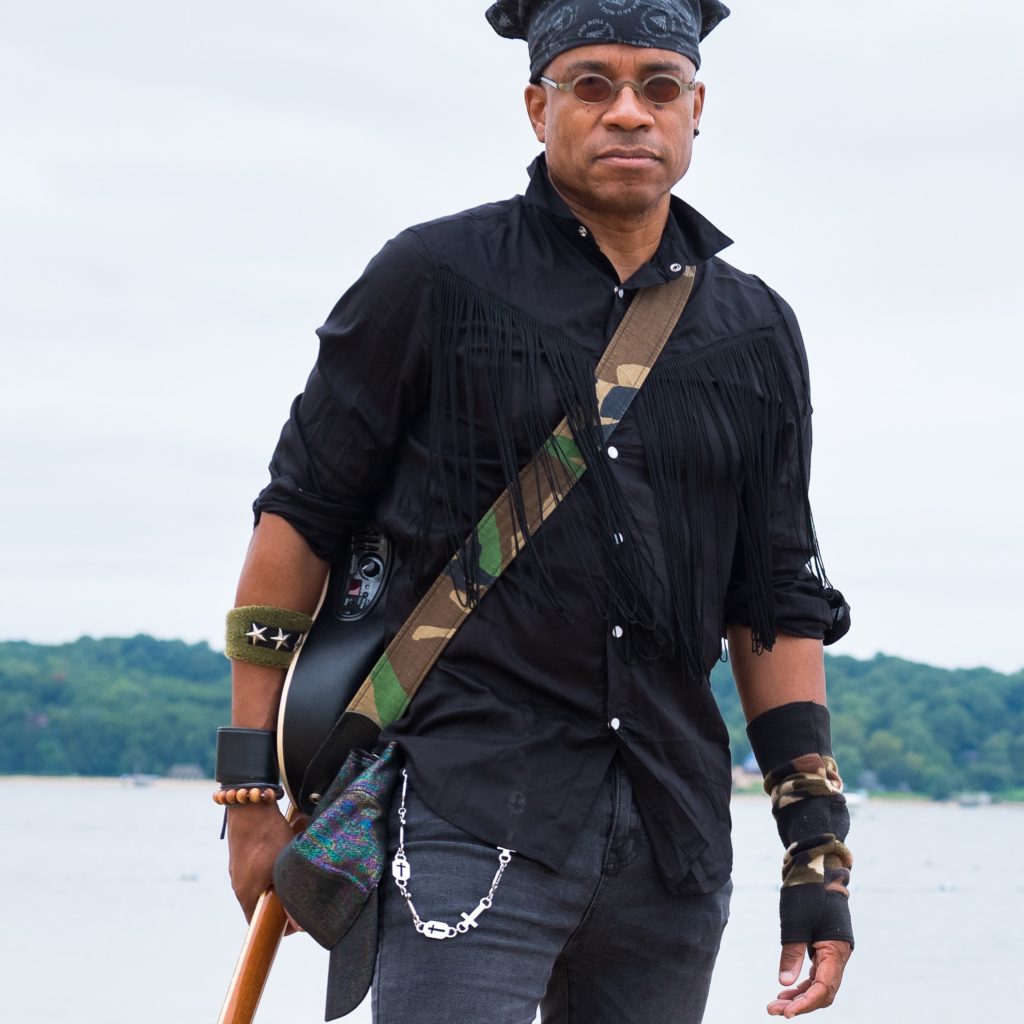 Is live performance an important part of your plans, and if so – what can audiences expect from a live show?
Most definitely! My live show is totally unplugged. Me and my Ovation acoustic and a mic. I love scaling the songs down to their original form. Even though it's just me, everyone is gonna' dance, or depending on the song, cry! Eventually, I'd love to add a percussionist, drummer and bass. But they got to be funky!
Where are you based right now, and what's the independent music scene currently like there?
I'm based in Long Island, NY. There is a pretty big indie scene but will have to find my place for my type of original multi-genre music. Starting to explore that now!
Is there a longer project on the way?
Absolutely!! I've gotten my studio chops up on Born 2 Be Free. My next project, Gotta' Be A Revolution, is so stank funky and progressive. More of a hip/trip-hop vibe with ethereal sounds. heavy bass guitar and horns with memorable lyrics. The title will change some to reflect the new direction. I can't wait to finish it and get it out to the world!
What are your ambitions as an artist – what's the bigger picture?
I'm day to day bro. Keeping it simple. Controlling what I can which is doing my absolute best to write God-inspired beautiful songs with big sky visual lyrics and create a funky soundscape that truly touches people. Where it goes is up to God and the universe. All that to say my ambitions are to be wherever God chooses me to be on this journey. You know, to stay in each moment.
What are your plans creatively for 2019 and beyond?
2019 I plan to release Revolution and my next song, play live more, stay up on my social media and change the world. I always tell my sons we can change the world through the smallest of steps or acts of kindness so this philosophy reflects in my music as an example to them.
If you could collaborate with any artist, past or present, who would you choose – and why?
Oh boy. So many I can't choose one if that's ok! First one comes to mind is Tupac! So much of what I do lyrically is inspired by him, even in country songs I write His rawness and sense of rhythm on my track – What! Would die to be in studio with Calvin Harris and learn from him! He knows his stuff beyond compare! Love to work with Tower of Power and have them back me up with those horns. Being a trumpeter originally, they were my idols! Every song I produce will always have horns because of them.
Dream come true to chop up vocals with Marvin Gaye and KC and JoJo of Jodeci. The harmonies would be totally ill. And probably worship at the altar of Prince 'cause no way I'd be worthy of being in the same room even though he inspired me to be a multi-instrumentalist. Have you heard his first record called For You? Genius at work!
If you could sit down to lunch with anyone at all, past or present, who would you invite – and what would you ask them about?
Muhammad Ali. I'd ask if as a young man, did he truly understand what he was standing for and what the consequences would be when he refused to be inducted in the military for religious reasons? In his own words, what were the years like when he could not earn a living? That was so brave. Risking it all for your beliefs.
What's something about Toby TomTom that most people don't know?
All my instruments have names. I'm giving my son trumpet lessons and he asked why my trumpet and flugelhorn have names. I had to laugh, but I told him that Herm and Jessie put on a show and all my instruments have names! Bass, guitars, drums, horns, percussion. So I told him he better name his horn so he can call him out to perform when he needs him!
What's the best way people can support you right now?
Buy Born 2 Be Free or check out the video here. Share it, stream it, watch it, and help change the world!
Is there anything else you'd like to say?
I'd like to say thank you for this opportunity. I truly appreciate your taking the time to speak with me!
* * *
Download the music via iTunes or stream it on Spotify or click here. Find & follow Toby TomTom on Facebook, Twitter & Instagram or visit his Website.