Tim Spriggs is a songwriter based in Melbourne. His recent releases mark the beginning of his full throttle journey into music. We caught an interview with him to find out more. Here's the conversation in full. 
* * *
Hi Tim – great to be able to chat with you, thanks for your time. For those who don't know, how would you describe yourself as an artist and musician?
At this stage I'd consider myself more of a creator. As far as putting my music out there and performing – that's something that I'm only just starting to get into. I've been writing and producing songs on the side for close to 20 years now, I have no idea why it's taken me so long. I think it's partially because I enjoy the creative process a lot more, I like trying to figure things out and music can be quite complex. There are so many variables that go into writing and creating a great song, even those who have no strategy are very unlikely to write the same song twice. I probably have around 10 albums worth of usable songs just sitting there, I started to think it'd probably be a shame if no one got to hear these.
What can listeners expect from the Something Else EP?
It's a mixed bag, I've gone through a lot of different phases. When it comes down to it a good song is a good song, it doesn't matter what style it is. Your music shouldn't define you, it should be an extension of who you are. It's a shame to see bands and musicians define themselves by the style of music they make, they get older and whatever trend they were a part of has passed, or they're probably too old to still be doing what they're doing. I like to mix it up, because I'm inspired by different types of music and there are different sides of myself that need to be expressed in different ways. If you're one of those my taste is better than yours kind of people, there's a good chance your self esteem is grasping for straws.
When I brought producer Lindsay Gravina the songs, he thought there was too much of a difference in style between them, so he brought them a little closer together. To say we butted heads would probably be an understatement, the album will be even more diverse as I'll have more songs to work with. It's about half way done and self-produced, my perfectionism basically forced me into a studio with someone else so I could finish something, the experience no doubt helped me break through that.
How has your background in film affected your songwriting, if at all?
I'm not sure how much of a background I have. I studied acting for couple of years, aside from that I've helped produce a handful of independent films. It's something I'd definitely like to do more of, but it's also something that'll require a lot of focus and work from me.
Music is my main passion, I'd like to do something with that first. I think I've mastered the songwriting side of things, to say I've mastered anything where acting and film are concerned would be a stretch. The acting side probably forced me to look myself in the mirror and sort out a few things that were holding me back, it also came into play in terms of diversifying my music and going solo, writing in a way that can be performed and practiced on my own.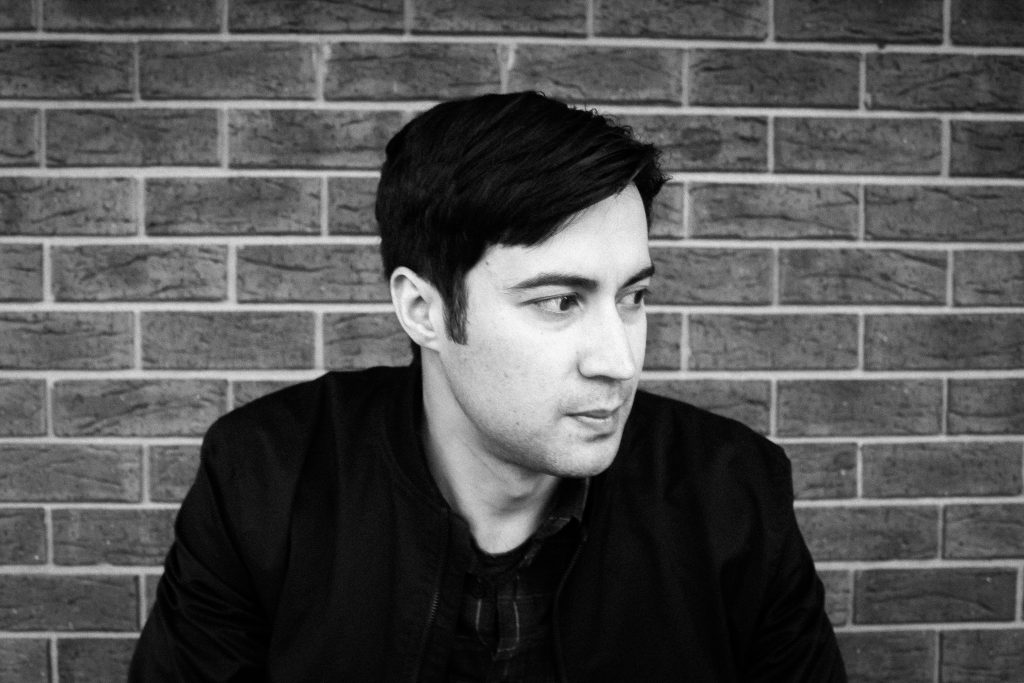 Where I Came From is beautiful, a personal favourite track from all I've heard in recent months – there's something quietly powerful about your sound. How did you come to write this, and who would you say inspires you the most, from a songwriting perspective?
I wrote the song in the same way I write most of my songs, I have a vibe in mind and a basic idea of what it's about. It's probably the most personal of the songs on the EP, I have no problem being honest. I don't care if it's not cool as it's a part of the story. Songwriters who inspire me are those who are great with melody, I find it strange how there's a few people who are considered to be some of the all-time songwriting greats, but their melodies are poor. They have great lyrics no doubt, but the special thing about music is that it's listened to – if you want great words, read a book.
Noel Gallagher is someone who is great with melody, he might get flack for not having the best lyrics or not being the world's greatest guitar player, but his music with Oasis connected because he is able to move people with the right chords and melody. That is a lot harder to do than playing 1 billion notes within the space of a few bars, or writing some fancy words while not having to take into consideration the melody. I spent a huge amount of time trying to get the two to work together, ideally the perfect songwriter is able to evoke great emotion from people (whatever that emotion) with words, progressions, melody and sounds working together. I'm inspired by whatever I hear that I think does this, it doesn't matter who wrote it. I might be giving away a bit, but knowing is always a lot easier than doing.
As They Say has a slightly rockier sound but still holds close to that Tim Spriggs feel – your voice and your use of melody have a lot of character about them. Who or what inspires you the most, and how have you honed your sound – has it evolved over time?
I'm inspired by people's stories, particularly those that stand out. I'm always kind of drawn to things that are different, I admire people who aren't afraid to do things that are different and make no apologies about it. I wrote music in that way before, but as I said I don't want my music to define me, I want to define my music. I'm not really holding back with the lyrics, music-wise I think overall it'll balance out to be pretty neutral – it makes it quite difficult for me when people ask what kind of music I make.
What inspires me the most is probably death, as morbid as it is we'll all get there one day. When we get to the end of our lives we have to ask ourselves if we lived a full life, if we did the things we wanted to do, if we did something that stood out.
Is live performance an important part of what you do?
It hasn't been up until now, I've performed with a few bands but not solo yet. I have so much music that I want to put out there and I'd like to have some product first. Performing is an important part of marketing your music, but I think it's good to have something to lead people to. Once the album is done I'll definitely be looking into it, it's not within my comfort zone but no worse than anything I've had to do in some of the acting classes I've done.
Do you have a long-term plan with your music?
Just to keep creating music and releasing it. I'm able to do a lot of it myself due to my experience with production, I'm pretty tech savvy but at the same time it takes time. Financially, music is probably the worst decision you can make, so I have things going to counter-act that. If a major label wants to sign me, I'm here. I'll probably keep releasing music regardless, how well I can do that will obviously depend on a few factors. There are other things I want to do, so who knows – I might put out 3 albums and call it a day if it doesn't resonate.
On your Instagram you shared a Bruce Lee quote – If you love life, don't waste time, for time is what life is made up of. To what extent does this idea drive you on a day-to-day basis, does it have an effect on your music, and why do you think it resonates with you personally?
I've come to the realisation that if you have a goal, it's not just you vs your goal. It's you vs your goal vs time. There's a lot I want to do and I've wasted a lot of time. Whatever action you take, you can expect half of it not to count, so don't make assumptions about how much time you have, just move forward!
Bruce Lee was a hero of mine growing up, I've probably seen Enter The Dragon more times than any other movie. He was ahead of his time, not just in terms of martial arts and being an Asian actor, but he was also a great philosopher. I'm half Asian and for whatever reason growing up I felt like I was different, Bruce was a maverick and he made no apologies.
What advice could you give to songwriters who want to get their music out there and start building an audience, but are perhaps a little too introverted or nervous to get started?
Your life will be a tiny speck on the timeline of humanity. You're going to die one day, it won't matter.. If it does, technology will probably change that.
What can listeners look forward to from you throughout the rest of 2018?
I'll be pushing hard to finish my album and get the word out, aside from that who knows what opportunities will present themselves.
Is there anything else you'd like to say?
I'm handsome.
* * *
Find & follow Tim Spriggs on Facebook, Twitter, Soundcloud & Instagram. Visit his Website for more information.