Melbourne-based The Safety Word reignite the energy and emotion of the eighties with this conceptually honest and melodically satisfying new single. As RUN continued to make waves online, we caught up with the songwriter and artist duo behind it to find out more about their journey so far. Here's how it went.
* * *
Hi guys, excited to chat – thanks for the interview! For those who don't know, what is The Safety Word all about?

Simon : We are an atmospheric synth-pop duo who create music that is designed to wrap the listener in our cocoon of enthralling sounds, providing them with a blanket of security and transporting them to a higher plane.
John : We are on a continuous journey of creating sounds in which our audience can find songs to feel supported by and be inspired to transform themselves in whatever natural response they feel, or at least be entertained by our music. At the centre of our music there is always an aim to achieve a higher state of being, whether emotionally, energetically or psychologically.
Congrats on the new single, seductive electro-pop with a deeply emotive, late-night kind of vibe. What can you tell us about RUN, what inspired it, and what sort of mood or emotion did you hope to present your listeners with?
John : Thank you, well I think you described it well. We were going for those elements as the song evokes strong emotions.
I guess it's like a crutch for someone experiencing the lows of relationships, not everything ends in sunshine and rainbows. The song was inspired by a very close friend who was questioning their relationship, over a very long time. They were at a cross roads, feeling like they were always giving and sacrificing for their partner, only to be neglected and taken advantage of. In a way a very sad time for any genuine person to experience, although an opportunity to learn and accept it, and move forward.
How did the two of you meet, and what's the creative process like?
John : We met through the Melbourne music scene. We were both in established bands at the time, and started this as a side project because we admired each other, and secretly loved what we were creating together. I think the elements were there, and life just pushed us closer together.

Simon: Usually our songs are formed during jam sessions. As we use Ableton to create our musical foundations we can loop the beats and experiment with the juxtaposition of the different musical layers. During these sessions we may record long 15 -30 minute versions of the songs in a trace like state where we just vibe off each other and really connect with the music. We will then go back through these recordings to find the sections where the magic is really sparking to strip back into a more digestible 3 – 4 minute track.
Your journey has been one of unique difficulties and dedication united. John, what has it been like to face losing your hearing as a musician, and how would you say your approach to creativity has changed in the days since getting together with Simon and relighting the flame?
John : Devastating, nightmarish, in a way it happened when I was at my peak as a performer. I went from feeling incredibly amazing to crippled, I accepted it and just made do.
I think the music I ended up doing with Simon was non evasive and easy to listen to, and not heavy on the ears. It was in a way leaving the physical aggression of punk prog music, and journeying into an ethereal space.
I am still recovering my hearing, and it's getting better each day, but still needs a lot of work.
What's the best piece of advice you were ever given that helped keep you on the right track?
John : I think it was advice that I realized. A lot of people who are influenced by famous/popular artist all want to be successful, but forget that you already are successful because you have been in a fortunate enough situation, just to gain the tools to make music or record a song.
It is the experience at the end of the day that is most valuable and sacred. Being present in the moment, because you will never get it back. So creating a song with the purest of intention, and being in the moment with it, seeing the beauty that creation has allowed you life to manifest things in. Live, embrace both light and dark aspects of yourself and find balance is my advice, without imposing on anyone else's will of course.

Simon : Don't get too transfixed on the achievements of others around you and instead just focus on achieving your own goals. Have a large vision or goal in mind but each day just focus on one thing that you can achieve that will push you towards your big goal. It's about small actionable steps that combine overtime to create something BIG!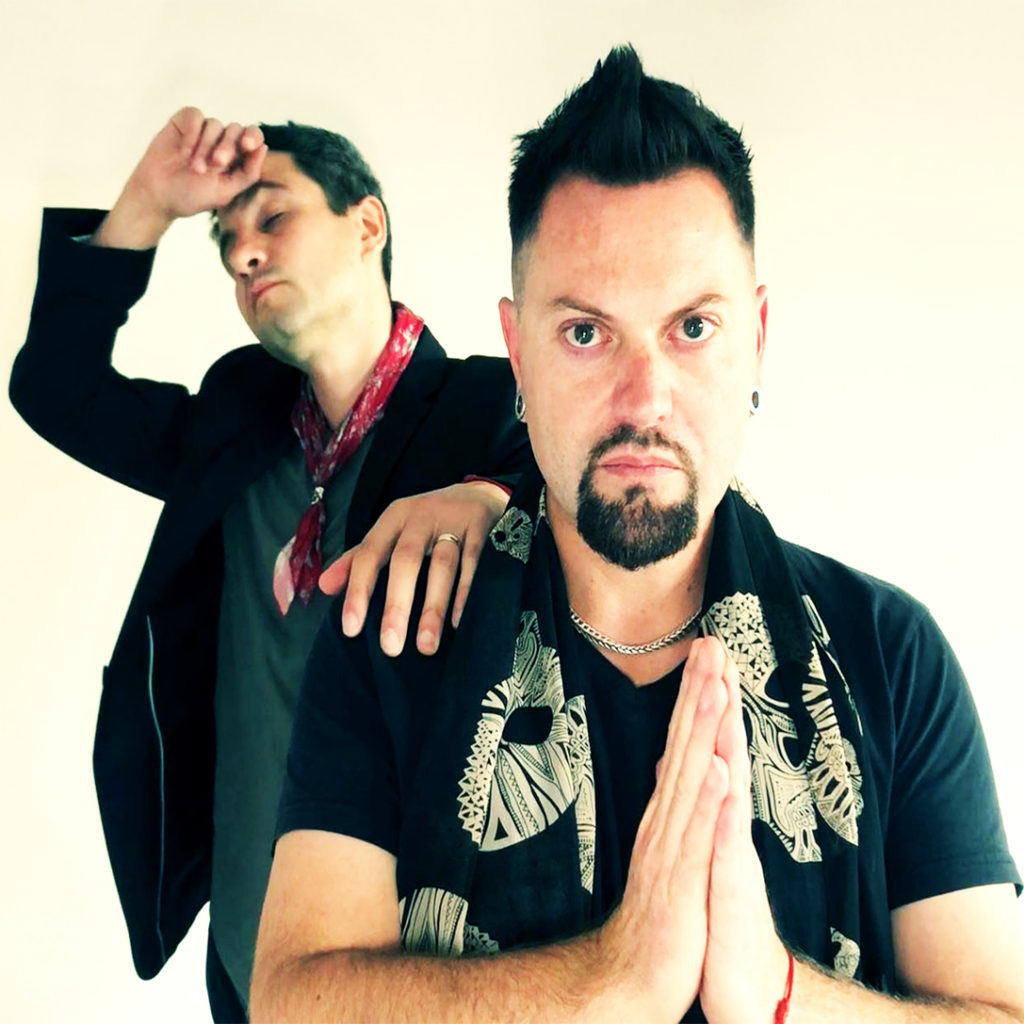 You've built quite a following with your single releases to date. How do you manage to keep things eclectic yet well-rooted amidst your identity as an act – what is it about your sound that you think people connect so well with?
John: I think because we use the approach of just focusing on a song instead of a album means that we can really put everything into it. Pure moments that are captured in that time of writing the song really comes out, as this is where we are at, at the time.
Life is always changing; you generally will have ups and downs. It's just what is sticking out at you at that time that is addressed in a song. I think people subconsciously know when you are being real; they can hear it in the emotion that you are conveying.
We also do collaborations and remixes as well with other artists. It keeps it fresh for us, and gives a different angle of how our music can be interpreted.
It is always amazing to hear our song remixed, which creates a new entity and life.
At the end of the day, we are all just being interpreted by someone else, no one truly knows you except yourself, and even at times we deceive our own selves.

Simon: Even though we experiment with different genres through our own productions as well as the remixes crafted by various producers, our music is all tied together by John's distinctive vocals. His voice has the ability to go from very powerful to fragile and everything in-between. His vocals create a depth of emotion that is missing in a lot of modern music and I believe that his voice is what our audience connects with and is what draws the listener into the worlds that we create.
Is there much of a live scene in Melbourne for this kind of music, and what does a live show from The Safety Word look and feel like?
John: We just had our 4th lock down so the live music scene has been on hiatus for a while but it is starting to remerge and I believe that people are hungrier for live music than ever before.
I would say that there is a vibrant music scene with great electronic artist such as Julian Smith, Houg, Men Imitating Machines, Spectoral, Eckul, Leipzig Lab and James Peden who are all artists who we not only greatly admire but have played shows and collaborated with.
Our shows are starting to take more of a direction where we are now encouraging our audience to dress up to participate, so the show is an event where everyone can feel part of the experience, while we provide the music.

Simon: I run a Facebook page with nearly 2000 members called L.E.M.O.M (Live Electronic Musicians of Melbourne) before the pandemic we were putting on two live shows a month for five years so I would say that there's quite a scene happening here in Melbourne.
In regards to our live shows we like to create a full sensory experience through the use of video projections displaying abstract animations and geometric patterns as well creating strong visual moods through the use of smoke and atmospheric lighting. Our sets can go from upbeat synth-pop festival floor fillers to chilled out lighters in the air moments where you can hear a pin drop and everything in-between. We don't believe in boxing ourselves up to tightly and want to have room to be able to grow musically and express ourselves freely.
Given the poetic and contemplative nature of your lyrics, what are the main values you hope to bring to the contemporary music world?
John: Good question, I think that there is and will never be an answer for that question, in essence I find I keeps changing and attempt to grow as a being, although I've found that life will remain a mystery, for example duality, what might be interpreted as the worst thing in my life, might end up the best thing that ever happened to me, and vice versa.
I would say that people need to stop comparing who they are with others and just embrace themselves as they are the only unique version of themselves. I would also say, create your own path, be present with what forces have given you life, even living for one day is better than not to have lived at all. Even if life is terrible, know that you will take another form at some stage.
I think I'm giving you this answer at this moment but it will probably be different tomorrow, be present and don't let yourself be distracted by phones haha!
What's your favourite lyric from the new song, and why?
I like all the lyrics in RUN, I guess a crucial one would be in the bridge part "Everything that I've lost, my love won't cost, everything that you've lost, your love will cost" It means that when love is pure it can never run out, because you will always have or find the inspiration for love. Each love will always be different, but when you are open to it, it never runs out, even at the risk of losing it.
It also means that for those people who can't love and depend on someone else that if they abuse that love it will cost them someone who genuinely loved them, in which they will never find again.
Is there a longer project on the way, and if so, what can we look forward to from that?
John: Well we have collaborations, remixes, a mini documentary about making a collaborative song plus heaps of new original songs on the way. There is a lot of work to keep us busy till early 2022!

Simon : We have a collaborative EP coming out Friday 13th August which features a song that we co-wrote with synthwave artist Zach Vortex as well as a rework we have done with CITY OF STARS. This EP will also feature remixes by a whole host of producers from across the globe. We are always wheeling and dealing and looking for interesting musicians that we can work with.
For the moment we really enjoy the freedom that doing singles or EP's gives us and it allows us to have a continuous momentum with our release cycle. I think that maintaining momentum is the most important thing, I often see bands who do album burn out because they put all their energy and funds into that project and when it doesn't quite take off as they intended it's hard to find the will power to start something new again. With our strategy of releasing a single every month we are essentially staying in perpetual motion. We keep fuelling that fire and allowing ourselves the room to experiment and continue to push ourselves creatively.
Do you hope to tour further afield than Australia as and when we get fully ahead of this pandemic?
John : Yes certainly, but I think we would break it up and just do tours in regions at intervals instead of a world tour, maybe a month the longest at a time, that way we wouldn't get burnt out and still deliver amazing shows.

Simon : A lot of our fan base is from the UK and US so some touring could definitely be on the cards at some point. We also like the idea that we can build our international audience from our home base here in Melbourne by being very active on our social media channels as well as through doing interactive live streaming concerts.
Is there anything else we should know?
John : We have a back catalogue of music, one of my favorites is our first album and that's on all streaming platforms, it is just called THE SAFETY WORD!

Simon: We have 53 songs up on the streaming platforms, these include our original songs plus collaborations and remixes. If you enjoy this song RUN there is a whole world of our music waiting for you to dive into and explore. Let our transformative music wrap you up in a safe cocoon and lift you up high above the clouds.
* * *
Download the music via Bandcamp. Check out The Safety Word on Instagram or visit their Website.