Following the release of his collaborative video with Oliver Soerup – Short Trip To Kashmir – we caught an interview with artist and songwriter Stephan Weber to find out more about his creative journey so far. Here's how it went. 
* * *
Hi Stephan – thanks for your time today! Just to give a little background – how long have you been making music, and how would you describe your approach to creativity?
I started in a heavy metal band during school in the eighties. We had 5 school bands at that time. "Tea For Two" with Michael Schumpelt and Oliver Soerup was another one of them. After some smaller projects with these guys I joined Tea For Two and a really good time started: Over the years we played a lot of gigs and released 4 CDs. Oliver, Michael and me still stick together every now and then. In the nineties I founded the Label/Publisher QuiXote-Music together with Philipp Jaehne. Our motto is "You are the artist". We're not big, but we still live – which is kind of art, too. Sometimes I produce and contribute to other bands' stuff and I am working an my next album.
My approach to creativity? I often go for a walk through Heidelberg, open my eyes, open my ears and just let my thoughts flow. At some point creativity kicks in. That gives me an idea. But then I need to play around with it – I prefer to do that on my own. On the other hand: If I jam together with other musicians and the chemistry is right, we can compose a handful of new songs within a couple of hours. So, at least it's a mixture of all that.
What inspired you to create the video and song combination for Short Trip To Kashmir?
At least for me it is the first cover song which I recorded AND published. Let's be honest. When you try to sound like the original – you're somehow lost. You may achieve it with the instruments, but at least the vocals will prove: It's impossible to reach the original magic. With Tea For Two we played Pink Floyd's Wish You Were Here live with just acoustic guitar, recorder and voice. Michael Schumpelt enchanted the audience with his very own way of playing the recorder a little like you know it from Jethro Tull. This together with my own way of singing the song was pure fun. And at least totally different from the original. It was our own interpretation which was a major point for me.
I got to know Led Zeppelin in the eighties with their movie and live album The Song Remains The Same. So far, I spent my time with Peter Gabriel, Genesis, Pink Floyd, Marillion, Yes, etc. but Led Zeppelin immediately captured me. I am still very impressed by Robert Plant – his voice in itself and the amazing way he sings, screams, the gentle vibrations, whatever. Oliver knew that I love Kashmir and at some day he came up with the idea of making an acoustic cover. It was clear, if we'd go for Led Zeppelin's Kashmir we had to find our own way, too.
In Short Trip To Kashmir we mainly stick to an acoustic sound and cautious use of effects. More, we are not playing the whole song. I guess we are the first ones who present that song with a bag-pipe sound. Robert Plant said: "[..] it's about the whole idea of life being an adventure and being a series of illuminated moments". Short Trip To Kashmir musically evolves from one scene to the next, to the next and so on.. The idea of having a video with a little adventure story guiding the song fascinated me.
Despite an unusual amount of scene changes I wanted the video to put a smile on the watcher's face – every now and then. I mean what is an adventure story, what is life without smiling and fun? Daniel Rühl and his team did a great job here. Watch the video. After that, lay back for a moment and try to imagine you'd have a similar adventure in a minute or two and what would happen with you..
Do you also write or compose original music, and if so – what's the songwriting process like for you?
I prefer to go for my or our own music. I have so many ideas and so much fun with working on them. If you visit my page on Soundcloud you'll note that Short Trip To Kashmir is the only cover song there.
The songwriting sometimes starts with lyrics or a story and sometimes starts with the instrumental part: A melody, a rhythm. If I hear a song and think, cool, I could try out similar stuff it usually ends up in a completely new thing which has almost nothing to do with the original that inspired me. No song ever evolves like another. There is no special song writing process I follow.
Writing a new song completely on my own is very special: I create a story-line, drums, bass, guitars, keyboards, vocals, mixing, mastering .. everything. I know every note personally and why it's there. That takes a lot of time, is very intense. I love it. I spend many hours alone in my studio with such. BUT creating music with other people can be a lot of fun and a major step forward, too. On the one hand you surely have to make compromises on the other hand they can help to bring your song up to a level which you'd never achieve on your own. Listen to Carsten Eggers incredible guitars in Dream On. I cannot provide a guitar play like that. I mostly work with artists who also stick to their own compositions.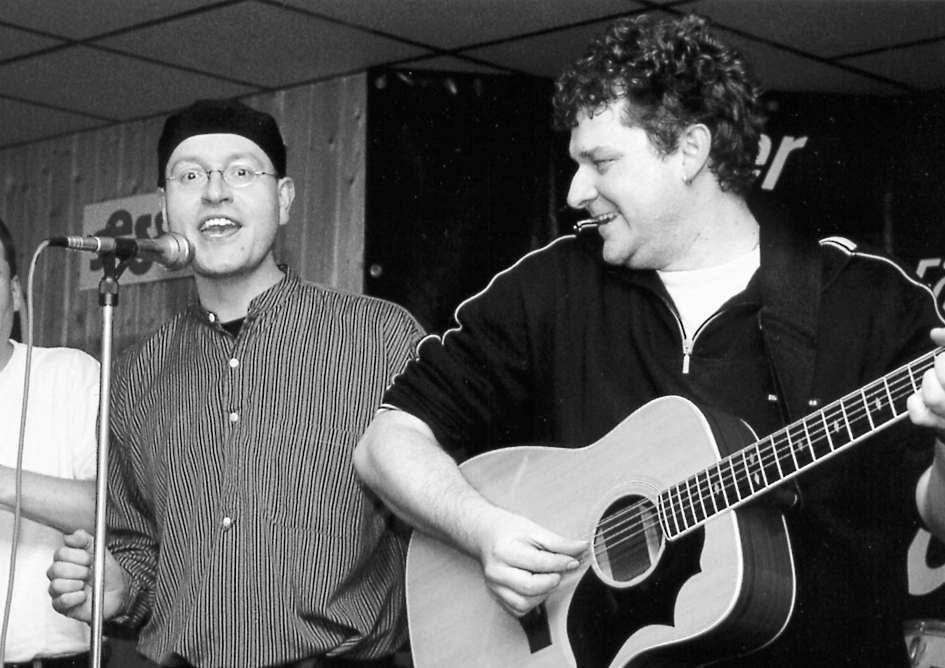 How did you come to work with Oliver Soerup?
Well, we make music together since the late eighties. Sometimes as "Tea For Two" together with Michael or in side projects like now Short Trip To Kashmir.
Is live performance an important part of what you do, or of your plans this year?
Not really. I try to focus on my upcoming album.
Who or what inspires you currently in the music and art worlds?
Good question. I am not aware of actual songs or bands impressing me much. That's most likely not because there is no good new music out there. I just don't spend much time with searching for it.
How have you honed your singing abilities over time – is this something that comes naturally to you?
I took voice lessons in the early Tea For Two days. That helped a lot when it came to club gigs where we played for two hours or more – especially when you have another gig the next day. The regular practice takes place under the shower, in my car – wherever I do not bother people with it 😉
What's the bigger picture – what would you like to see happen with your music in the near future?
It would be great if a lot more people got to know my songs and if my audience would keep growing sustainably. And I want to have another video soon.
If you could sit down to lunch with anyone at all – past or present – who would you invite, and what would you ask them about?
What an opportunity! I guess I would ask them all "If you had three wishes – what would they be?" If suitable I'd even ask "Why?" On my guest-list are all founders of ideologies and religious traditions, their prophets and actual leaders, key philosophers and key scientists. I'd publish a book containing the uncensored answers together with a nice photograph. Well, that could really change the world. A good candidate for my own three wishes? I guess most people would just not believe and many won't like what they read there.
Our Tea For Two album 101 starts with the sentence "I believe that there is more than one dimension of time". I would love to discuss that with a bunch of physicists – not least of all Einstein and Hawkins.
What's next for you?
I will master the new Coarbegh album the next few days and then continue with my own songs.
Is there anything else we should know?
Modern times make the communication much easier: If you have any questions – write me, ask me! You're always welcome! The year has just begun. I wish that 2019 will bring all of you a lot of fun and joy!
* * *
A big thank you to Stephan for his time & insight. Check out more music from Stephan Weber on Soundcloud.