From humble London beginnings to vast global recognition, Sofar Sounds have built a unique network of intimate, live music events, which bring together music lovers and simultaneously showcase the best of the local scene's indie musicians and artists.
The past decade has seen the brand grow at an impressive rate, yet the essence of the experience remains the same – audiences put their trust in the organizers, sign up for an evening of live music, something special yet unknown, and artists get to perform their music in a personal and appreciative setting.
Having been to a number of Sofar Sounds events, in both Cardiff and Manchester, it was a pleasure to interview Sofar's Global Communications Manager Brandy Cerne, to find out more about the project, how things have changed over the years, and her hopes for the future. Here's how it went.
* * *
Hey – thanks so much for the chat! Just in case anyone's been living off-grid for a while and hasn't heard of you guys, how would you describe what Sofar Sounds is?
Sofar Sounds is a global community of artists, fans and hosts in over 400 cities around the world, coming together to create intimate live music shows in unique, secret settings.
Sofar supports real connections and fosters a culture of discovery by championing up-and-coming artists.
What first inspired you to want to set up this kind of intimate show for lesser known artists to come and perform at?
In 2009, a couple of friends and co-founder Rafe Offer were at a gig in London and were just frustrated — there were so many distractions. The crowd was talking over the performance, the sound system wasn't great and people were constantly on their phones. They noticed this was becoming more and more common to see at concerts and they felt like live events could (and should) be a better experience.
A few days later, Rafe invited some friends over to a London flat for a low-key, intimate gig. Eight people gathered in their living room to listen to live music performed by friend and musician Dave Alexander. Quickly, what started as a hobby in London spread into a global community.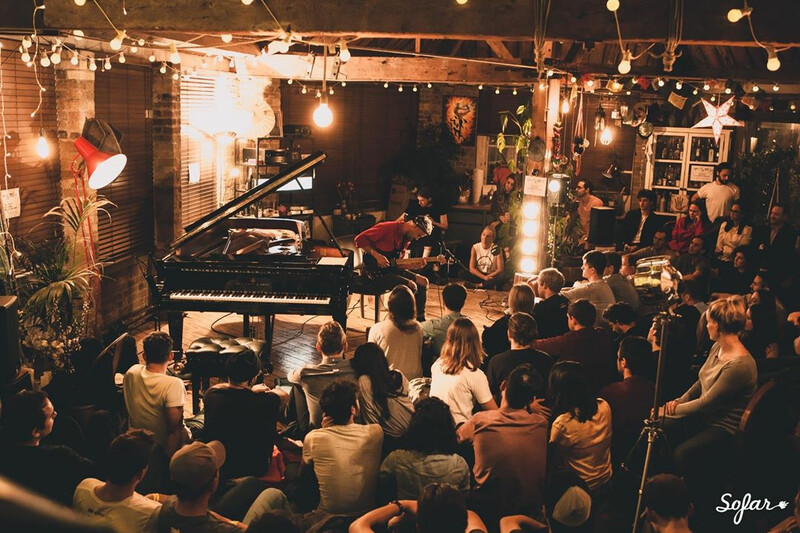 Are you a musician yourself, and if so, do you still perform at the occasional Sofar event?
I myself am not a musician, but 75% of Sofar's full-time employees are musicians. Many of them have performed at Sofars. For example, our Baltimore Director Christen was a Sofar artist before she decided to start Sofar there.
How did you manage to spread the word so effectively – people can now just get in touch and set up their own local event, is that correct?
For many years, news of Sofar spread solely via word of mouth and people who came across us on our YouTube channel or social media.
If people are interested in setting up Sofar in a new or inactive city, they can get in touch with us through our website to discuss!
How much of an artist's music do you tend to listen through when deciding whether they'll be right for a show or not?
We have local bookers on our Sofar city teams who book the artists. Sofar curates unique and diverse lineups that vary in genre and sound. Each city has a listening team that reviews all artist submissions, ensuring there is no bias. This allows us to discover the best new music possible for our audiences to enjoy.
What are the main deciding factors when looking through submissions from artists wanting to perform?
Above all, we're looking for quality acts that will engage with our guests. It helps when an artist has a live video to include. We look for a variety of genres as well.
What do you think it is about this kind of gig that appeals to audiences – you're able to get people to sign up for tickets, before they even know who's on the bill; that's a rare achievement!
Because of the internet and smartphones in every pocket, we have so much choice these days. At any given time, we have access to millions of songs and artists at our fingertips. There's something appealing about letting someone you trust pick the artists for you and experience that music live and up close. It's something tangible in an increasingly digital world.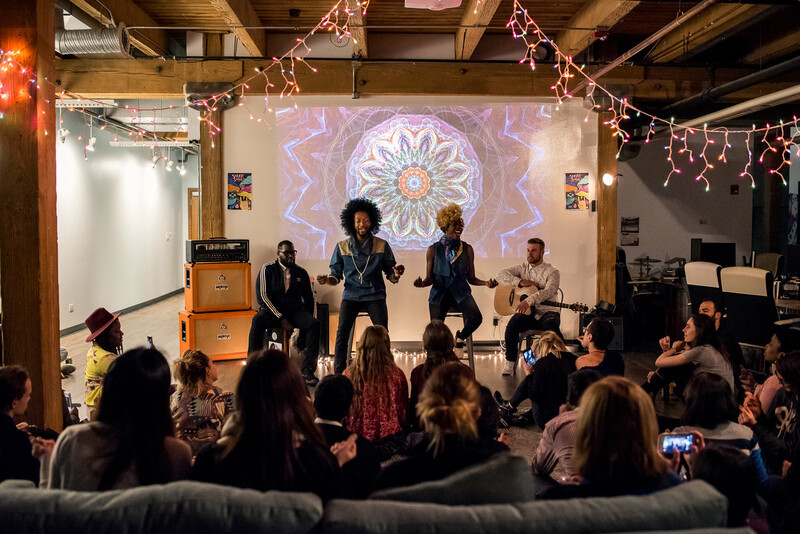 Is there room for this on a bigger stage in the future – do you see festival events or bigger venues on the cards, or would that change the vibe too much?
We're always playing with the format and looking forward to trying new things in 2020 — some of our cities have experimented with curating festival stages or even all day shows. We'll still be focused on venues that hold roughly 50-150 people, but we may be experimenting with shows with one artist performing longer sets, for example.
In what ways have the music or performances you've witnessed over time changed or evolved as tech and social media has taken over, if at all?
Sofar has been around for 10 years, and obviously tech and social media have changed so much over that period. Because of the culture we have at our shows and asking people to stay present, we haven't seen that affect us too much. We aren't anti-social media, we just don't want people to be focused on their phones to the detriment of not being present at the shows and experiencing the music. Something we're always focused on is how we can help our guests follow and stay in touch with the artists they discovered at the shows, and technology and social media can help with that.
It's likely that the Sofar Sounds impromptu style set-up is encouraging people to go out and support their local artists and venues, which is brilliant. A lot of venues have been struggling in recent years, particularly the smaller ones who host independent events. What else do you think we can do to encourage people to check out and become more actively involved in their local music scene?
We're always encouraging our guests to go see artists at their upcoming local shows at other venues. Those small venues and house gigs are vital to a city's culture and a crucial performance outlet for artists to grow and connect with fans. It's our hope that by introducing more people to this listening room format, we can help build up local, organic scenes as well. We are different means to the same ultimate goal: helping artists to grow and reach new fans in a way that puts the music first.
We'd also like to encourage people to follow their interest and not be intimidated! Sometimes it can seem difficult to know where to start with the gig scene if you're not immersed in the industry, but just start by going to shows and following the artists you love. There's a place for everyone.
Is there anything else we should know?
Sofar exists because of our amazing artists and global community of passionate music lovers. Everything we do is to help connect people with new music they'll love and to help support artists throughout their career.
* * *
A massive thank you to Brandy for the time & insight. Visit the Sofar Sounds Website to find your local event. Follow them on Facebook, Twitter & Instagram to stay updated. Header photo by Anine Desire for Sofar Sounds, at Holmenkollen Ski Jump in Oslo.