Following the release of their EP Marine Layer, we caught an interview with San Diego indie-band Pocket Hole. We talk everything from songwriting and live shows to aspirations as a band and dreams of playing on Mars. Here's the conversation in full. 
* * *
Hi guys – thanks for the interview! For those who don't know, how would describe the band's sound, and why the name Pocket Hole – is this literally a reference to the tiny portal we lose our treasures through?
For sure, of course, thank you! We are a pop rock band from San Diego. There are definitely some beachy flavours blended into our record as well. Yes! There are some people who try and suggest our name is sexualized, but it is purely meant to describe an opening in the place we put our little belongings.
I'm a big fan of this latest project, the song Werewolf kicks it off perfectly; you have a really unique songwriting style, and I love that bass-line. What's the songwriting process like for you as a band?
Thanks so much, we appreciate that. I think we always do our best to try and write melodies and riffs that we think are infectious. Typically, I (Ryan) will come to everyone with a foundation and we work on it. Typically, the lyrics are already done at that point too. I am fortunate to have band-mates that are behind my writing. Arrangements can change from time to time, dynamic can change too.
Where did the term Marine Layer come into play?
I'm not really a surfer (Ryan) or an avid beach goer, but Jin and Ian have spent their entire lives pretty close to the coast. They actually named that song (that would eventually become title of the EP as well), I can't even remember what I originally wanted to title it. "Marine Layer" is fog or clouds that appear over the coast when there's a temperature inversion. I think there's a lyric in there: "it's clearing soon/there are clouds all afternoon" that inspired them to evoke Marine Layer as the title of the track and EP. All these songs discuss frustration, so it seemed appropriate.
How long have you been playing together, and who would you say have been some of your greatest inspirations creatively?
We've only been playing together a year, and a lot has happened in that time. We're all acquaintances from San Diego State, but when we studied there, we never hung out. Ian and I had classes together, and Jin and I shared some friends, and Ian and Jin even played together a little bit in Jin's punk band Wanted Noise. All 3 of us though, had never spent time. I was moving back from Chicago and knew 2 of them loosely, and knew they both wanted to play, so it all worked out pretty well.
I think although we are an indie pop band, we all grew up on the same stuff. We all were really invested in the Warped Tour scene as young kids (New Found Glory, Saves the Day), even though our music doesn't sound anything like those bands. We loved all the hooks and melodies from those bands.
Today, I think Beach Fossils, Turnover, and Charly Bliss really inspire us.
What's the live music scene like for a band like yours in San Diego?
San Diego has a cool scene, honestly it's getting cooler. I feel like it's relatively small, but I don't know if we have a ton to compare it to. We're really starting to get invested in some of the bands we play with regularly.
Do you have plans to tour further afield?
We'd definitely love to!
What does New Apartment mean to you?
New Apartment is a song about surrounding yourself with different things in an attempt to rid a lot of the personal baggage, but ultimately, you understand that you're always going to be the same.
What do you hope people get from listening to your songs?
Honestly, we just want people to have fun singing the melodies. Our live shows are pretty interactive, we definitely go a little wild live. I don't really think we know any other way. We're just having a lot of fun and we hope everyone else does the same.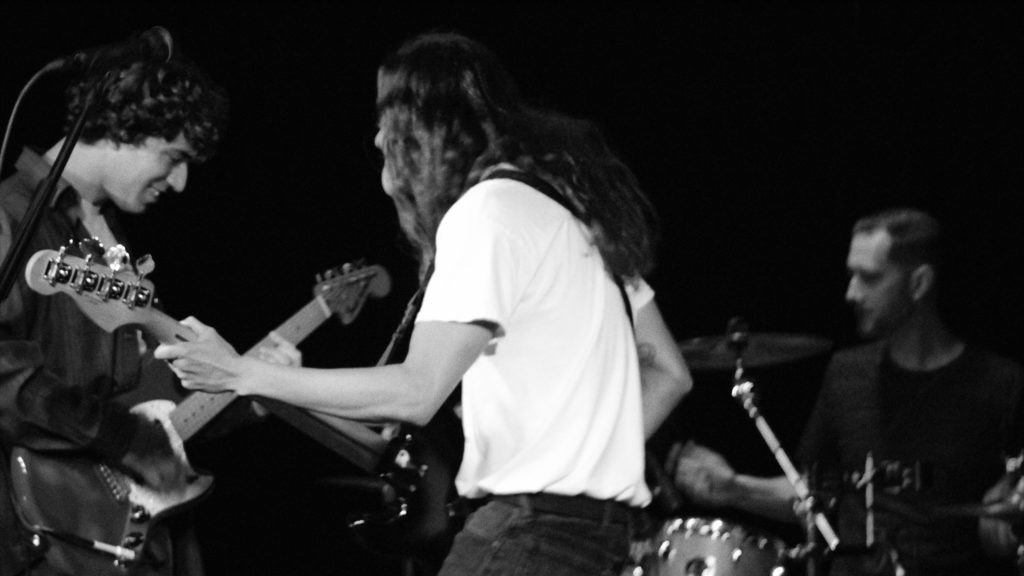 What sort of music have you been listening to lately in your down time?
I've been listening to the newest Beach House record, the new Beths record, as well as the new Joyce Manor album. All those bands rule.
If you could play any event or venue in the world, which would you choose, and why?
WE WANT TO PLAY ON MARS.
Kidding.
Good question – that's tough. I think we're all fans of small, intimate venues. Would be cool to get a gig supporting someone at the Observatory in North Park! We've always wanted to support one of our favourite bands on a national tour – that'd be sweet.
Do you ever disagree creatively when making new music, and if so – how do you overcome that?
I think we all try and do whatever we can to serve our songs. It's been just 3 of us for the greater part of our band, so we have the a pretty easy avenue to hash things out when there is EXTREME BEEF.
(Hehe, there's no beef, just love!!)
What's the one thing fans of your music could do more of to help you progress as a band?
Just keep listening and keep showing up to shows! We love the crowds. We love the feedback. We love the participation. We're happy 
What are your hopes for the coming months and years?
To tour, write a full length, make music videos, keep exploring creatively!
What's something about the band that might surprise people?
That all of our dads (Jin's step dad actually) work or worked in music pretty seriously at one point. My dad used to be Cheap Trick's Road Manager, Ian's dad is a DJ/Radio Personality/Photographer, and Jin's step-dad is a big reggae artist in Hawaii.
Is there anything else we should know?
HAVE FUN IN YOUR LIFE, BE HAPPY, WE LOVE YA 
* * *