The one and only Oxaï Roura has embarked upon a few new creative projects in recent months. We caught up with the unique artist to find out more about his latest ventures, his thoughts on life and creativity in general, and his connection to this new style of music. Here's the conversation in full. 
* * *
Hi Oxaï, so great to chat with you again and congratulations on the new project. What made you decide to branch out and start creating under an alternative name, and what does Or1 mean to you?
Hi Rebecca, for me also it's great to chat with you again !
Well, in fact, when I created the title Back From Sirius B (Nommo) I found the final result very strange. Therefore, I wanted to experiment something new: something beyond music (I mean something creative not exclusively involved in the musical field). I thought the creation of Back from Sirius B (Nommo) was a good opportunity to try an idea I had in mind for a while: create an alter ego from outer space and/or form an alternate dimension…and see what kind of good doors this new experiment would open for me and- maybe- for other beings…
Now I'll try to answer to the 2nd part of your question; in fact Or1 is for me connected/related to the concepts of Alchemy, gold (spiritual & material), alternative, Light and unity/sacred union of all beings & things.
In other words: with Or1 I'm trying to offer a different kind of art. A different vision.
With this new concept I'm asking a question: as a free living being, what path of Life would you like to follow and/or create?
There are, in facts, several choices… for example: you can choose what seems to be already available in this strange illusory world and walk on the beaten path, or you can choose the way of 1 (Or1), the ancient way of wisdom in which we are one, all beings are one.
Maybe this path is one of the ultimate mysteries we can experience as living beings on planet earth in this dimension.
How did you come to create Back From Sirius B (Nommo)?
Well, 1st of all, for quite a significant time now- as an artist of the 21th century- I'm searching for a way to make music without using many machines, synths and computers. Let me share with you something: in fact, I love machines! Blessed be the machines, blessed be the Internet, blessed be the Spirit & soul of the machines, blessed be the ghosts in the machines !!!
But, there is a wild and primitive side of myself who says: "No Electricity, No Machines, No Computers. Just do your best to create some good music without all of this". So this is what I'm trying to do right now, progressively…
Besides, I always wanted to create some experimental vocal music. But it took me a while to feel ready to produce an original piece of music which only involves vocals, a drum and some special effects.
So, on one sunny day, I found the main melody of the song ( or maybe the melody found me…who knows?) and then I worked a lot on the vocal arrangement…and Back from Sirius B (Nommo) came to Life…
What would you say is the most distinctive characteristic or trait of this new music?
Well, I feel like saying it's a piece of free experimental vocals. In fact, a few years ago, while I was doing different types of researches about different traditional chants (as an artist and an ethnomusicologist), I had the opportunity to learn different types of vocal techniques; for example I learnt, Pygmy chants from Central Africa and Diphonic chants from Mongolia (which can be found in different shamanic traditions of Mongolia). I like to create bridges between my ethnomusicological researches and my creative works; and I always wanted to mix some vocal techniques- apparently completely different from one another- to see what the result should be. Therefore, back from Sirius B is also the result of this vision-idea.
In a certain way Back From Sirius B (Nommo) could be considered as a new kind of cyber- shamanic music. It's also connected to a concept I created a few years ago, a concept named TraDreamZ in other words, traditional music from the dreams.
Also, some people may notice that I don't use any known human language from planet earth in this musical composition. This is made on purpose. I would like this new music to be capable of touching the core of any being anywhere anytime. In this song called Back From Sirius B (Nommo), I tried to invent a kind of multidimensional and/or multiversal special language…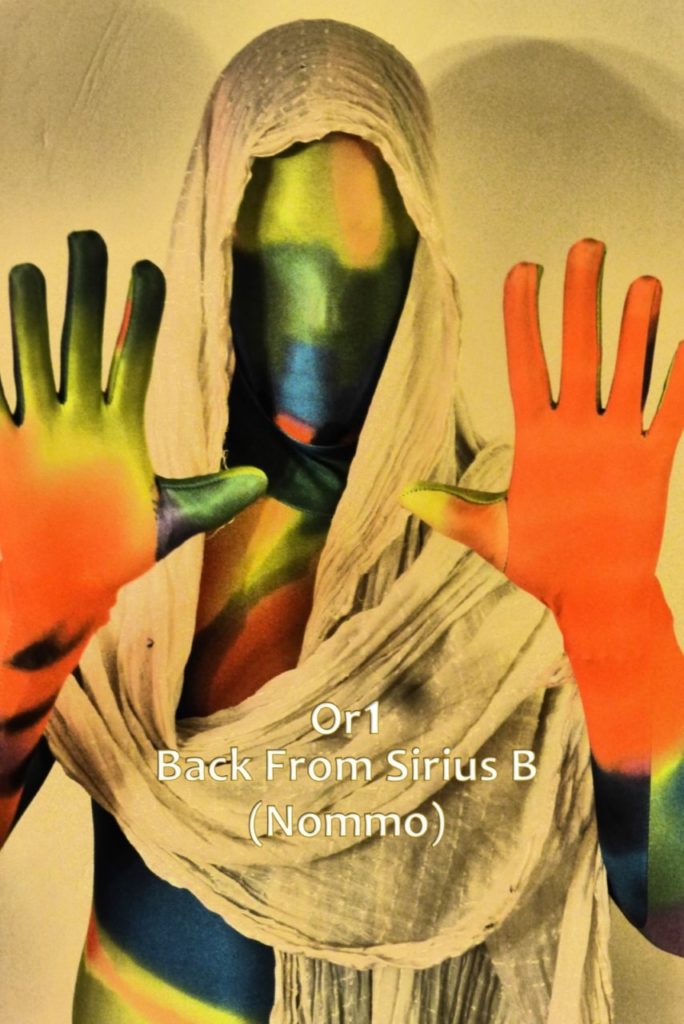 For those who aren't aware, what does Nommo refer to, and where did your interest in this come from?
In fact, Nommo refers to several things in different ancient African spiritual traditions. In the Dogon tradition (Mali, West Africa), Nommo is considered to be a spiritual, benevolent and powerful type of being who came from the stars, long time ago, in order to help people to evolve and get better lives on planet earth. In other words they are considered to be ancestors from the stars. It is said that they came from a world made of water hidden behind the star Sirius A that everybody knows.
In the tradition of the Sangomas and the Sanusis (the shamans and high shamans from Southern Africa), The Nommo is considered to be a benevolent frog like creature who came from the stars and taught many things to African people there like, for example, the art of using the pot of life in order to give life again to a dead person (if certain conditions are respected).
I am very interested in ancient African traditional religions and spiritualities.
Besides, when I was studying Ethnomusicology in college/university, I had the opportunity to learn a lot of things about the beautiful west African country called Mali; I also learnt a lot of things about the Dogon who is one of the people who live in Mali.
Then, some years later, I had the opportunity to work in South Africa with an extraordinary human being: a Sanusi named Vuzamazulu M'pumelelo Mutwa, also known as Baba Credo Mutwa. He taught me many things including information about the Nommo(s).
For those who would like to know more about the Nommo people, they should read a book named Dieu D'eau. It was written by a French ethnologist named Marcel Griaule a few decades ago, but it's still full of very interesting information…
How do you feel the music connects with the concept?
This music came to me in a kind of lucid dream, in a kind of vision, a very special kind of trance so to speak. Maybe this music came to me from another world, who knows? Therefore, I feel a strong connection between this music and the Nommo Spirit.
What's next for you, creatively speaking?
Right now I'm trying to collaborate with different kinds of artists like visual artists, poets, writers, martial artists….
So, for example, I'm now working on a new creative project called "The Black Rook Of Hiroshima" with a very unique artist-poet-writer from England named Cassandra Swan; we hope to release this very special project in 2019.
Besides, I am collaborating with a special martial artist named Yannick Theolade, aka Sawani Makan (French Guiana, South America), who is the inventor of a new Amazonian martial art named Djokan. We'll see what will come out from this collaboration, probably in 2019…
Last but not least, I'm also working with a talented slammer-rapper (from Seattle, USA ) named Steve Osborne. In fact, we released a first song in February 2018, and we are now working on other things. On December the 1st 2018, we released the next step of our project called AmericaS+Europe 21: The Secret Alien Union ! It is called Wrathtful and it might be surprising for a lot of people !
I hope our fans and the whole world will appreciate the result; because we put a lot of good positive efforts and love in this project… So please spread the word Rebecca: The Secret Alien Union Part 02. Wrathful is now available for everyone on Youtube (Video) & ReverbNation!
Is there anything else you'd like to say?
Well, in October 2018, something amazing happened to me: I became number 1 in the ReverbNation charts for the global, national, regional & local charts!
Then, a man from Central Africa named Tayong aka DJ Glace came to me on Reverbnation and asked if I wanted to participate to a special underground musical contest (the Discover Contest). All of this happened because, according to him and his team, I'm now considered to be "among some of the best non-mainstream artists (of the world)" ! It was fantastic !!! So, of course, I answered: "Yes" !!
Therefore, Defying Gravity (Experior), the 1st single Steve Osborne & I created and released on this year (February 2018) , has been/was selected to be amongst the finalists of the Discover Contest organized by the College Underground Radio (in November 2018).
This College Underground Radio is international and can be found in Cameroon (Africa), Sydney (Australia), Baltimore Atlanta & Los Angeles (USA) & London (UK) !
And guess what? Thanks to our known & unknown fans… We won the Discover Contest (on December, the 1st, 2018)! This is wonderful and almost surreal !!!
So I would like to thank all the real fans & friends who do help and support me for many years now! And I have just one more thing to say; Now: let us see what kinds of good things will happen to all of us in a very near future…
* * *
A big thank you to Oxaï for taking the time to offer such insightful, thoughtful answers. Find & follow Oxaï Roura on Facebook, Twitter & Reverbnation.