Following the release of his brand new album Call Of The Void, we caught an interview songwriter and artist Nasty Lad, to find out more about the music, his journey so far, and his hopes for the future. Here's the conversation in full.
* * *
Hi Andrew – great to chat with you, thanks for the interview! Just to set the scene a little – where are you right now, and how have you kept yourself busy during a tumultuous yet heavily isolated 2020?
I'm exactly where everyone needs to be during the pandemic, home. I was working at a bar in Austin, TX while making music from home and in March I was laid off like many others. I have been trying to complete this record for a minute. Working graveyard shifts can complicate things and, while getting let go from my job was stressful, it afforded me time to finally complete this album.
I am a person who actually thrives in isolation. I like being alone. So this break from reality has been something I have wanted/needed for a long time and has really helped me become comfortable with myself and given me inspiration for my art. I also adopted a cat as my quarantine companion…so that's pretty sick. Shoutout to my baby boy "Priest".
I'm a big fan of the music, genuinely – Call of The Void is a brilliant album – easy to escape into. How long did this project take to create and release, and what does it represent for you?
Thanks fam. Originally, this record was supposed to be my first release ever. When I started out all I had was a cheap guitar, children's drum set, $50 Walmart microphone, and an iPad with GarageBand. It was at that time I realized I wasn't quite ready to make this record, let alone my debut. Instead, I made the Rattler EP. Making that project was my crash course in sound engineering. That was my first time doing everything by myself. It was intimidating but it was fun and I learned a lot through trial and error.
After releasing a couple more EPs and singles I decided it was time to work on Call of the Void seriously. I started in December 2019 and would record songs after I got off work at 3am. Three months into this project the pandemic happened. I obviously had more time on my hands to record. I was originally going to release this album a couple of months ago, then the murder of George Floyd occurred. I knew that trying to promote an album wasn't as important.
Which track would you recommend to a new listener who only has time for one, and why?
Oh man, that's like asking a parent which child is their favorite. I have songs I'm fond of but for the sake of this interview I have to say I love all of them equally, they all slap.
You're a multi-instrumentalist, and these songs showcase a fairly versatile set-up in reflection of this. Which instrument started your journey though, and how do you generally begin a new song?
When I was 12, I wanted to be Hendrix. My older brother gave me his beat up ice blue Stratocaster before he joined the Navy. Guitar was my main instrument most of my life.
I learned how to play by listening to Jimi Hendrix's greatest hits on a boom box in my driveway. I feel like anyone can learn how to play any instrument with practice and patience.
For my recordings, I just pick up whatever instrument I need to lay down and just fuck around until I have something, sometimes it can take hours. I'm not a drummer but I will sit there and play until I have a beat. I'm not a great singer but I will sing until it sounds decent.
Most of my songs start out as voice recordings on my phone and those usually happen at work. I'm a barback so I don't have to really talk a lot at my job. This gives me time to write music in my head, whistle, beatbox, etc. I usually run into the bathroom quickly and make a recording of me humming a tune.
When it's time to record a track, I always do drums first and then bass, the rest comes easy. I never have a plan or go into a session with a complete song idea. I just start recording and looping. I keep doing that until I have something that I fuck with.
There's also a heavy side of production to your soundscapes – which software do you use to produce, and how do you choose when to go organic or when to utilise electronic sound design in a song?
From the beginning I was using GarageBand because that's all I could afford (free). Then the pandemic happened…and with every bad situation there is a silver lining. Unemployment. I finally was getting paid a LIVABLE WAGE. I was able to buy a MacBook with that sweet government money and start using Logic, which changed my sound dramatically. So it's very rare that I have a set sound in mind. I like mixing things together, it's whatever feels good in the moment.
I am inspired by so many styles of music it's hard to choose one over another. I can wake up one morning and listen to Hank Williams and want to write a country song, then by that afternoon I'm listening to Project Pat and want to add 808s and a hi-hat to the song.
What topics do you tend to write about, and is there an editing process to your writing style or is it a stream of consciousness, in the moment sort of approach?
The usual sad boy shit: breakups, loneliness, depression. Most of my lyrics are gibberish. I usually just freestyle into the mic until I say something I like or find tolerable. It's weird though, in some cases after I have already released a song, I will listen back and try to decipher my own words and realize I might have been referencing things in my life, subconsciously, and didn't realize it at the time. Or I'm tripping and it could all just be gibberish.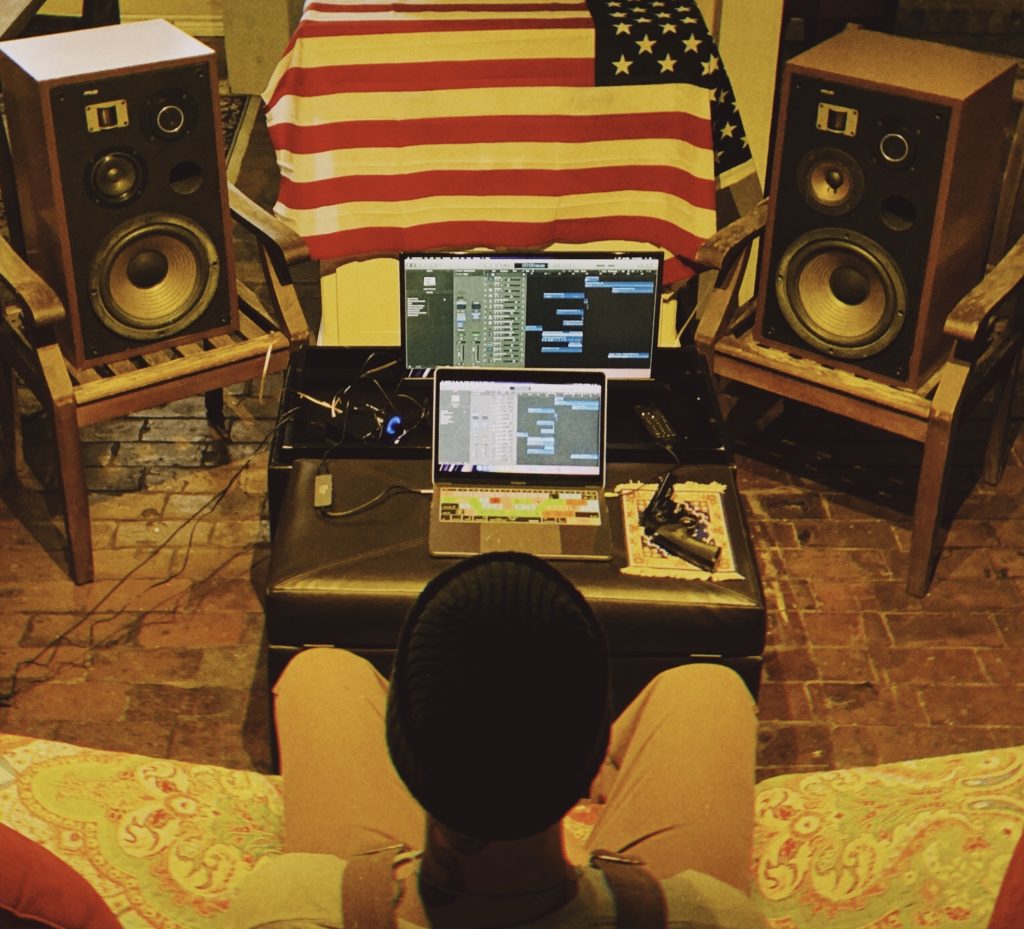 There are a lot of notably personal, revealing aspects to your songs. Which comes first out of lyrics and music, and do you ever worry about laying bare too much of yourself, or is that the key to connecting with an audience in a lasting way?
Music always comes first. I actually loathe having to sing and write lyrics because that can make or break a song. I have made songs I love musically but then ruined with half ass lyrics. I'm hoping over time I will grow as a songwriter and enjoy it, or maybe I won't, fuck it.
Listen, I have never had a problem putting myself out there. I struggled with drugs and alcohol early on in life. I was homeless, I have struggled with mental illness, I have done a lot of things I'm not proud of. But I got through it, made changes, and I have learned to embrace these flaws and grow from them. Sharing these stories and experiences helps me cope with a lot of guilt and shame I have held onto.
Making music is one of the only ways I know how to fully express myself, I do it for me first, it's therapy. But I also hope my music can let people know that they aren't alone in all of this and that someone else has been through a lot of the same things they have gone through and understands.
Why the name Nasty Lad?
Why not?
How did you come to work with Anytown Records, and how has connecting with an indie label helped you progress as an artist?
Well, actually, I created Anytown Records because nobody would give me a chance or listen to my music. Instead of wasting any more of my time trying to get on some kombucha drinking hipster's indie label, I decided to create my own and maintain control of my music and brand. Know your worth and take control of your life. Our motto is, "If you can't join them, beat them".
Do you plan ahead as an artist – do you have a plan for throughout the coming months and years, in terms of building things up and continuing to thrive, or do you just create and enjoy and go with the flow?
The Lord is watching over me and that's all I can ask for. Things will happen when they are supposed to but in the meantime I am going to keep shining and churning out art until I'm recognized, ya heard me?
What's something about you that most people don't know?
I know, and more importantly, The Streets know, and that's all that really matters.
What's the best piece of advice you were ever given in life?
"Guard your heart", thanks mom.
Is there anything else we should know?
Black Lives Matter.
* * *
Check out Nasty Lad via Instagram or visit his Website.