Missy Miss Behave is an artist and producer paving her own way entirely. The album Jagged Weather brings about a complex fusion of styles and genres that have been cleverly arranged to work powerfully alongside of one another. We caught an interview with the creative behind it all to find out more about how the music came to be and what her hopes are for the future. Here's how it went. 
* * *
Hey, thanks for the interview – your music is incredibly original and unusual. What first inspired you to get into making music, and this kind of music in particular?
Growing up really young I used to listen to this Bobby McFaren and Yo-Yo Ma collaboration album on the way to school. I was super fascinated by the stylized version of classical and baroque music. This lead me to start recording music around the age of 6 on a Yamaha keyboard. I'd turn on one of the pre-made beats, and then play whatever I was learning from my classical piano teacher at the time over the beat. Jagged Weather is heavily influenced by neo-classical type music and I think that is in a big part due to that album I listened to growing up.
How would you describe the Jagged Weather project to anyone who hasn't yet heard it?
Jagged Weather is a journal, or rather a sonic synopsis of each of my first 11 months transitioning from male to female. It deals with the stress that comes from acknowledging the rift that exists between your internal sense of being and how the outside world perceives you.
Genre-wise, I'd call the album industrial electronica. It's a bit all over the place, but in my own mind it has cohesion.
There's quite an eclectic gathering of sounds on the album, how do you get started when creating a new track?
I have to start with a motif. That can be a melody lick, drum rhythm, noise pattern, but there is something that spurs the creative process for the rest of the song. 90% of the motifs I start with don't make it into a final song. I typically like to have 3-5 motifs that work in synchronicity to create a unique mood or atmosphere.
Is performing live an important part of what you do?
It is, but not for this type of music. I frankly have no idea how to perform this live and have it be interesting. When I do perform live, it usually has an improvisational aspect to it – one of my all-time favourite pass-times is harmonizing with a backing track on my electric guitar. That or I use some sort of DJ controller. I do stuff like that less now.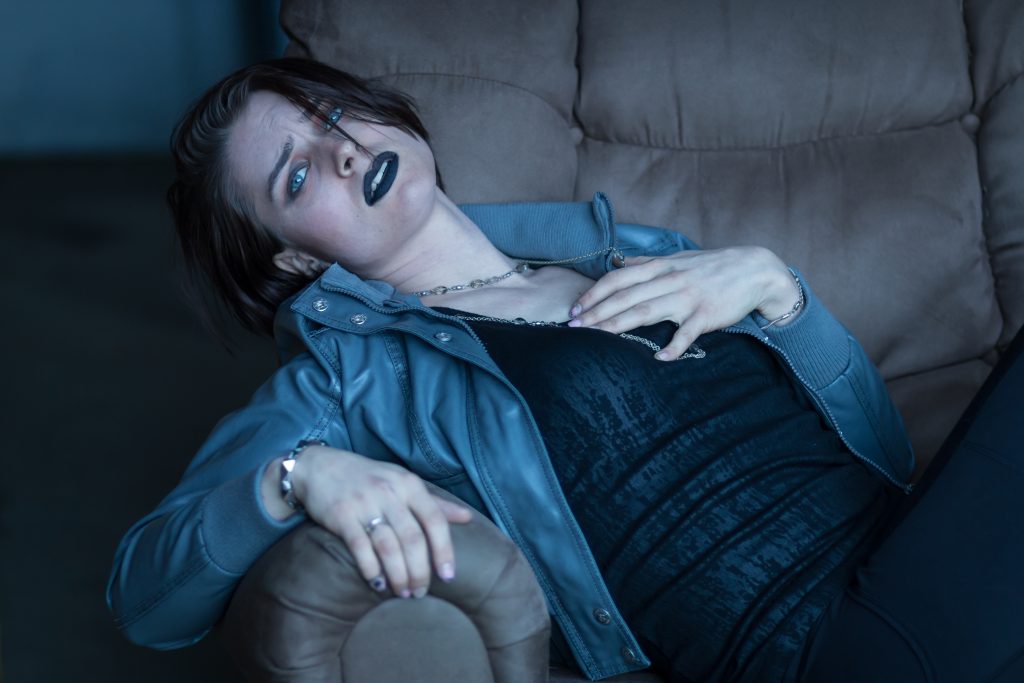 What's your go-to musical instrument for moments of organic music making?
Hmmm. I love a good piano sound, it works with almost everything. Bells are also a winner – I like to stretch them super long and things to create soundscapes. For basslines I have found I can never go wrong with 808 Warfare my Producer's Choice.
If you could collaborate with any artist or band, past or present, who would you choose – and why?
I'd want to collaborate with Grimes. She has been a production inspiration since first discovering her. I really admire her talent, creativity, and drive. My newer material is far more similar to her discography than Jagged Weather.
What are your hopes for the coming months and years?
I actually have 29 songs written that I need to record.. and it's only March. I'd like to get at least those done and released sometime this year. Long term I'd like to have music be my full time job. Right now I'm very much at a stage where I'm praying to break through the noise.
Is there anything else you'd like to say?
Thanks for having me! If you're reading or listening to this be sure to check out my work, and follow me on social media. I'm most active on Twitter and Instagram and I love to talk with new people!
* * *
Download the album via Bandcamp or stream it on Spotify. Find & follow Missy Miss Behave on Facebook, Twitter & Instagram.