Following the rising success of the album Attitude Is Everything, we caught up with Merit Maker's songwriter and founder Joe, to dig a little deeper into the act's history, the new project, how things are going, and plenty more. Here's the conversation in full.
* * *
Hi Joe – thanks for the chat – how have things been since the release of Attitude Is Everything?
Hey! Yeah, glad to get the opportunity to do this right now. All is good over here. And, I'm really super stoked to announce that thus far this latest venture, Attitude Is Everything has been getting play-listed and streamed more than any other Merit Maker release to date! Very exciting stuff and just so happy to see how many people are enjoying this one.
The official website for the project was also just recently launched and it turned out incredibly nice.
Aside from all that good news, there's still more! Following up the most recent album, there is a new EP currently in the works. I am definitely looking forward to getting back into the studio to start tracking for it. As usual there are a few line-up changes coming, but as always you can for sure expect a rad, rockin' set of tunes, this batch coming sometime next year in 2022!
For those who don't know, what is Merit Maker – when did it start and how do you approach making music as a band?
So, for those who don't know, Merit Maker is a music project that is influenced by many different styles and sub-genres of punk. Check out the website! It says so right there.
While the first official release was dropped in 2019, the projects name was originally coined in 2017 and the songs have been in the works for the past decade.
After playing in some local bands during my youth, I found that I was never really happy with the end result of the song writing process. You can lose a lot of creative control when you're in a band and you may have to compromise a good amount of your artistic vision. Sometimes if you really want something done right, you have to do it yourself…..hence why I began this music project. I knew that if I wanted to release music the way that I envisioned it sounding, I had to embark on my own journey. So this is technically a solo project, however I do of course collaborate with other musicians on these releases.
After writing out the song structures for each, I then track bass in full. Following that, I bring in a drummer to cut drums to the bass tracks that have been recorded. Next, a guitarist comes in to lay down guitar tracks that follow along to the drum and bass. Finally, I head into the vocal booth and put my voice to the songs.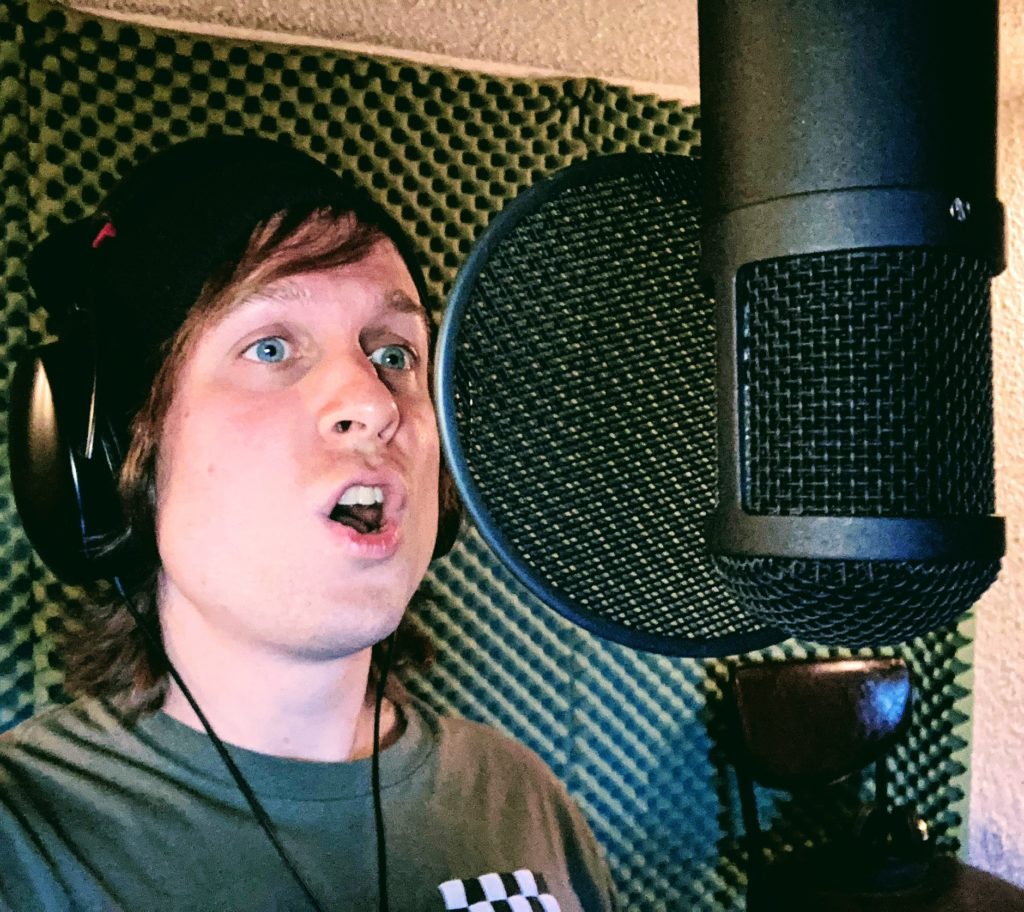 What brought about the title Attitude Is Everything, what does it mean to you?
Well, first and foremost it's an incredibly fitting title for a punk rock album. There's no two ways about it and that's one of the main reasons it was selected as the title for the second full length Merit Maker release. These songs are packed full of punky attitude and on that basis alone, it's very well-suited for the theme.
On a deeper level, it's a statement that really holds true for all of us. Life can throw all kinds of things your way. At the end of the day we don't always have control over many different things in our lives except for the way that we respond to them. We can always choose what kind of attitude we will carry with us when facing adversity and in overcoming obstacles.
Attitude can determine A LOT. It can make the difference between whether we succeed or fail. It can help or hinder us. It's crucial to maintain the right kind of attitude especially when times get tough.
On a personal level, punk to me has always been just as much about the attitude as it is about the music. There's something undeniably punk about maintaining the right attitude and outlook even when the odds are stacked against you. It's not just a fashion or a trend. It's a way of life.
Which track from the project best represents you, and which one is the most fun to perform live?
A near impossible set of questions to answer for multiple reasons here. The first part of this question I cannot really answer because each one of these songs represents a different part of who I am and what I'm about. No one individual track is best representative of myself more than any other one is. They each hold their own important place to me as a songwriter.
The second part of this question I cannot really answer either as I have yet to perform any of these tracks live. Merit Maker is a studio music project that has not played any official live shows so far. I can take my guess as to which songs in the discography would probably be the most fun to play at a live gig, but I can't say for sure as it is yet to happen. These tracks have a lot of different vibes and it would depend on the crowd.
Live performance is definitely still on the radar for the not so distant future though! Just need the right setting and the right players to make all that happen. I know some folks have really wanted to see a live set of these songs and believe me, it's something that I'd really like to make happen at some point in the near future as well…..
It's worth holding out for this rock. Fingers crossed and stay tuned!
What's the live scene like for this kind of fast-paced rock in Philadelphia?
The live scene for this kind of fast-paced rock in Philly is thankfully still alive and well. It's a big city and there are plenty of rockers within it. You have the bigger venues of course, like the TLA and The Fillmore, and then you have the more underground spots like Kung Fu Necktie and The Barbary. And of course everything in between that…..
All in all, Philly is a great area to perform live and put on a show. You'll meet all kinds here and it's a totally awesome place to connect with people of various different backgrounds of rock music.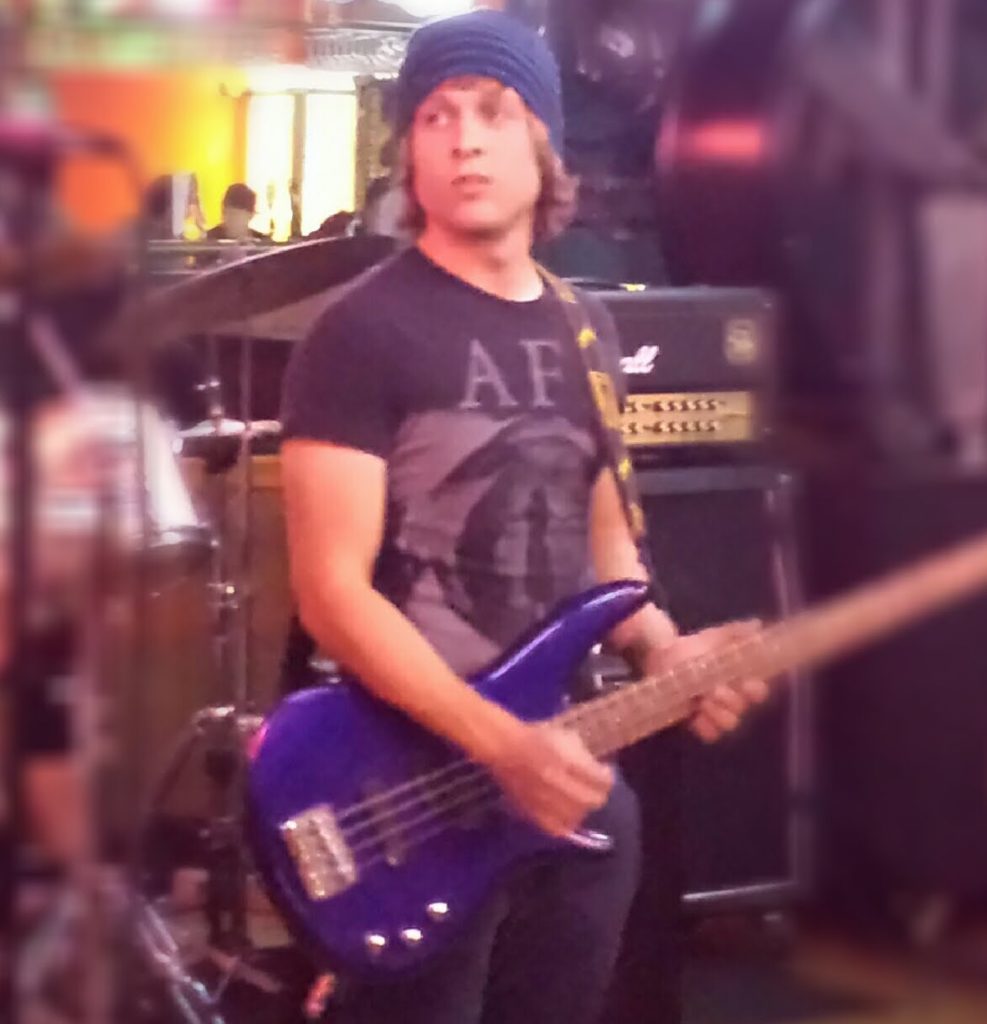 What's next for the band – what do you have planned?
Aside from the upcoming EP, I'm really working right now on finding a dedicated line up of musicians who are able to more permanently commit to the project.
As aforementioned, I bring in musicians to cut guitar and drums but they aren't necessarily permanent members of Merit Maker. These musicians who tracked on the previous releases are session players who did a fabulous job on the recordings, but were brought on for the sole purpose of tracking for those specific releases…..nothing more.
The next step is to find the players who are ready and able to take the stage with these songs as more committed band members. I'm confident that it'll happen soon enough.
What's something about Merit Maker that nobody knows?
Well depending on which interview articles people have read, and as evidenced by the fact that there is no account for it, Merit Maker has no presence on social media channels like Facebook and Instagram.
It's a long story and again, some people already know, but the project was banned on FB products after an incident occurred with the Moathouse Recording Studio back in 2019.
Roger Lima from the band Less Than Jake owns and operates the Moathouse Recording Studio. He works with artists and provides various services like most other music studios do. In any event, I had reached out to the studio several years ago on Messenger not long before the release of the first album Judgement Calls. At the time, I had planned to send un-mastered mixes to the Moathouse to be mastered. After contacting the studio and sending Roger a few early demos to listen to, he agreed to do the mastering for the upcoming album which I was working on at the time. However, as the time grew closer he stopped responding and ended up blowing off me and the project.
Look, I get it…..he's a pretty busy guy and probably had a bunch of other projects he was working on, not to mention LTJ/Rehasher tours and who knows what else. Regardless, it was still a big let-down to me at the time and I was a bit publicly critical of him and other members of the band on social media. That wound up getting me censored and banned on all Facebook products.
The ban, which began in 2019, was unnecessarily harsh and has now lasted for well over two years. I could go into greater detail about how the incredibly unethical CEO of IG, Adam Mosseri personally DM'd me in regards to the incident…..DM's and emails which I still have saved to this day. Ironically though, I am actually thankful for what happened at this point in my life. The whole situation literally forced me to take a big step back from social media and in that time, I realized that my life is actually much better overall without it.
Will there ever be a return to social media for the project? It's highly unlikely as of now. I just don't see the need. More and more people continue to stream the tunes and that's what matters most for this project. Social media is a major distraction and time suck. Plus, with all that's been coming out in recent times about it in the news, I think that it's a better time than ever to be totally social media free! Time to sign out!
* * *
Download the album via Bandcamp. Find & follow Merit Maker on Soundcloud & Spotify.